Does Lionel Messi Have a Limit?
He's breaking the sport—again.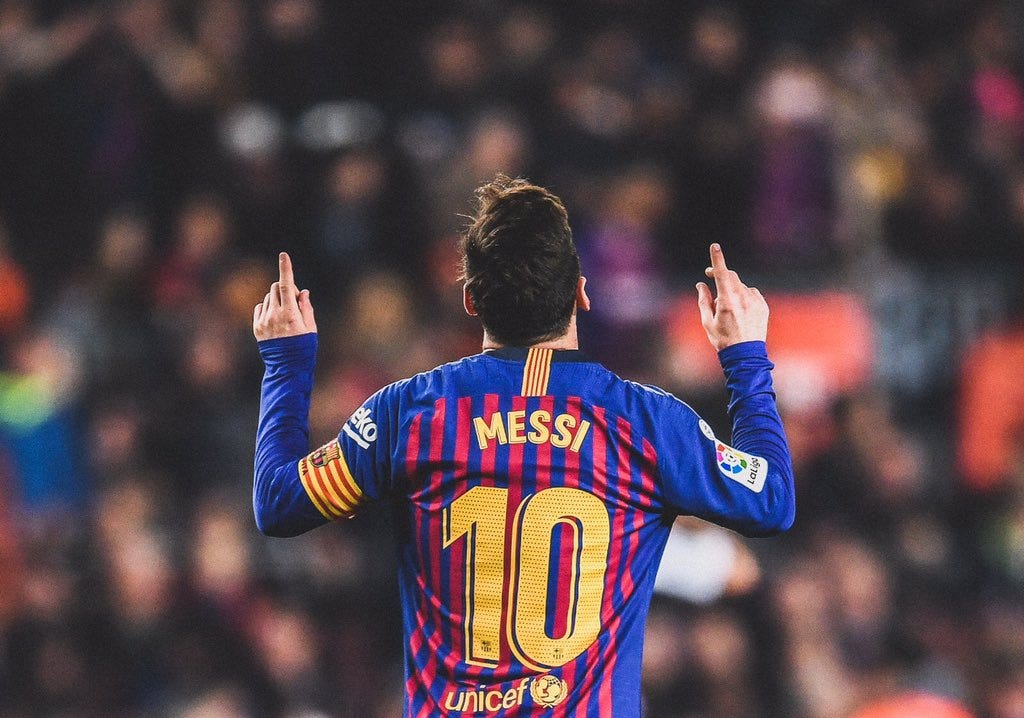 Happy second-first week of the Champions League, everyone! Reminder: Subscriber-only content will soon be part of the deal here at No Grass in the Clouds. As I wrote last Friday, we're taking this thing pro: The Tuesday newsletter (i.e. what you're reading right now) will remain available to all, but the Friday crib sheet, plus a bunch of other bits of bonus content (mailbags, game reactions, player spotlights, perhaps audio, potentially power rankings of the best cardigans), will only be available for subscribers. It's $7 a month or $70 for the whole year. The first subscriber-only newsletter goes out on March 1, so subscribe before then to make sure you don't miss it — your credit card won't be charged until March 1 — or don't do anything at all and you'll just continue to hear from me every Tuesday. See: green button immediately below for directions:
OK, so today I wanted to talk about that man Lionel Messi again. First off, other than the backpack— hell, maybe even the backpack — I think this is a pretty good look?
Second: It doesn't really matter what I think because Messi can do whatever he wants. And I don't mean that in the "he's the GOAT, so he can bleach his hair and wear a full Derrick Rose Chicago Bulls uniform while he walks his gigantic dog" sense. No, I mean that, on a soccer field, it seems that Messi can pretty much accomplish anything he decides he wants to accomplish. As I wrote about a couple weeks ago, he's 31, an age when most professional soccer players have already started to decline, and yet he's arguably having the best season of what is already an unmatched career. The guy is a god when it comes to all three phases of attacking play — moving the ball forward, setting up teammates, and putting the ball into the back of the net himself — and so whatever team he's on would be foolish not to play a heavy Messi-centric style.
A year ago, a group of researchers in Belgium and the Netherlands published a paper that aimed to quantify every action taken by a player in a match and, based on a variety of factors, determine how much of an impact on the result of the game each action had. Think of it like "Win Probability Added" in football or baseball — basically, what state was the game in before the player did this thing, and then what state was it in after? Based on their analysis for the 2016-17 season, here's what the authors of the paper said: "When applied to on-the-ball actions like passes, dribbles, and shots alone, Barcelona's Lionel Messi unsurprisingly headlines the team as the highest-ranked player. His average action value per game last season was 26 % higher than his nearest competitor's." And here's that statement in chart form: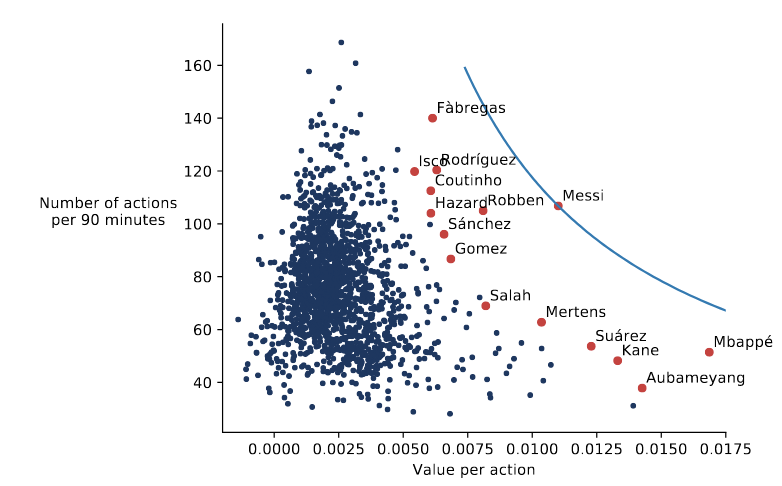 Basically, Messi maintains his elite efficiency with a workman's workload. A player like that solves all of your problems: just get him the ball as often as you can and let him do his thing. It's what's happening with James Harden of the Houston Rockets in the NBA this season, and it's what the Cleveland Cavaliers did with LeBron James in the 2015 NBA Finals against the Golden State Warriors. Except, both of those situations were seemingly born out of desperation: The Rockets have been without their future-Hall-of-Fame point guard, Chris Paul for much of this season, so they funneled every possession through last year's league MVP, and when the Cavs lost Kyrie Irving and Kevin Love, their nos. 2 and 3, over the course of the postseason, they did the same with the Messi of basketball.
Now, Barcelona has been deeply reliant ever since he became a consistent starter some 12 years ago. This is from a great little essay written by the Guardian's Sean Ingle back in November:
Messi has averaged 1.44 goals and assists for every 90 minutes he has played in La Liga since 2009-10 (excluding penalties) – a contribution of nearly three goals every two games.

For those counting, Cristiano Ronaldo is next best (1.21), based on his performances in Spain and Italy, with Luis Suárez (1.12), Zlatan Ibrahimovic (0.98) and Neymar (0.97) making up the top five.

Incredibly Messi has also either created or scored 46% of Barcelona's goals in La Liga in the past decade (excluding penalties). That speaks both for Messi's unbelievable goal production and for his longevity and ability to stay fit. In the big five leagues during the same time only Antonio Di Natale comes close (45%, all for Udinese) before a drop-off to Suárez and Ronaldo (39%).
This year in La Liga, though, that percentage is all the way up to 53 percent, as he's got more goals and as many assists as anyone in Europe. But on Saturday, Barcelona's Messi-reliance reached what seems like it has to be the extreme. In a 1-0 win against Real Valladolid, they took 20 shots. Messi scored the winner, of course, but that's almost beside the point: Twenty shots is a lot! No team in Europe's top five leagues is averaging that much this season. But guess what? MESSI EITHER TOOK OR ASSISTED ALL TWENTY OF BARCELONA'S SHOTS: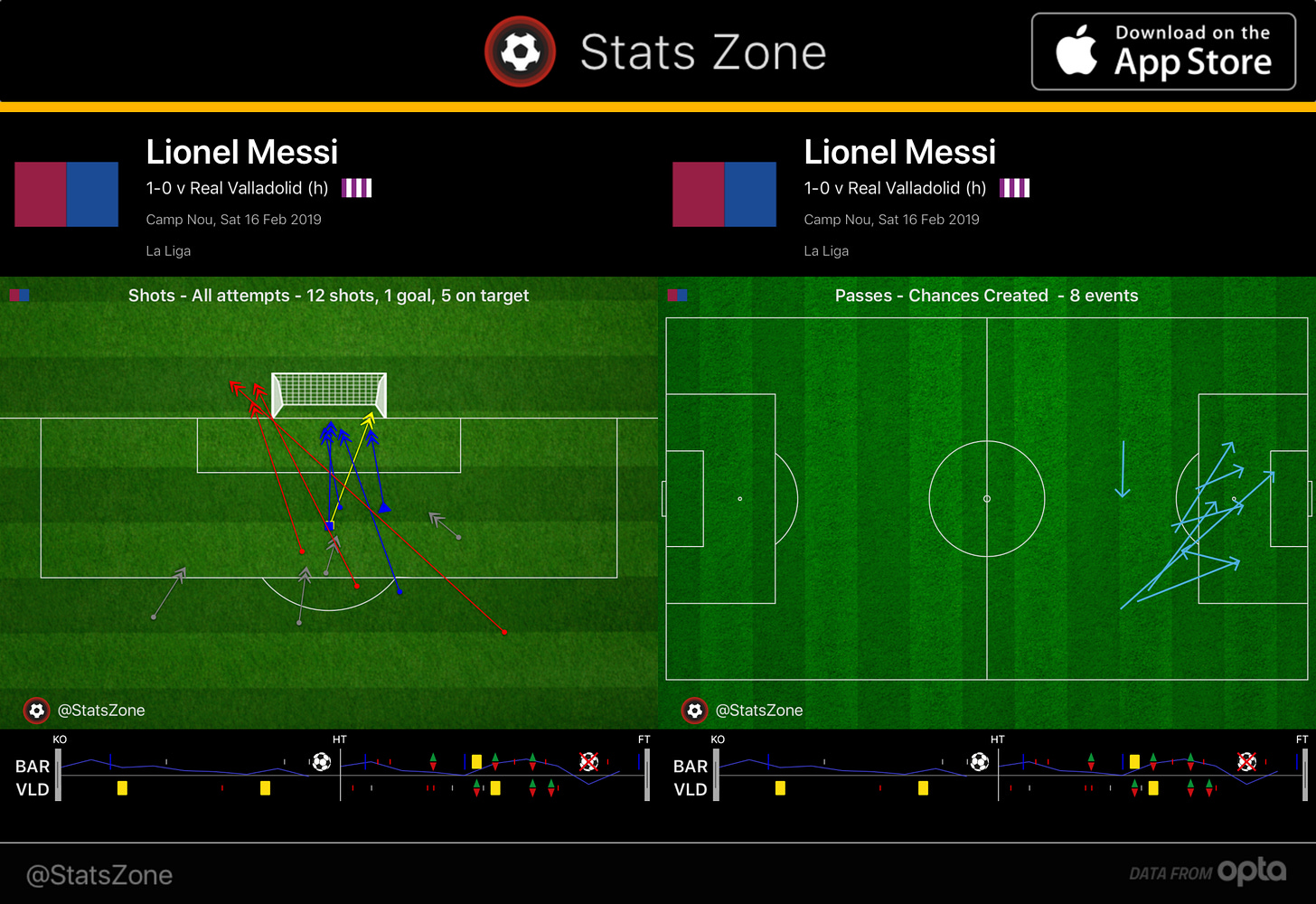 Here's every touch; he somehow wasn't really even close to his best:
It's rare that a player ever takes-and-creates all of his teams shots; it's rare that a player ever takes-and-creates 20 shots in a game. As James Yorke wrote for Statsbomb, it's unprecedented that Messi did both, at the same time.
The answer to Tom's question: Alessandro Diamanti, who took … five shots and assisted on three more in September 2013 for a Bologna team that was relegated from Serie A at the end of the season. A quick word on Diamanti: I've never seen him on a PhunkeeDuck, but he's pretty much the closest thing soccer has to a J.R. Smith. Here's a selection of his various haircuts and facial expressions:

He's an unrepentant gunner, firing off 35-yard no-chancers directly into the face of soccer's oncoming analytics revolution. He's a sort of muse for Nikos Overheul, a scout over in Europe. Diamanti built his David when he took 14 shots from outside the box in a single game:
I'm spending so much time on Diamanti because 1) he rules, and 2) he shows how high-usage players seem more likely to exist on teams lower down the table. If a mid-level team happens onto a blossoming-superstar who's way better than all of his teammates, it makes sense to build the team's attack around said soon-to-be-superstar before he leaves for a team filled with superstars. Or, maybe these teams just don't have anyone to keep the shots away from an inefficient — but, you know, perfect — shot-hog like Diamanti. On top of that, these teams also just don't take that many shots, so it's easier for a single player to suck up a huge percentage of them.
Messi, of course, plays for the team that's won seven of the last 10 La Liga titles, is currently seven points clear of second this year, and ranks fourth in the world in FiveThirtyEight's rating system and first in the Elo system. Oh, and according to Transfermarkt's crowdsourced valuations of players — a rough approximation of talent — Barcelona are also first, at £1.05 billion. In other words, Messi plays with what might be the most talented collection of soccer players on the planet, and they're treating him like he's the 6-foot-11 All-American on the basketball team at a 50-student Catholic high school in New Hampshire.
To compare him to the other leading men across Europe, I looked at the 16 teams remaining in the Champions League and did some high-level data analysis, in which I used a number of innovative techniques like "addition" and "division" to determine who has the highest "usage rate" at each club. It's "shots + key passes per 90 minutes" as a percentage of how many shots the team averages per game: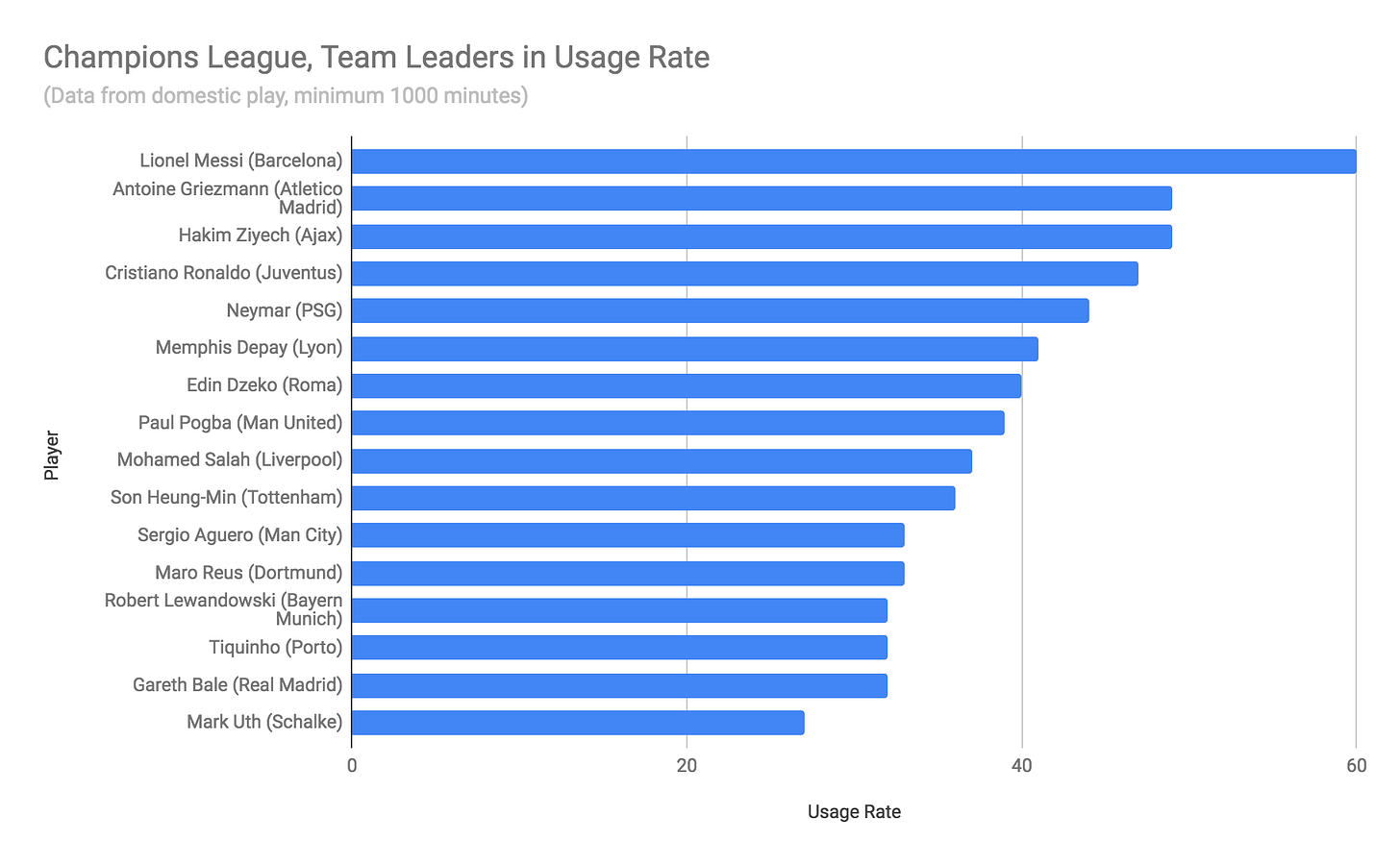 Just for good measure, Messi's also completed 425 forward passes in league play so far this year; no other forward in Europe has completed more than 288 because forwards typically don't have many option ahead of them! I don't know where this 60-percent rate ranks historically, but I asked around, and I wouldn't be surprised if this is the highest rate for any player since these numbers started being recorded at the beginning of the decade. For reference, last year, Messi was at 55, and just — "just" — 48 the year before.
I … have no idea how I feel about this. On the one hand, it's exactly why I watch sports, and why I've loved watching Messi more than any athlete other than Ricardo Quaresma: to see human beings accomplish things that my brain quite literally would not have been able to comprehend without the dual aids of NyQuil and a 105-degree fever. On the other hand, my mind just naturally bristles against this kind of lopsided, inhuman-seeming workload: I fear for the player — when one guy has to do so much it just feels, deep down, like he's destined for some kind of high-profile failure (the more you do, the more chances you have to screw up!) and/or injury (the corporeal form has limits, man!) — and I can't help but think that there must be a better way to spread the wealth and leverage all of the talent across Barca's roster. It can't just be a coincidence that among the 40 highest-usage seasons in NBA history, only one player won the title that same season, right?
Then again, the guy who did it was Michael Jordan, and Messi is one of just a couple athletes across any sport who doesn't disappear in the shadow of a comparison with M.J. Plus, "Messi as Plans A, B, C, and D" is working; Barca should canter to another La Liga title with this current lead. The question now, then, is whether or not it can work in the Champions League. I don't know what the answer is, and the only way I can really wrap my head around what Messi is doing this year is by thinking about a quote highlighted in Sean's piece.
Barcelona were playing Juventus in a preseason game ahead of the 2005 season, and before the game, Barca striker Samuel Eto'o warned Juve midfielder Patrick Vieira about a floppy-haired teenager who'd be suiting up in the red-and-blue stripes: "I told him," Eto'o said, "one day it would seem like every player who came before Messi was playing a different sport."
As I said last time, and now say every time: If you enjoyed this, please subscribe! And please pass on the word to anyone you know who might be interested. Call your boyfriend. Tell your girlfriend. Inform your mortal enemy. Everyone is welcome … unless you're a fascist — in which case, get the hell outta here! Thanks, as always, to all you non-fascists for reading along.