Eight More Stats That Explain the Champions League
Once again: the one number you need to know for all the teams that play this week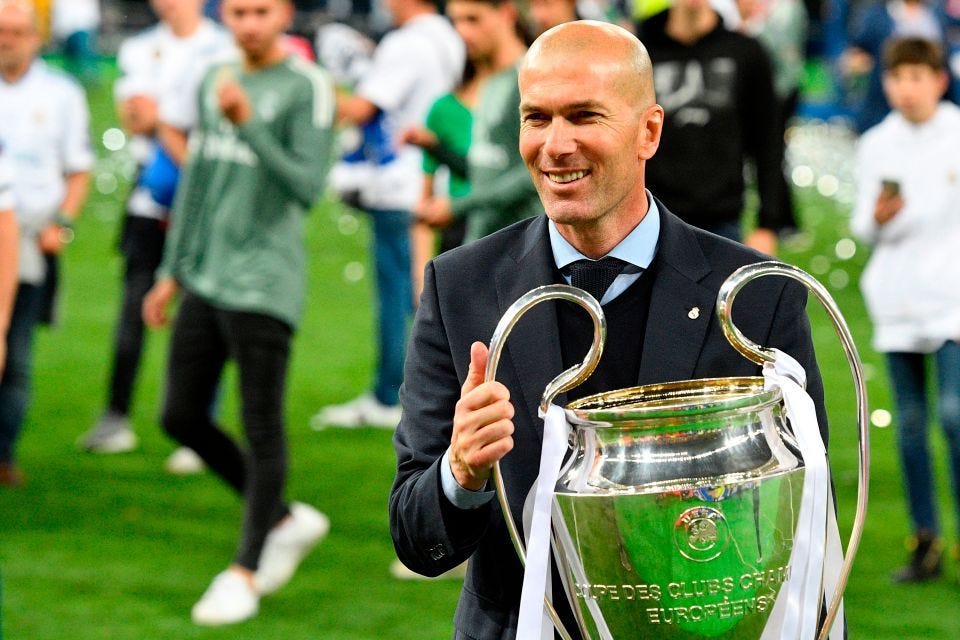 Just like last week, we're running it back: eight stats, one for each team playing in the Champions League Round of 16 this time 'round. No pithy intro! Just contextualized data! Let's go!
Chelsea
-Chances of advancing to the quarterfinals, per FiveThirtyEight: 26 percent
-Chances of winning it all: 2 percent
-Stat you need to know: 5.6 goals allowed above average
What a weird Chelsea season. They got rocked by Manchester United, 4-0, to kick things off and only took two wins from their first six matches. Then they started crushing teams with an incredibly promising, top-prospect-based lineup that produced underlying numbers that didn't look too different from Liverpool's. And then a bunch of those top prospects got hurt, they stopped winning so many games, stopped looking like Liverpool, and slipped down the table. Manchester City's pending expulsion from the Champions League next year, plus the pending returns of Christian Pulisic and Tammy Abraham from injury, should make the rest of the year a little less hairy than the table suggests, but the story of Chelsea's season so far has been one of unpredictability.
The only constant? Their terrible goalkeeping. Frank Lampard has already benched Kepa Arrizabalaga, which, frankly, speaks pretty well to his managerial acumen. It's easy to be fooled by keeper performance, especially when your keeper is your club-record signing, but Lampard was way quicker to make a move than I ever would've expected. Can't imagine how that conversation went, though: Kepa, mate, we're letting in too many goals. [Laughs] Imagine the board's reaction if I dropped you of all people? [Smile disappears so completely that you wonder if this man you've just seen smile has ever actually, in fact, smiled.] No, but seriously, Willy's our no.1 now. 
The issue, however, is that Caballero might be one of the few keepers in the Premier League who is worse than Kepa. Among keepers who have played at least half of their team's available minutes, Kepa rates the worst in StatsBomb's post-shot expected goals model, according to FBRef. He's allowed 32 goals, while based on the shots he's faced, the average keeper would be expected to allow 25.8. That comes out to a league-worst minus-0.18 goals saved per 90 minutes. In his three games, though, Caballero has been even worse: minus-0.46 goals saved per 90. Add it all up, and Chelsea keepers have allowed 5.6 goals more than average this year. No one else has allowed more than 3.5
Bayern Munich
-Chances of advancing: 74 percent
-Chances of winning it all: 18 percent
-Stat you need to know: 1.21 non-penalty goals plus assists per 90 minutes
Remember Thomas Muller? Yeah, he's back. It really seemed like the Thomas Muller we all know  -- the gangly, uber-productive, not-quite-any-position star -- had begun his decline, though. First, there was the disastrous 2018 World Cup, and then came the season that followed, one in which Bayern were easily dispatched by Liverpool in the Round of 16 and then pushed to the final week of the season in the Bundesliga by Borussia Dortmund. Muller himself, a kind of lodestar for both club and country, had his worst season since 2010-11. He scored six goals and created nine more -- a still-impressive rate of 0.57 non-penalty goals+assists per 90 minutes, but well below his career rate of 0.75. It made sense; he was 29, aging out of his prime.
Well, uh, this year he's already got five goals and 14 assists, and he's only started 16 games. In fact, on a per-minute basis, he's been more productive than all but three players in Europe's Big Five leagues. Among players who have played at least half of their team's available minutes, only Jadon Sancho (1.44), Lionel Messi (1.47), and Kylian Mbappe (1.26) have produced more goals. Muller turned 30 in September, and he's playing better than ever before.
Napoli
-Chances of advancing: 17 percent
-Chances of winning it all: less than 1 percent
-Stat you need to know: 11.44 shots per goal
This might be the most frustrating team left in the tournament. They've been significantly worse since they replaced Carlo Ancellotti with Genarro Gattuso. Under Ancellotti, Napoli were fourth in the league in non-penalty expected-goal differential, per the website Understat. Under Gattuso, they're eighth. 
The roster does still have a ton of talent. And you can still kind of see some of the remnants of the Maurizio Sarri and Ancelloti approaches since so many of the players remain the same and the on-field relationships can't be totally erased. But, mainly, that confluence of factors has resulted in a lot of terrible shots. It's sort of exactly what you'd expect from a team of talented players that suddenly aren't being coached effectively. They move the ball easily into the final-third, and then the play suddenly devolves into long-range attempt after long-rage attempt. Consider this a rough proxy for the quality of attempts each team is creating: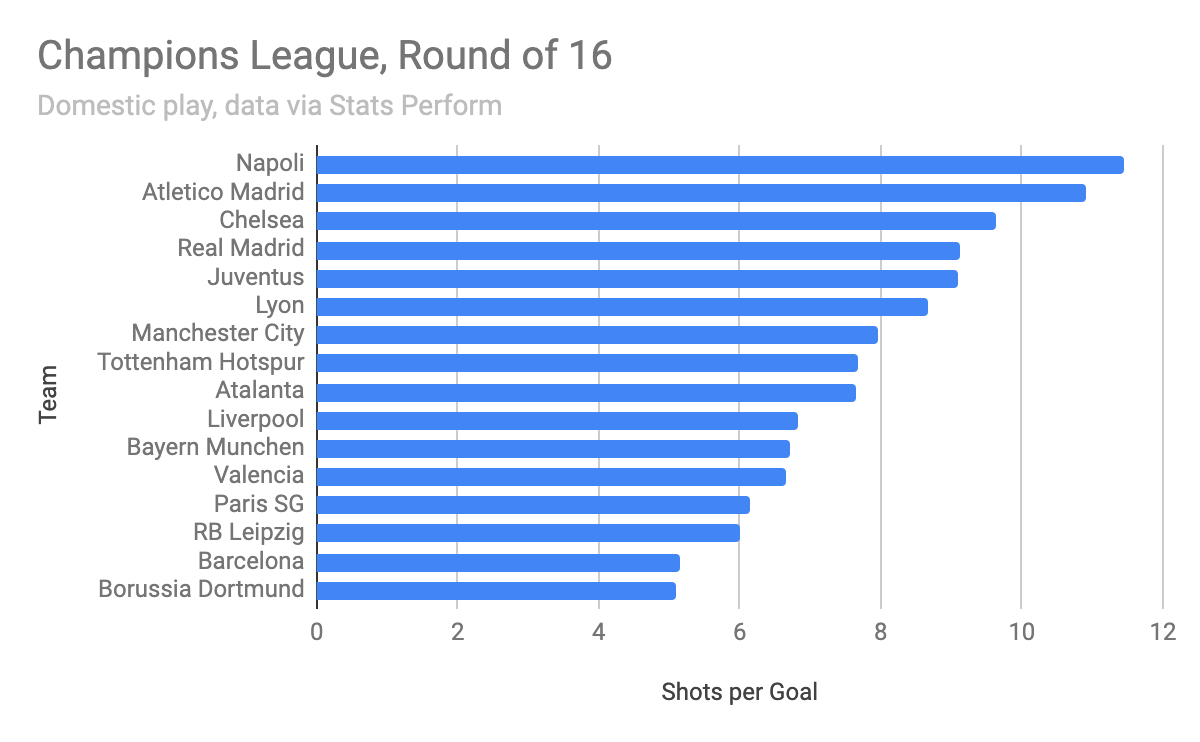 While Napoli are a couple goals behind their xG in Serie A, they're averaging just 0.09 xG per shot, which is below the continent-wide average. It's not a fun approach to watch, one that essentially guarantees constant failure, but hey, sometimes a bunch of those low-probability shots actually go in.
Barcelona
-Chances of advancing: 83 percent
-Chances of winning it all: 11 percent
-Stat you need to know: 49.5 passes per shot
While Napoli always shoot, Barcelona almost never do. Only Valencia, Atletico Madrid, and Tottenham average fewer attempts per game, but those teams are also the bottom three in passes completed per match. They don't shoot because they don't have the ball. However, the Catalans, complete more passes than any team left in the tournament. Take those two factors together, and here's what you get: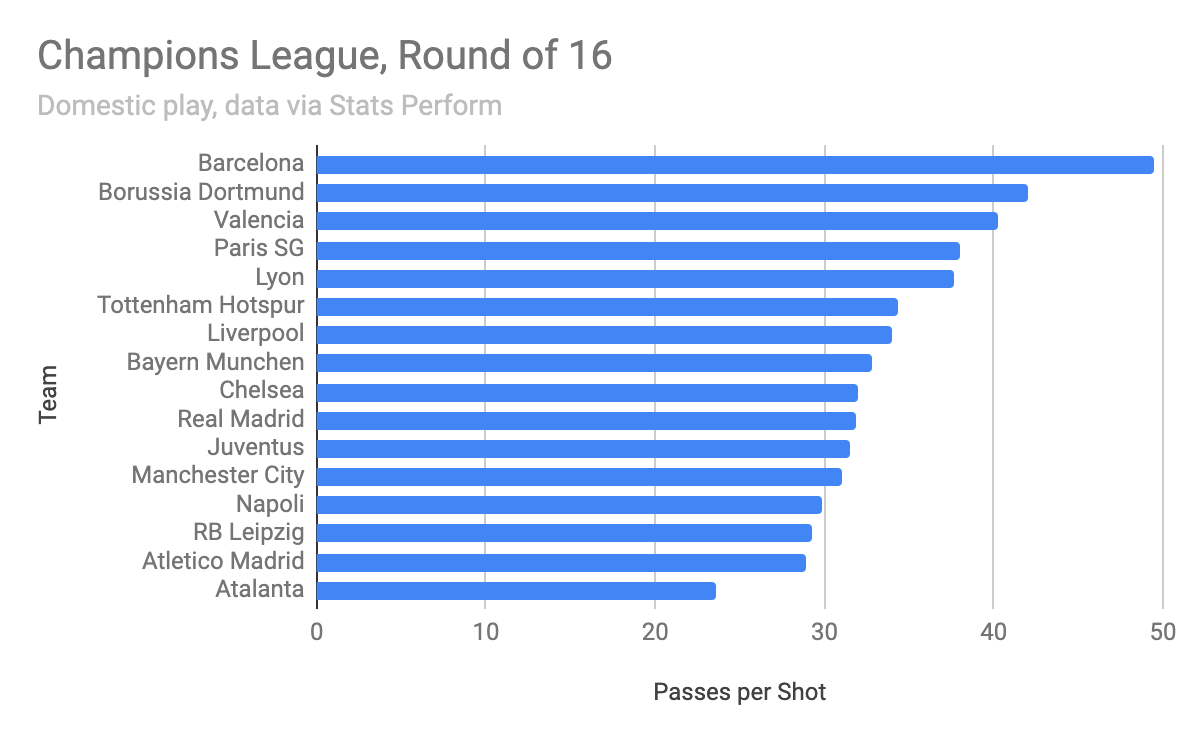 Earlier in the year, Barca struggled to turn all that possession into anything meaningful. They dominated the ball but they didn't create a lot of shots and they didn't create good shots. A disastrous combo. However, the latter, especially with Messi no longer injured, has changed. They lead La Liga in xG/shot at 0.14. Add that to the fact that Messi has six more non-penalty goals than expected, and you're able to have a team that averages a measly 12.9 shots per game but still sits atop the La Liga table. Basically, Barcelona have become a team that keeps the ball for as long as it can until Messi decides to do something amazing. We've seen that general approach -- nothing else matters, Messi will save us -- consistently and tragically fail in knockout competitions since, you know, each team has 11 players and they average player never has possession for more than 3 minutes per game. But this is the path the richest club in the world has chosen to walk down. And well, the guy has five more goals and five more assists than anyone in La Liga despite missing five matches. He's gonna keep you in every single game.
Lyon
-Chances of advancing: 28 percent
-Chances of winning it all: less than 1 percent
-Stat you need to know: 0.28 non-penalty expected goals per 90 minutes
The FiveThirtyEight team rankings give each team an offensive and defensive rating. The numbers stand for how many goals a team would be expected to score and concede against an average team on a neutral field. Not only is Lyon's attacking rating of 1.8 worse than any other team in the Round of 16 (no one else is below 2.0); it's worse than all but three of the 32 teams that played in the group stages.
The scary part? That number includes their performances with their best attacker, Memphis Depay. He's now out for the rest of the year with an ACL injury. Without Memphis (0.37), the player with the highest non-penalty xG per 90 number is Mousa Dembele (0.28). For context, that would rank 30th in the Premier League -- even with Burnley's Jay Rodriguez. And that's despite playing in an easier league. Dembele has significantly outperformed his xG so far this season, but the underlying numbers better represent what to expect from him going forward.
Without Memphis, it's really hard to see how this team is going to score. In the group stages, he found the back of the net five times. The rest of the team only combined for four goals, and no one else had more than one.
Juventus
-Chances of advancing: 72 percent
-Chances of winning it all: 3 percent
-Stat you need to know: 12 shots allowed per game
When I looked at the statistical profiles of the past nine Champions League winners for ESPN, one of the obvious findings: the teams that win the Champions League don't give up a lot of shots. It makes sense: A higher number of shots allowed suggests a lack of consistent game control and also pusing you up against at the whims of variance. If your opponent is getting a bunch of rolls of the dice every game, then at some point across the knockout stages, they're going to ... come up snake eyes at some point? I don't play dice. I frankly don't have the knowledge to finish this analogy, but I've provided you with enough information to get my point across.
Only two of the past nine winners allowed more than 11 shots per 90 minutes: 2011-12 Chelsea (11.82) and 15-16 Real Madrid (11.42). Juventus are allowing 12 shots per game, and that's not to say that they can't win it all, but rather that teams like this don't typically win it all. Maurizio Sarri is known for his attacking principles, but he took over a team that was built upon an excellent defense. Under Sarri, the defense has decayed, but the attack hasn't improved up to the world-class level the defense used to be at. They're fourth in Serie A in goals scored and in xG, and they rank just eighth in penalty-area entries among all teams remaining in the Champions League.
While it certainly seems like Juve and Cristiano Ronaldo still have a knack for converting just-good-enough performances into wins -- most points in Serie A despite the fourth-best goal differential -- the people who put their money on the line aren't quite convinced, either. Despite the cushy Round of 16 draw for the Italian champs, the Fanduel sportsbook has Juve at +1100 odds (around 7.5 percent) to win the whole thing -- sixth-best odds and longer chances than both Liverpool and PSG, who already lost their first-leg matches.
Real Madrid
-Chances of advancing: 34 percent
-Chances of winning it all: 6 percent
-Stat you need to know: 57.5 percent of aerial duels won
Outside of Bayern Munich, Manchester City, and Liverpool, this might be the best team in the world. That's a completely unremarkable thing to say about Real Madrid -- until you consider why this is one of the best teams in the world. The strong point of Zindedine Zidane's newest edition? It's the defense.
Among the teams left in the competition, only Liverpool are allowing fewer goals per match and only City are allowing fewer shots. Liverpool and Madrid are the only teams in the competition who are allowing under a goal per game and under 10 shots per game. Madrid have allowed the fewest goals in La Liga (17) and the second-fewest xG (19.2) -- both of which are incredibly stingy numbers across 25 games.
In comparison to Liverpool, Madrid are a bit more passive. Jurgen Klopp's team win the ball back 92.9 times per match, which is most among all remaining CL participants, while Madrid average 73 regains, which is fifth-fewest.Zidane's side are dominant in the air, though, as no other side in the competition wins a higher percentage of aerial duels than Real does. If we exclude PSG from the exercise I did for ESPN, then Liverpool and Madrid are the two teams that profile most closely with the teams who have won the tournament in the past: a ton of possession, few chances allowed, dominant space control, lots of shots, and an ability to both create and deny high-quality opportunities. Madrid's Round of 16 matchup is a nightmare thanks in part to their second-place group stage finish, so their odds are long, but this team is a legit title contender
Manchester City
-Chances of advancing: 66 percent
-Chances of winning it all: 21 percent
-Stat you need to know: 0.15 expected goals allowed per shot
They might not be here next year, but City are the favorites to win the whole thing this time around. They're the betting favorites -- +370, or around 18 percent; Liverpool and Bayern are tied for second at +550 -- and the model favorites, too, as they're tops according to FiveThirtyEight. They're the highest rated team in the system, with the third-best attack (3.2) and the second-best defense (0.2).
Pep Guardiola and Co. have the best per-game xG differential in England (plus-1.47) and second-best in Europe behind only boosted-by-their-league PSG. Among the remaining 16 teams, they're tied for first in shots, first in shots conceded, third in passes completed, third in passes allowed, and second in entries into the penalty area. They win the ball back higher up the field than anyone else, and a higher percentage (30.9) of their possession takes place in the final third than anyone else. City are able to completely and consistently dominate games unlike all of their continental competitors.
The one thing they can't do: keep the ball out their own net. Well, that's not quite right; they can keep the ball out of their own net, but they haven't been able to do it so far this season. They've allowed 1.1 goals per game, which is just seventh among all CL teams. However, as that FiveThirtyEight rating suggests, City have mainly been really good at doing all of the things that typically equate to very few goals conceded, but the process hasn't produced the results. They've allowed the fewest xG in the Premier League but the fourth-fewest G (24.8 to 29). It's not the keeper's fault, either. While Claudio Bravo was Caballero-esque in his handful of starts, Ederson's goals-to-post-shot-xG ratio is exactly even. So, it might just be that City's opponent's have just been hot all season long, finding corners and hitting 'em flush. Or perhaps the shots they're allowing are even better than they seem. That would be a problem because City are already allowing higher-quality chances than anyone else in the tournament and anyone who has won the tournament in each of the past nine seasons.
The return of center back Aymeric Laporte could fix that problem. He hasn't played a full 90 minutes since August, but he's started City's last two Premier League matches. When he's been on the field in the Premier League over the past three years, City average an absurd 2.43 points per match and a plus-1.82 goal differential. It could also be that they're so good at everything else that this one specific problem doesn't matter. But I don't think it's a coincidence that none of the past nine winners allowed above-average shots. It's the kind of weakness that you can fade over a 38-game season. But in a knockout tournament? It could sink you at any time.