How Do You Beat Lionel Messi By At Least 3 Goals?
Asking for a friend ...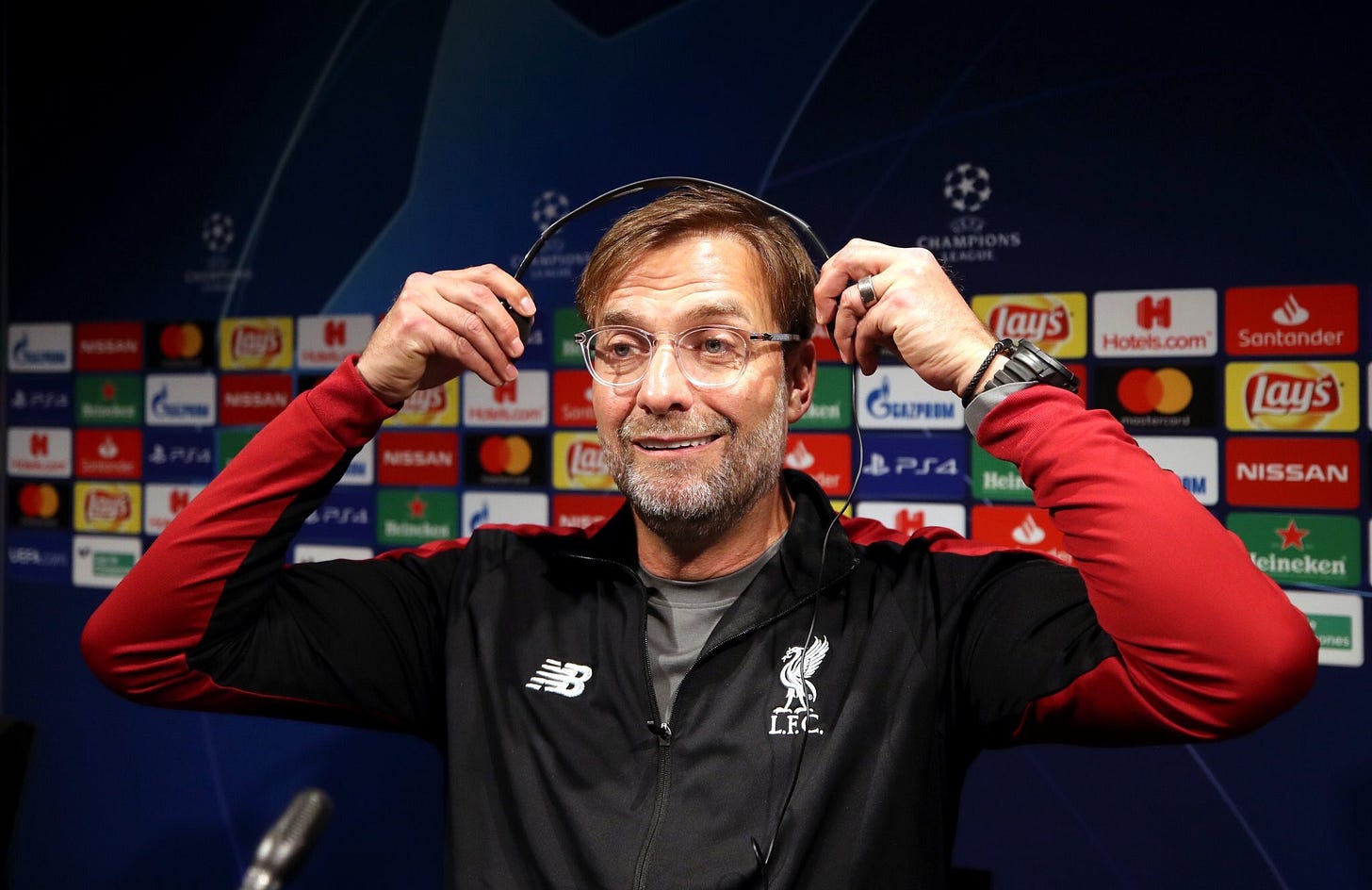 Liverpool, almost definitely, will not be playing in the Champions League final. Sure, they might beat Barcelona today. In fact, they probably will. FiveThirtyEight gives them a 49-percent chance of winning, while the implied betting odds on a win for the Reds are 41 percent. Liverpool are one of the best teams in the world, they're playing at home, and so they're favorites -- even with Lionel Messi on the other side.
Messi's, of course, the reason why a Liverpool win will get washed away by the aggregate scoreline. After Barcelona's 3-0 win in Spain last week, Liverpool's odds of advancing are five percent by the models and eight percent by the betting markets. The former is not even taking into account the fact Liverpool will be without Naby Keita, Roberto Firmino, and Mohamed Salah against Barca. They need to score at least three goals to have a chance of advancing ... and they'll be without two of their top three attackers and their most proficient midfielder on the attacking end. Oh, and they have to score all of those goals without conceding any. One Barcelona goal, and they'll need five; two, and they'll need six. Unless Jurgen Klopp solved the sport of soccer between Saturday's 3-2 win over Newcastle and today, Liverpool will basically have to concede space to Messi -- nearly four years to the day when he did this, without any room: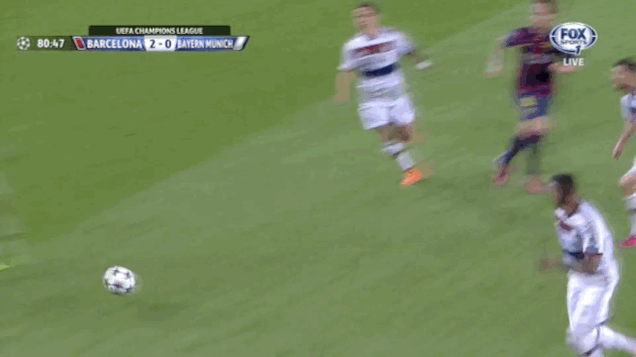 All of those factors taken together create a situation that the current version of Liverpool, with their near-historic Premier League point total and their ever-rising revenues, don't typically find themselves in anymore: They're massive underdogs, and to give themselves the best chance of winning, they can't just play the game straight-up. This will all probably be moot -- see: the odds -- but what makes this specific situation so specifically intriguing is that Liverpool have one of the most talented and well-managed teams in the world, and they're going to have to enact a plan that's typically the domain of the team with vastly inferior resources.
Here's an email I got from a reader named Cameron:
I was browsing reddit and reading the sad news about Mo Salah and saw these comments on the comment thread:

And it got me thinking, would this be effective? The NBA has transformed into a 3-pointer bombing league due to the higher efficiency, but what is the equivalent change in soccer? Goals from a longer distance aren't worth more so maybe it's not necessarily bombing long range shots. But why don't more teams recruit giants (NBA sized players) to play striker and just constantly play long balls and crosses into the box? Your former boss Bill Simmons had Daryl Morey on the other day and Morey kind of suggested some thoughts on how soccer could improve its efficiency but I'd like to hear your thoughts.
I listened to that podcast, and I saw the talk Daryl did with Statsbomb's Ted Knutson. I agree with Morey's general premise, which is that we still don't know the most efficient way to play soccer. Just because the best coaches and best teams are playing a certain way doesn't mean it's the best way; those teams just have the best players and can get away with more slack in their styles. The was true, at one point, in baseball and basketball, too.
However, I'm not sure I agree with his specific ideas. Morey suggests that teams stop passing the ball back to the keeper and stop trying to keep possession in their own halves because the downside so greatly outweighs the upside. Instead, he says that teams should hit the ball long and then pressure it high up the field, away from their own goal; he refers to the approach as "smush" at one point. The funny thing about this idea is that it pretty directly mirrors the long-ball-and-press strategy of Charles Reep, who I told you guys about in the first newsletter I sent out. I'm quoting myself because my kind, breathtakingly handsome editor said it was OK:
Thanks to the bad math of an accountant named Charles Reep -- who would go around to various stadiums, light up a miner's helmet (I'm not messing with you: plenty of clubs didn't have floodlights at the time), and record everything that happened in a game by hand; he was human Opta -- some people began to think that the best way to score goals and win games was to bomb the ball upfield as quickly as possible. In short, Reep found that most goals came from passing moves of three passes or fewer, so he encouraged teams to stop passing the ball. What he missed from his findings was that while possessions of four passes or more didn't lead to as many goals, they were still more likely to lead to a goal. Correlation vs. causation, bro. Reep's theories were mirrored and possibly adopted (long story) by Charles Hughes, who became the English Football Association's director of coaching. And the misguided math-based philosophy all culminated with England bowing out in the group stages of the 1992 European Championship and then missing out completely on the 1994 World Cup in the U.S.
Basically, Reep's theories gained popularity because they worked with a number of lower-level or less-talented teams throughout England. It was effective to play the long-ball style when you weren't skilled enough to pass it on the ground and neither were your opponents, but as you moved up the ladder and opponents got better, the style lost its edge since defenders were more adept at dealing with the aerial bombardment and passers could play through the press and keep the ball for themselves.
So, no! I don't think Liverpool should play like Stoke City; the Reepian style might be a useful way of playing if you want to steal a result against a better team, as it lets you keep your defensive shape while also forcing the ball into the attacking third often enough that something good could theoretically happen. But Liverpool, again, need a minimum of three goals; they need to blow Barcelona off the field, not crowbar their way to a tight win. Perhaps Stoke's style with Liverpool's talent equals a goal-scoring bonanza, but I doubt it.
If I knew the exact answer for what the analytically optimized way of playing soccer is, well, I don't think this newsletter would have much utility for anyone. However you define analytics, it still doesn't have much of an effect on the highest levels of the sport, so we're still a long ways away from figuring out what really wins games. Now, there are some clear ways to improve a team's efficiency: Be more selective with your crosses. Don't take shots from outside the box (unless you're good at it -- or you're Vincent Kompany.) Make your subs more aggressively. Don't change the way you play when you take the lead. Play the extra pass across the goalmouth, rather than taking the tight-angle shot. Spend more practice time and mental energy on set pieces and throw-ins.
Except, none of that is necessarily too helpful to Liverpool -- partially because they already do most of those things! That's part of the reason why they're so good. They'll also be playing against a team with a 3-0 lead, so the same kind of inefficiencies you could exploit in a game that's even from the jump might not be there.
However, I do think that most managers -- even the best ones -- are too conservative. It was true in every other sport, and it's clear in how unimaginative these guys are with their subs, and it's clear in how they approach the road matches in the Champions League. One study of playing styles found that managers are, on the whole, more defensively oriented than they should be. So, maybe Liverpool will enjoy some minor, bizarro advantage from being forced to be aggressive while their opponents may feel incentivized to be even more conservative.
For inspiration, I'd look at how Manchester City played against Liverpool in the second leg of the quarter-final last year. They lost the first leg away, 3-0. And they came out on fire at home -- with a lineup that included six attackers. They pushed high up the field, seemed to pinpoint the right side as Liverpool's weakness, and came forward in wave after wave of tight, fast combinations. They scored in the second minute, and in the first half, they completed 96 final-third passes to Liverpool's 20 and out-shot them 14 to 2. Unfortunately, they had a goal disallowed and so only one of those shots went in and only two of them were on target. (Red shots are off target, gray are blocked, blue are saved, and yellow are goals.)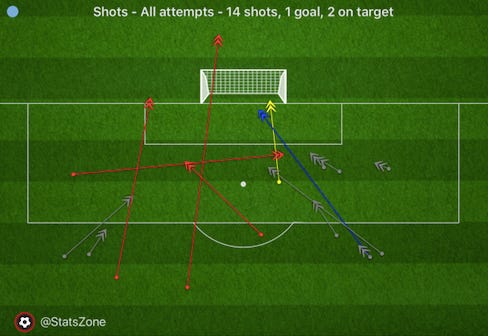 Plus, dominating a half that thoroughly requires two things: 1) Extreme energy exertion to continually win the ball back and work it forward, and 2) a high defensive line. In the second half, City weren't able to control the game as well because they don't have enough cyborgs on the roster, and so Liverpool finally exploited the space behind their pushed-up defense en route to a 2-1 win.
The complication with Liverpool enacting that kind of strategy against Barcelona is that Salah, Firmino, and Keita -- three players who can both cover a ton of ground to press the ball and then also have the skill to combine through a packed-in defense, like City did last year -- are all out. And another one, Alex Oxlade-Chamberlain, has played just 17 minutes this season.
I talked to James, who's an analyst with Statsbomb, about this yesterday, and he pointed out to me that Liverpool scored a goal before the 34th minute in all but one of the games they've won this year in the Champions League and against the Premier League's Top Six. Scorelines change the way games play out, and Liverpool have been especially good at skewing things in their favor. If Liverpool get two goals in the first half, perhaps Barcelona's conservatism sets in since they'd now be just one goal from extra time and maybe that allows Liverpool to keep pushing forward without as much of a threat from a Barcelona counter. It also helps that manager Ernesto Valverde's scariest counter-attacking threat, Ousmane Dembele, will miss the game. After all, the lack of a deep option is what did Barcelona in last year, as it allowed Roma to push bodies forward without fear of anyone getting in behind their defense. They overturned a 4-1 deficit with a 3-0 win at home.
I hesitate to try to draw any kind of truth from the other 3-goal-or-more deficit that's been overturned in the Champions League this decade. Attempting to catch lightning in a bottle six separate times in a single evening is not advised:
However, like Roma, Barca did win a penalty -- two, in fact -- so perhaps that's a key for a massive turnaround. It's tough to create high-quality chances when your opponent is playing defensively and hoping to counter -- go look at that City shot map again -- but if you can keep the ball in and around the opponent's penalty area, you increase the chances that a defender screws up or the ref awards a marginal call, and voila: a 75-percent chance of scoring a goal. Penalties exist outside most analyses of games -- there are separate conversations about the call, not about how earning or conceding a penalty fits into either team's approach -- but just like the 3-point foul shot that Morey's Houston Rockets have exploited, a penalty shot has a higher expected value than almost all of the chances a team can create in open-play. No one wants to watch that, but if you can figure out a way to consistently earn more penalties, you're significantly increasing your team's chances of winning.
I also asked Dan Altman, a former analyst for Swansea City when they were in the Premier League and the founder of North Yard Analytics, if there were any analytically sound approaches Liverpool could take today. He pointed out that the Catalans can be vulnerable down their left side and via aerial balls into the box from open play. He's also skeptical of the guns-blazing-from-the-get-go approach.
"Playing wide-open football doesn't make sense, since Liverpool can't afford to concede. Liverpool need to identify Barcelona's weaknesses and then hammer them repeatedly for the entire match, or at least until Valverde changes his setup," he said. "Barcelona may expect Liverpool to come out blazing, but a grind-it-out approach might work better overall.
"In terms of game management, Barcelona tend to tire defensively in the second halves of away matches. It might be wise for Liverpool to rope-a-dope a bit in the first half, then turn it on in the second. The best time to consider attacking substitutions, ideally two players at once to work in tandem, might be about 70'-75'. The times to watch out for Barcelona's most dangerous attacks are around 30'-40', by which time Messi has usually saved up some energy and clocked the opponent's defending, and again around 60'-70'."
According to research from 21st Club, the teams that win games will -- more often than not -- attempt more shots on target, take more shots from inside the box, complete more through balls, and connect on more final-third passes than their opponent. I'm not sure you can really reverse engineer any of those things into the way you approach a game, or if they would even be effective if you did. It's hard to see Liverpool advancing without surpassing their opponents in all of those areas of the game. Then again, they completed more final-third passes and took more shots from inside the box than Barcelona last week -- and they and still lost by three goals.
All in all, it's not a great situation for Klopp and Co. But I do think there are some interesting little dynamics at play here that could provide LFC with some minor edges that they'll have to blow up with a combination of elite execution and incredible luck. Unfortunately, even that might not be enough.