I Watched All Nine of the Chances Kevin De Bruyne Created Against Tottenham
Here's a scary thought: Manchester City won 98 points last season, and their best midfielder barely played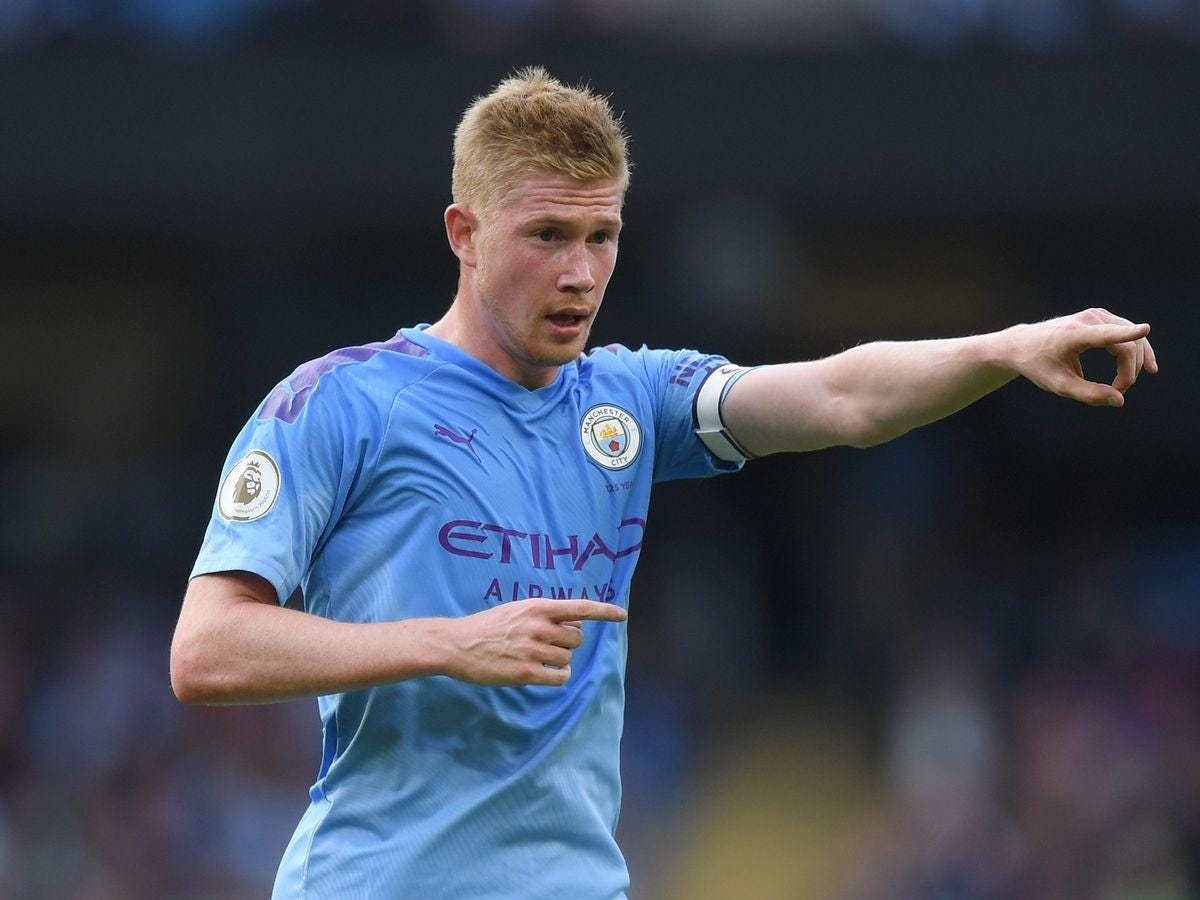 Since the beginning of the 2016-17 Premier League season, a lot has happened. That extends well beyond the soccer world, of course. Given the latent, institutional uncertainty that seems capable of driving everyday life right now, hours feel like days, days feel like weeks, weeks feel like months, months feel like years, and on and on. I'm 31, and my 30th birthday was two decades ago.
But even the Premier League itself has seemingly shed through multiple life cycles since that season kicked off in mid-August 2016. Leicester City had just -- somehow -- won a Premier League title. Chelsea, Manchester City, Manchester United, and Liverpool all had high-profile, mega-successful foreign managers entering their first full seasons with their clubs. Mauricio Pochettino had just finished top four for the first time as Tottenham manager. Arsene Wenger was entering his second-to-last season as the head man at Arsenal. 
Chelsea won the league by a comfortable seven points in their first year under Antonio Conte. Now, Conte's managing Inter Milan, and Chelsea are on their second coach since he left. The current man in charge, Frank Lampard, was still playing professional soccer in Yankee Stadium when the 16-17 season began. Alexis Sanchez set the league alight with 24 goals and 10 assists for Arsenal in 16-17; three years later, he plays for Manchester United, hasn't scored or assisted a goal since January 2, and could soon be on his way to join up with Conte at Inter. Manchester City, in their first season under Pep Guardiola, finished in third-place in 2016-17 -- only to then follow that up with the two highest single-season point totals in Premier League history.
In 2016-17, City's Kevin de Bruyne led the league in assists with 17. He topped the list again the next year with 16. And then last year ... he played a total of 974 minutes, thanks to a spate of lower-body injuries. When he was out there, he wasn't effective, either. After three straight seasons of at least 0.70 non-penalty goals+assists per 90 minutes, his attacking contribution dropped all the way down to 0.37 last season.
Despite a near-zero contribution from their top creator, City barely missed a beat, as their point total only dropped by two and their underlying performance (expected-goal differential) actually improved. And despite last year's write-off, de Bruyne himself still has more assists than any other player since the 2016-17 season began.
Tottenham stole another result from City, and VAR is still hell, but the biggest takeaway from Saturday's all-but-the-scoreline thumping -- 3.0 expected goals to 0.1! -- is that De Bruyne is back to his old self.
Here's a tidy summation of what he's done so far this season:
Nine of those chances and two of those assists came on Saturday. Not a single player reached both of those benchmarks in a single game last season, so let's take a look at all of the chances de Bruyne created against Spurs. We'll see how a player can dominate a game without scoring a goal.
To start, geography is destiny: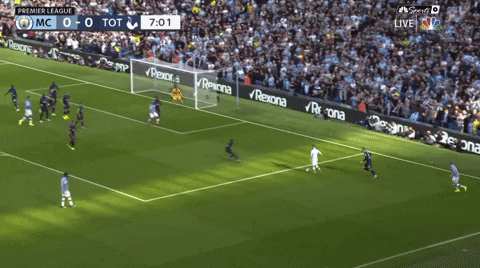 And a designated corner-kick taker for a top team is going to rack up key passes and a couple extra assists just by virtue of being that player. Manchester City took 298 corners last year; Liverpool, who were second, attempted 249.
Last season, City dominated every phase of the game -- save for set pieces. Their 12 goals from free kicks were just eighth-most in the Premier League. Perhaps that will change with the return of the right foot that can turn a soccer ball into a benevolent cruiser missile:
Crossing is bunting, relying on your running back, and hoisting up contested 15-footers.
But those numbers are an aggregate. On the whole, if a randomly selected player in a randomly selected European league wound up to whip in a cross, it would be a bad idea. The most likely outcome: a turnover. But within that mass of inefficiency, there are good crossing locations and there are good crossers. The above goal sits in the center of that Venn diagram, as does this one:
Under Guardiola, De Bruyne has been deployed as a de facto midfielder. He came up as an attacking midfielder, playing either behind a striker or tucking in from one of the wings. That role, the romantic ideal of the no. 10, is dying out, and now there are always at least two wingers and one striker ahead of the 28 year old. I've always thought of this trend of attackers becoming traditional-ish midfielders to be similar to the movement toward small-ball in the NBA: an average-shooting small forward becomes an above-average shooting power forward even if the percentages remain the same. But De Bruyne actually became the most productive creator in the league when he got pushed farther from the goal, and maybe some of that has to do with the extra passing options suddenly at his disposal.
In his first assist against Spurs, De Bruyne received a back-pass from one winger (Bernardo Silva), then whipped the ball toward a striker (Sergio Aguero), the other winger (Raheem Sterling), and another midfielder (Ilkay Gundogan). In the second goal, you can see the advantage of deploying a player who's comfortable in the attacking third farther back. Danny Rose has to step out to pick up Silva, so there's space for De Bruyne to run into, and then there's enough time for him to measure up a perfect cross. Hell, it's more of a shot. By hitting his crosses like he's trying to pop the ball, de Bruyne creates all kinds of problems: less time for the defense to react, higher chance of an own-goal deflection, easier for attackers to redirect the ball into the net. Controlling the direction while harnessing that much juice isn't easy, but I wonder if more players shouldn't sacrifice some accuracy in order to gain some extra power on their crosses. It's not like the traditional approach is working!
Pull-backs, cutbacks, whatever you want to call them -- they've become a staple of City's success under Guardiola. Successful teams just tend to create more of them than their opponents.
Most of the time, though, it's a player passing up a tight-angle shot from inside the box to create a higher percentage chance for a teammate near the center of the goal. But with De Bruyne on the ball, 25 yards becomes five. The beauty of the cut-back is that it uses the defense's momentum against them to create space in the box: they're scrambling back to cover the goal, and the ball suddenly cuts back in the other direction.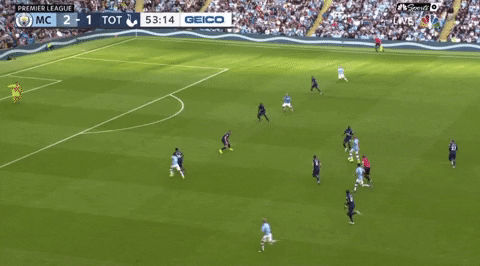 And this is why Kevin De Bruyne has more assists than anyone since 2016. He takes corners, and he can create tap-ins from just about anywhere on the wing, but he's also capable of sliding an atomically precise through ball through the heart of a defense. Watch that thing again -- a single, straight, 15-yard ball takes six Tottenham players out of the game in an instant.
Two more corners -- both to Nicolas Otamendi's forehead: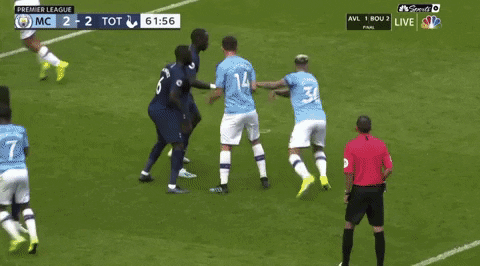 Otamendi only started 14 league games last season. During the 100-point season, though, he scored four goals. Last year, the City's four centerbacks combined for four goals. More Otamendi and more De Bruyne -- even more of a reason to expect City's set-piece scoring to tick up this season.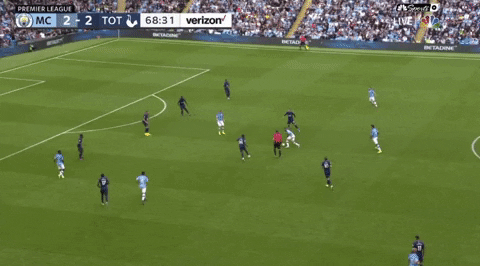 The last one is the least spectacular, but after spending the day creating his own meteor shower, De Bruyne's final shot-assist highlights some of the subtleties that go into any chance. Gabriel Jesus does all of the work -- before the GIF, before the pass, after the pass, and after the first shot -- but it never comes about without De Bruyne occupying the space in front of the back line, hesitating, and then shifting the ball back to the Brazilian after he regains a head of steam.
With the draw on Saturday, City have already dropped two points that they didn't drop last year, but I'm not convinced that this won't be the best iteration of the best team England has ever seen. Why? The league sure looks a lot different than it did in 2016, but Kevin De Bruyne is pretty much the same.