Manchester City's Improbable Improvement
First, they won 100 points. Then, they got better.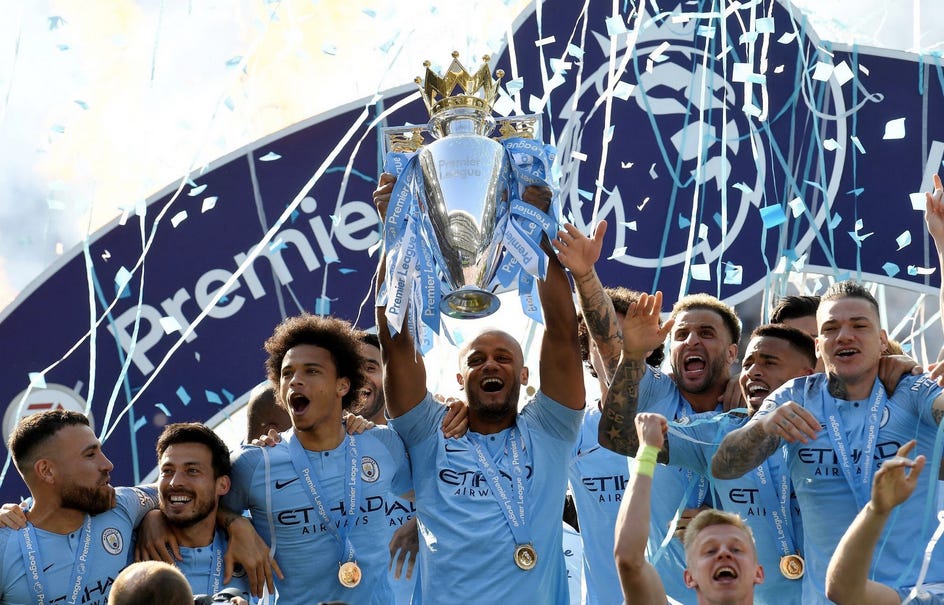 Eleven millimeters -- that's one difference between first and second. A through ball from Mohamed Salah, a last-second touch from Sadio Mane, a deflection off the post, a clearance from John Stones, a deflection off his keeper's chest, another clearance from John Stones, a bit of goal-line technology, and four months later, Manchester City are champions once again.
Of course, when the margin is so thin, every single moment has the potential to be decisive. Did it happen? Then it decided the winner. Willy Boly scored with his hand to draw with City. Daniel Sturridge scored a two-percenter in the 88th minute to draw at Chelsea. Riyad Mahrez missed a penalty at Anfield. Divock Origi scored a bizarre header against Everton. Andros Townsend scored the goal of his life at the Etihad. Vincent Kompany nearly got red-carded, but didn't; Mane's shot hit the post and bounced out; Sane's shot hit the post and bounced in. Hugo Lloris and Toby Alderweireld combined to score ... for Liverpool. Sergio Aguero's shot cleared the line against Burnley by 29.5 millimeters. Origi scored another header against Newcastle. Kompany scored the first goal of his City career from outside the box against Leicester; Kelechi Iheanacho missed a breakaway. There's all that, and lots more.
Liverpool have mined just about every edge there is: Consider the possibility that there are in fact objective ways to measure performance in The Beautiful Game? You bet. Find a superstar manager who's out of work? Yep. Land three attackers who developed into superstars in consecutive summers because you're hip to underlying numbers? Uh huh. Constantly mine unheralded talent from the lower levels? Sure. Take all that, find success, make more money, and then use that money to buy premium-price players at your two most obvious positions of need? Bingo, bango. Dominate on set pieces? Absolutely. Hire a freaking throw-in coach? Why they hell not?
And yet, they still fell short. Last year, Manchester City were the best Premier League team of all time. This year, they might have been even better.
Yes, they're two points worse off, with a slightly declining goal-differential -- but they did that with two games against what was by far the best second-place team in league history (and frankly, probably the second-best team that England has ever seen). They also did it in a year where all four teams behind them in the table made it to European finals. According to Opta, their expected-differential improved the year after they won 100 points.
Last year was unheard of, and so was this one. Outside of City's past two seasons and Liverpool this year, six other teams have reached 90 points in a Premier League season. On average, they declined by slightly more than 10 points the following season. Whatever the reasons for that -- an emotional letdown, conversion rates regressing toward the league average, players leaving for a new challenge, a manager moving on, the rest of the league building teams to beat you -- none of it affected Pep Guardiola and Co.
City set never-before-seen expectations last season, and then they exceeded them. Betting markets pegged them for 88 points at the beginning of the year. The FiveThirtyEight model put them at 85.
Here's the Guardiola Effect, courtesy of the Elo rating system: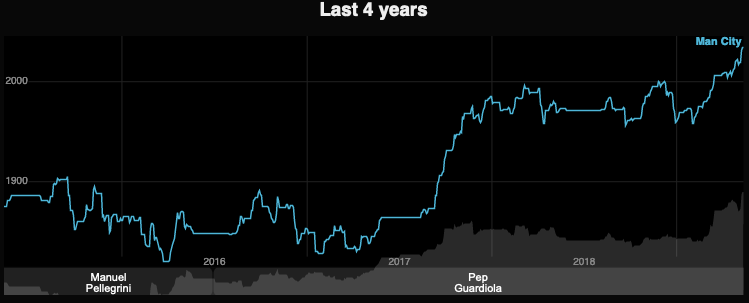 Will it ever end? Sure, but it's hard to see -- after all, everything starts to blur together when you have to look too far into the distance.
City's owners, the Abu Dhabi United Group, have poured more than a billion dollars into the team since taking over in 2008. There's plenty not to like about where the money comes from and how the club's hierarchy have used that cash-power to bend-and-almost-break the rules in their favor. (Dig just a bit under the surface of any person or consortium with enough money to own one of the 20 biggest soccer clubs in the world, and you're not gonna like what you see. Ethical consumption is a myth!) They could soon be facing a multi-window transfer ban for violating restrictions for signing youth players.
Given the tiny distance between first and second right now, maybe that's the final edge Liverpool need to get to the top. But even then, I'm not so sure. Although they were just a point behind, Liverpool's xG differential was about 15 below City's. It seems unlikely that the same level of performances next year will produce the same results for Klopp's club.
Then there's City's roster. Kevin De Bruyne was arguably the best player in the Premier League last season. He played 962 of a possible 3420 minutes this year. David Silva, Sergio Aguero, and Fernandinho are the only 30-and-over players who logged at least 2000 Premier League minutes this season. A good chunk of Silva's minutes going forward will presumably just go to De Bruyne. Gabriel Jesus still gets on the end of incredibly high-quality chances; if he remembers how to actually, you know, put the ball into the net, he'll eventually slot right in for Aguero, who really hasn't started declining. And the Fernandinho question has been circling City for multiple seasons now; he's supposed to be the one irreplaceable player, but he only started five games during City's 14-game win streak to end the season. They were a machine with and without him.
Meanwhile, Raheem Sterling, who has at least 17 goals and 10 assists in each of the last two campaigns and has become the untouchable player in City's attack, will be 24 at the start of next season. Aymeric Laporte, their best defender, will be 25, as will Bernardo Silva, the world's preeminent glue guy and another legitimate heir to Silva in the midfield. Leroy Sane, who hit 10 goals and 10 assists, despite not even reaching 2000 league minutes, will be only 23. It seems unfathomable that the team could keep improving, but they don't seem likely to decline any time soon.
This year's title race was so compelling, in part, because it featured the two best teams in the world, playing two of the best seasons in the history of the sport. But what made it unforgettable was how differently they both went about it. Liverpool's season was a 38-game-long primal scream; in other words, exactly what Jurgen Klopp wants. He wants the fans to be entertained, he wants the players to feed off the fans -- a gegenpressing-powered feedback loop that keeps his players moving forward even when they think they can't anymore. His teams never feel like they're in control for an extended period of time because that's not the point; they want to push the game so far into chaos that the concept of "control" simply ceases to exist. Liverpool took fewer shots this year than last -- 15.1 per game to 16.8 -- but they increased their overall xG. On the other end, the opposite happened: more shots allowed, and fewer xG. That all fits with the feel of the season: They created enough high-quality moments in almost every game -- sometimes the game would be over by halftime, sometimes that decisive moment wouldn't come right until the end. There weren't as many, but the screams were louder than ever before.
Liverpool's fury was only amplified by the machine-like cool of the team they were chasing. Over the past two years, it has often felt that while everyone else was playing a game, City were controlling it from the inside— like they'd understood and perfected some inherent truth that their rivals were all unaware of. Last season, City led the league in essentially every aspect of the game. They created the best chances and conceded the worst -- most xG and fewest xGA. They pressed the ball more aggressively than anyone and fended off opposing pressure with ease -- allowed the fewest passes per defensive action (PPDA) and completed the most. And they controlled territory as if the field were always tilted at a 45-degree angle -- most passes completed within 20 yards of the opponent's goal (deep completions), and fewest allowed. This season, they did it all again.
All the things that are supposed to trip a team up just ended up getting ground through City's gears. Last year, it was Fabian Delph, an unspectacular midfielder who seemingly hadn't played a soccer game in 15 years, turning into the starting left back on a 100-point team. This time, well, it was replicating last year without last year's top contributor, and it was ending the season on the second-longest win streak in league history without the one player for whom there was no clear replacement on the roster.
There's no question at this point: Guardiola understands what wins soccer games more than any manager out there. In Spain and in Germany and in England, he's maximized his vast resources to an unprecedented degree. He's the only person to win back-to-back titles in all three leagues. It's an overused word, but people at all three of his stops will tell you that he "revolutionized" their club. He'll keep getting beaten with the "but he always has the best players" stick; if it was all that easy, he wouldn't have been the only one to do it, three separate times.
With City, almost every player who's played under him has improved by a significant degree. The one exception, though, seemed to be last summer's marquee signing, Riyad Mahrez. He came over from Leicester for £62 million -- the second-highest fee the club had spent on a single player. The move seemed strange from the moment it was announced; Mahrez benefited from being the high-usage focal point of Leicester City's attack, which wouldn't be the case at City, where the forward/attacking-midfielder slot was seemingly the club's deepest position. Most of those concerns were borne out by the season: Before Sunday, he'd started only 13 Premier League games, and he'd only scored six goals and assisted on three. At Leicester, he went over 10-goals-10-assists in two of the past three years.
Despite those struggles, Mahrez started on Sunday. With about 30 minutes of the season left and City still only up by a goal against Brighton, he got the ball at the top of the box, faked a shot with his left foot, flipped it to his right with the trademark fluidity that once stylized Leicester's improbable run to the top of the table, and planted the ball into the upper corner. Most teams couldn't survive an off-year from a 60-million-pound player. City did—and then he clinched them the title.
PUBLISHING NOTE: This is your Tuesday newsletter — on Sunday. Happy Mother's Day! Love you, mom!