The Joy of Paul Pogba
HAPPY NEW YEAR!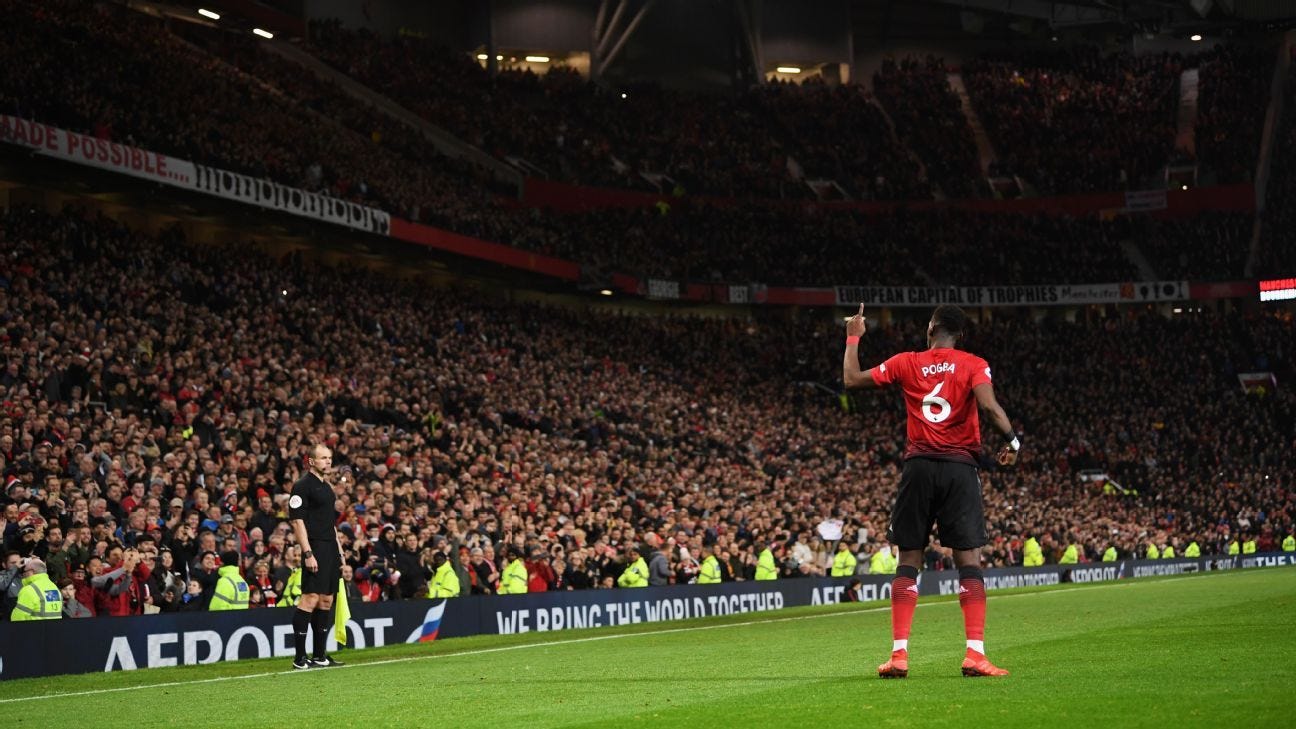 You're still here! In 2019! Keeping it short-ish today. In fact, if you're reading this on Jan. 1, I hope you're able to only check your email today because you want to. A resolution: Less mindless tab-switching, Twitter-flicking, and Gmail-refreshing this year! But whether you're here on delay on Wednesday, scrolling through a hangover on Tuesday, or just happened on this through a link (don't worry; I'll implore you to subscribe by the end), thank you. Your reward: Paul Pogba -- and boy do I love this Britishism -- in his pomp.
Another worthwhile resolution: Remember that this thing is supposed to be fun. If soccer didn't spark joy in the hearts of people all across the world, it would've been discarded a long time ago. (Do Kondo references still play in 2019?) I can't and won't and shouldn't tell you how to experience this sport, or anything else in your life. So perhaps a tiny bit of introspection would be useful: In case all of the constant start-stopping, the em-dashes and the doubling-back parentheticals haven't given it away, I am an anxious person. My favorite soccer team is currently in first place in the Premier League by a relatively large, potentially unthinkable margin more than halfway into the season. I haven't seen them win a first-division title since I knew they existed. (Newsday's Premier League coverage in 1990 was pathetic—as was my reading comprehension, since I was two years old.) And yet I keep thinking about -- at least, when I'm not attempting to objectively analyze the situation for public consumption! -- all of the ways it can go wrong. But ... why? So I can finally be happy for a couple hours on a Sunday in May but not enjoy the next five months? That sounds like eating emotional garbage! And if I savor the current situation but it all eventually falls apart? So what! That'll be a memorable five months, followed by a bit of disappointment, followed by ... the more or less unchanged remainder of my life. Please feel free to turn this into a metaphor and extend it out as far as you like.
And so, Pogba. To a casual fan who just watched the World Cup, blissfully and gloriously unaware of the oft-ugly off-field drama that underpins everything that happens between the lines, Pogba probably projects pure joy. He's capable of more than maybe any other soccer player on the planet. Shit, I might even blow up that superlative to "any other soccer player who ever lived"; someone try to find me a midfielder (i.e. someone who can be involved in all three phases of the game) with the same combination of dynamic technical and physical skills. It's almost like Pogba knows that life is short, so why not take those special gifts and have as much fun as he can? I mean, the guy scored the winning goal in the World Cup final ...
... and then dabbed with the freaking trophy. What a way to take down the final boss, huh?
So, if you haven't been following along since, it might surprise you to find out that Paul Pogba ... was benched for multiple games this season! Oh wow, his team must be pretty good, you're wrongly thinking. Manchester United are not good; they're in sixth place in England! Upon hearing that, however, you're now rightly thinking, Oh wow, that coach seems like he was doing a pretty bad job. Well, that coach, Jose Mourinho, was fired earlier this month, and Pogba's played every minute of the three games since, under interim manager (and former United supersub) Ole Gunnar Solskjær. Granted, the schedule has been soft as hell -- credit to United for the timing on that one -- but Pogba has four goals and three assists over that span. He is, of course, a central midfielder, and among players at that position in Europe's big five leagues this season, Pogba ranks first in goals+assists, first in expected goals+assists, fourth in defenders dribbled past, fifth in touches in the opposition half, and seventh in through balls completed. (Numbers, via Football Whispers, are per 90 minutes and only include players with at least 1,000 minutes played.) The attacking oomph Pogba provides from deeper on the field is unmatched -- for those fluent in American sports: think of it like a center who can shoot 3s or a catcher who's an above-average hitter -- but at least one person who works with European clubs has told me that he's kinda mad no manager has yet tried to turn Pogba into an out-and-out attacker. Another resolution: Acquire enough managerial and/or financial power at Manchester United to make sure that this eventually happens!
For now, though, we'll have to settle for Pogba just being somewhere on the field. (We'll get to the exhausting behavior-policing meta-commentary around him another time.) The soccer world is better off when Pogba's playing freely -- he doesn't just demand your attention; he demands that you let yourself smile. So, here's to more of that in 2019. Because if not, then what's the point?
As I said last time, and now say every time: If you enjoyed this, please subscribe! And please pass on the word to anyone you know who might be interested. Call your boyfriend. Tell your girlfriend. Inform your mortal enemy. Everyone is welcome … unless you're a fascist — in which case, get the hell outta here! Thanks, as always, to all you non-fascists for reading along.