The USWNT Got It All Wrong—and Still Won
Two penalties and not much else. That won't work against France.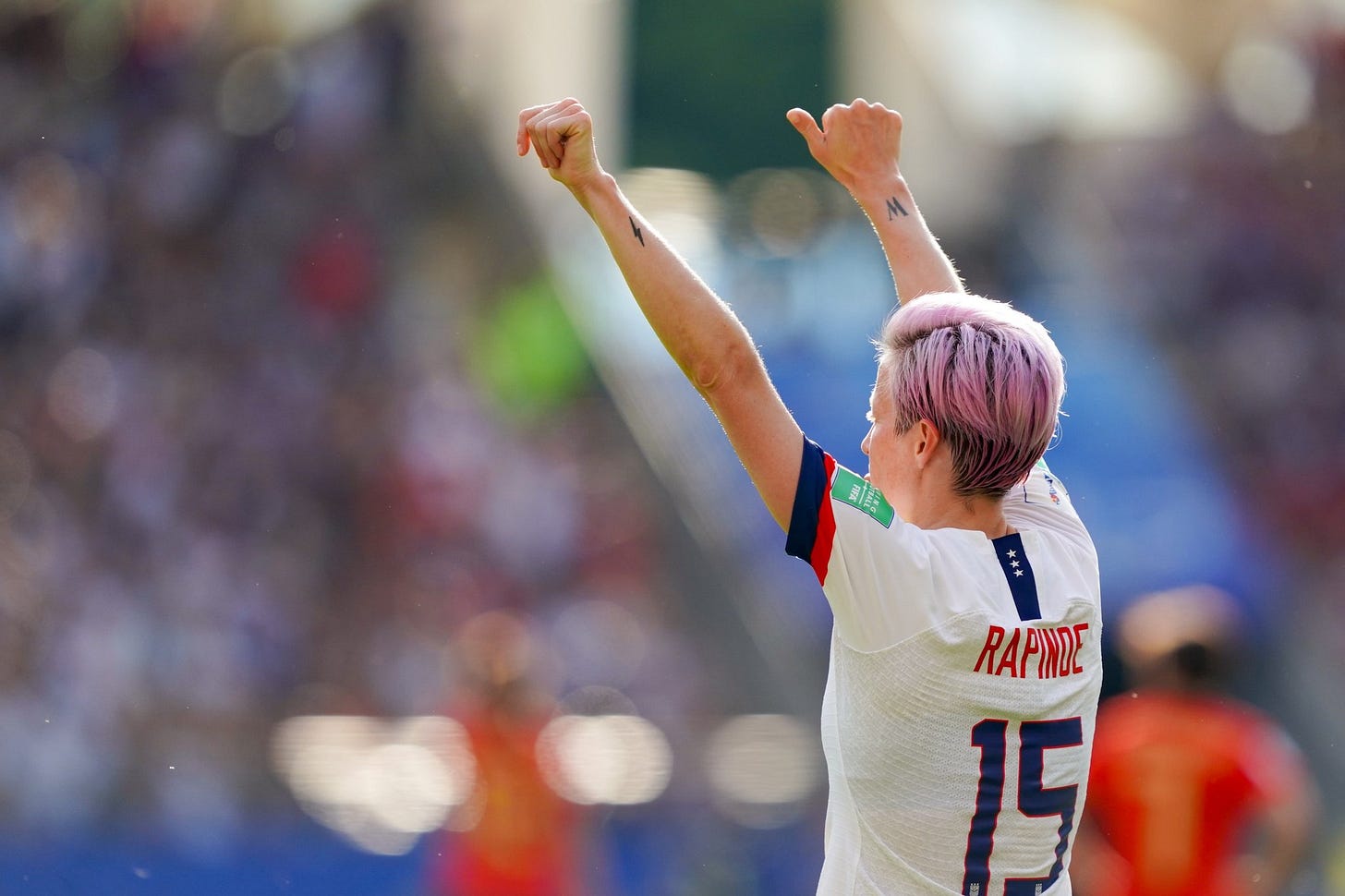 Yikes! The USWNT squeaked by Spain, 2-1, thanks to a fortunate pair of penalties, both converted by Megan Rapinoe. I say "fortunate" because I don't think either one gets called close to 100-percent of the time, and they got 'em both. I'm not sure VAR would've overturned either one had the ref not made the call in the first place. Then again, I'm "not sure" about anything with VAR. Every time it gets used, the guidelines and procedures and outcomes seem to conflict with all of the guidelines and procedures and outcomes that came before. I hate instant replay -- it hasn't made any sport "better" -- and a friend of mine suggested that VAR makes favorites more likely to win, since they're more likely to have the ball in the penalty area and thus create a moment that gets VAR'd into spot kick. US-Spain didn't do much to dissuade that notion.
Overall, the USWNT probably did just enough to win. Tobin Heath won a penalty, but was otherwise invisible. Same goes for Alex Morgan, except without the whole creating-the-single-most-valuable-moment-in-all-of-soccer thing. The team didn't put a single shot on target in open play. And the wingers and fullbacks were strangely disconnected from each other all game.
Most concerning, though, was the second half. Although the scoreline was even for most of the 45, Spain generated more dangerous possession. They just didn't have the players to turn it into any high-quality attempts on goal.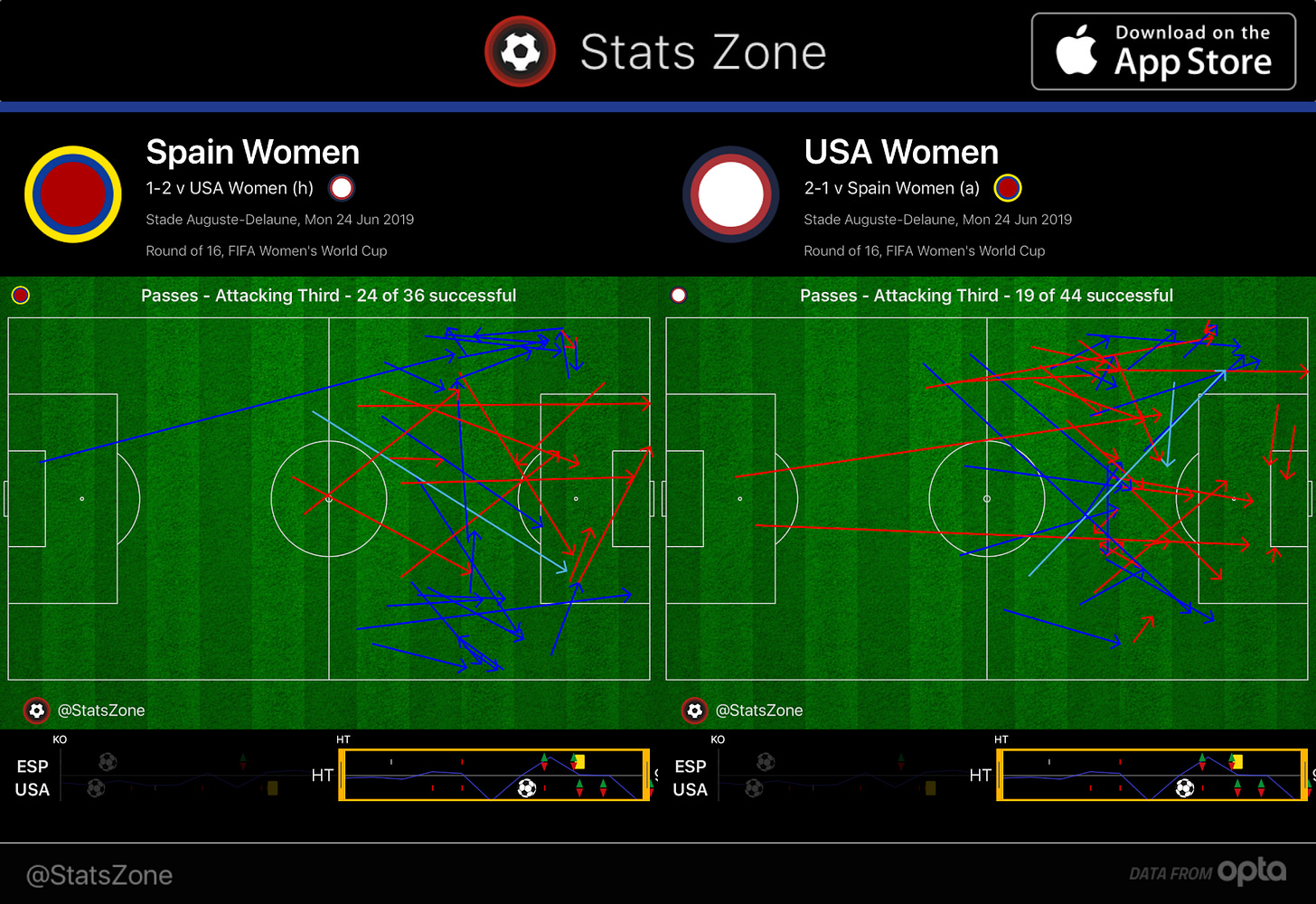 The US didn't complete a single pass into the opposition penalty area in the second half: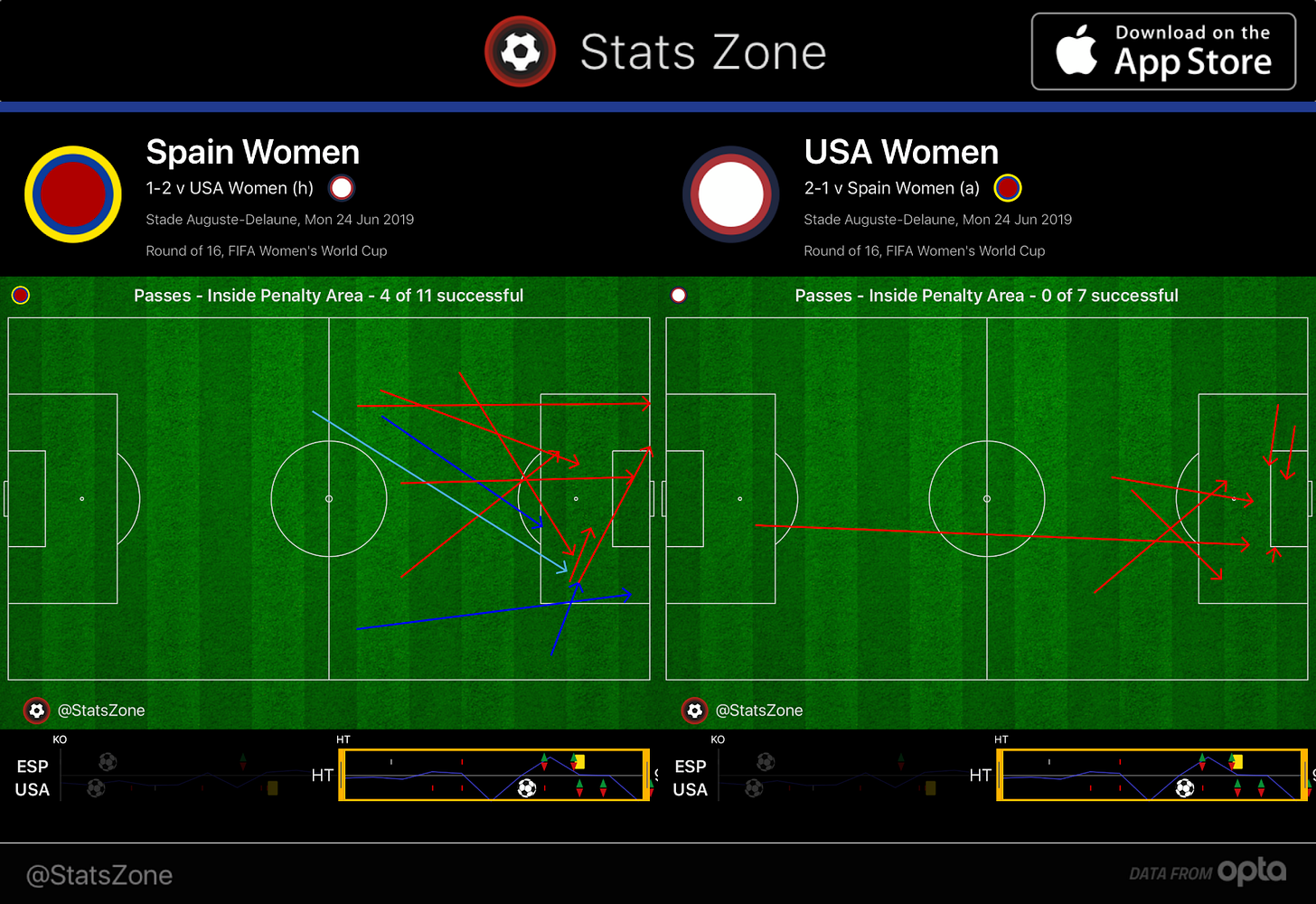 Despite leading what is supposed to be the deepest team in the tournament -- how many times have Fox commentators said that the US could field two teams that could win the World Cup? -- and despite carrying two players who were at best net-nothing and at worst net-negatives, manager Jill Ellis didn't make a sub until the 85th minute. She also didn't start Lindsey Horan, who might be the best player on the team. It seemed like it was because Horan was carrying a yellow and would've been suspended for the quarterfinal match against the other pre-tournament favorite with another caution ... but then Ellis subbed Horan on in the 89th minute. With the potential of yellow and little time for her to actually contribute to the outcome of the match, was that really worth it?
Ellis isn't the only manager who mismanages her bench. They all do it wrong. Player performance deteriorates over time, and yet almost all coaches wait way too long to pull the trigger. I wrote this for ESPN earlier this year:
A couple of years ago, analyst Colin Trainor conducted a study for Statsbomb on the goal-scoring rates of all players who scored at least six goals in Europe's big five leagues. Trainor's findings provide a neat snapshot of the effects of fatigue: Players who were subbed on scored at the highest rate (0.65 goals per 90 minutes), players who were subbed off scored at the second-highest rate (0.42) and players who played the whole match scored at the lowest rate (0.38). The players who came on against tired legs were most effective, while the players who didn't have to cope with their own depleting energy supplies were more effective than those who did.

Players will either tire as the game goes on or they'll conserve their energy knowing that they have to play 90 minutes. If a player goes into a match knowing he's going to play only an hour, he can max out his effort over that stretch before being replaced by a player with fresh legs who gets to run around against a bunch of tired opponents.

By not using all three subs earlier in a match, managers are taking a hit in two directions: They lose out on the upside of the effect of three high-energy players and they get hit by the deteriorating performances of the players they're not subbing out sooner.
The strange thing about Ellis's stubbornness on Monday was that her team was playing poorly. A lot of coaches play it safe because it's easier to imagine the downsides of what you're not doing than it is for what you are doing. But Ellis was incentivized to be aggressive, and she still stood pat. That doesn't inspire a ton of confidence in what she'll do with her team over the remainder of the tournament.
Over the first three matches, the US trucked two weak sides and then swatted aside a purposefully under-strength Sweden team that made five changes to its starting XI between the final group-stage game and their Round of 16 matchup with Canada. Great teams make easy work of smaller sides, but now we've got evidence that a stick in the gears can grind Ellis and Co. to a halt.
Although the surface of Americans' result looks better, France put forth a much more impressive performance in their match against Brazil. It took until the second period of extra-time for the winner to come, but the hosts dominated every phase of the game. They had two VAR decisions go against them, and their finishing wasn't efficient -- two things that aren't totally in their control:
France more than doubled-up Brazil's number of passes completed in the final third: 85 to 38. And if you're looking for one big reason to be worried about the US before Friday, here it is: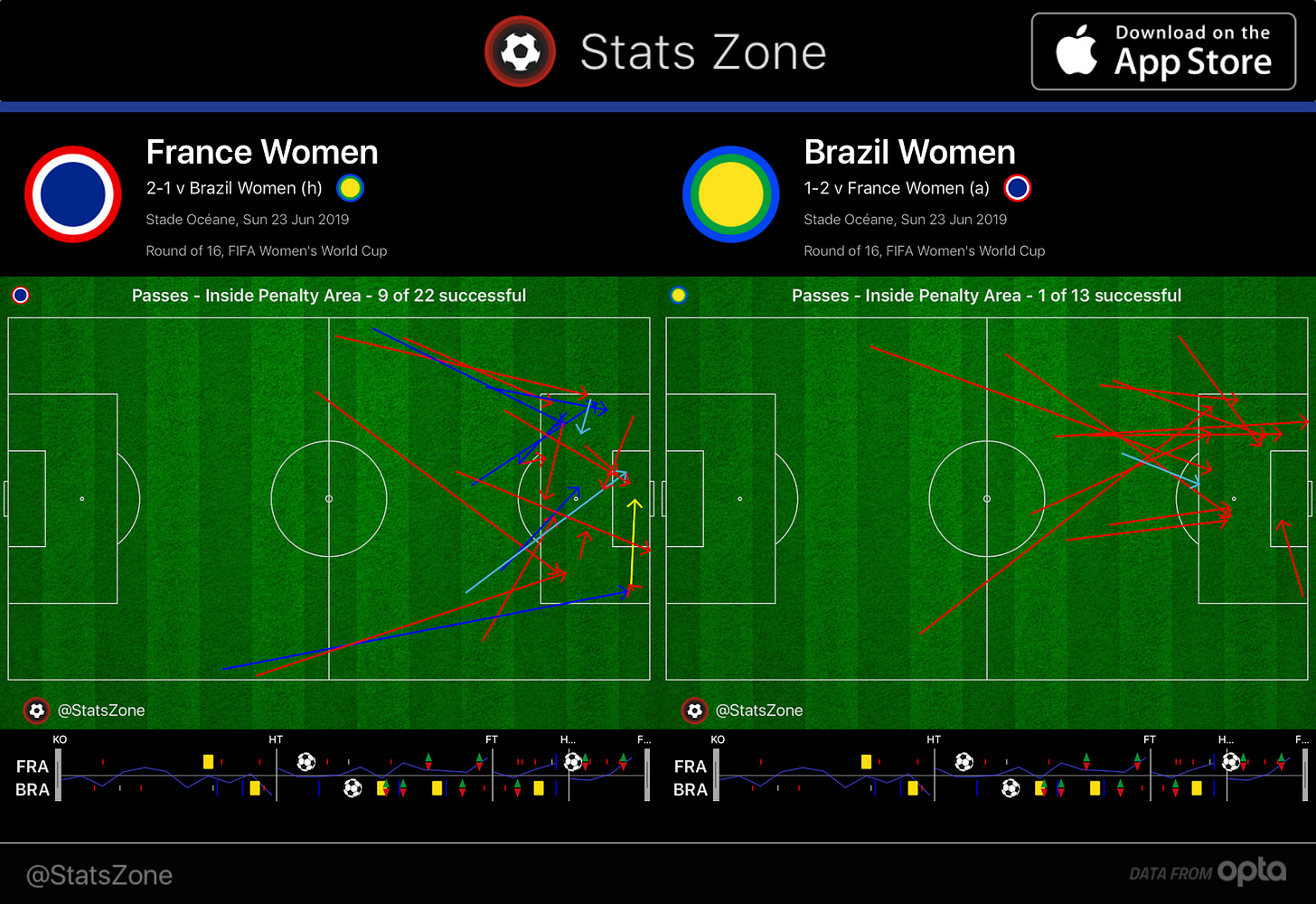 That's one pass allowed into the penalty area, and that's in a game that lasted for 120 minutes. 
The USWNT couldn't generate much at all in the run of play against Spain, and France might be the defensive team in the world. The USWNT couldn't keep Spain out of their defensive third, and France are coming off a match in which they turned loads of deep possession into loads of high-percentage chances. With the same lineup and the same performance and the same coaching we saw on Monday, the US aren't likely to make it past Friday.