What to Expect From Christian Pulisic at Chelsea
Plus: How much is Neymar worth? What's up with Chelsea's defense? And what happened with Alisson? It's a mini-mailbag!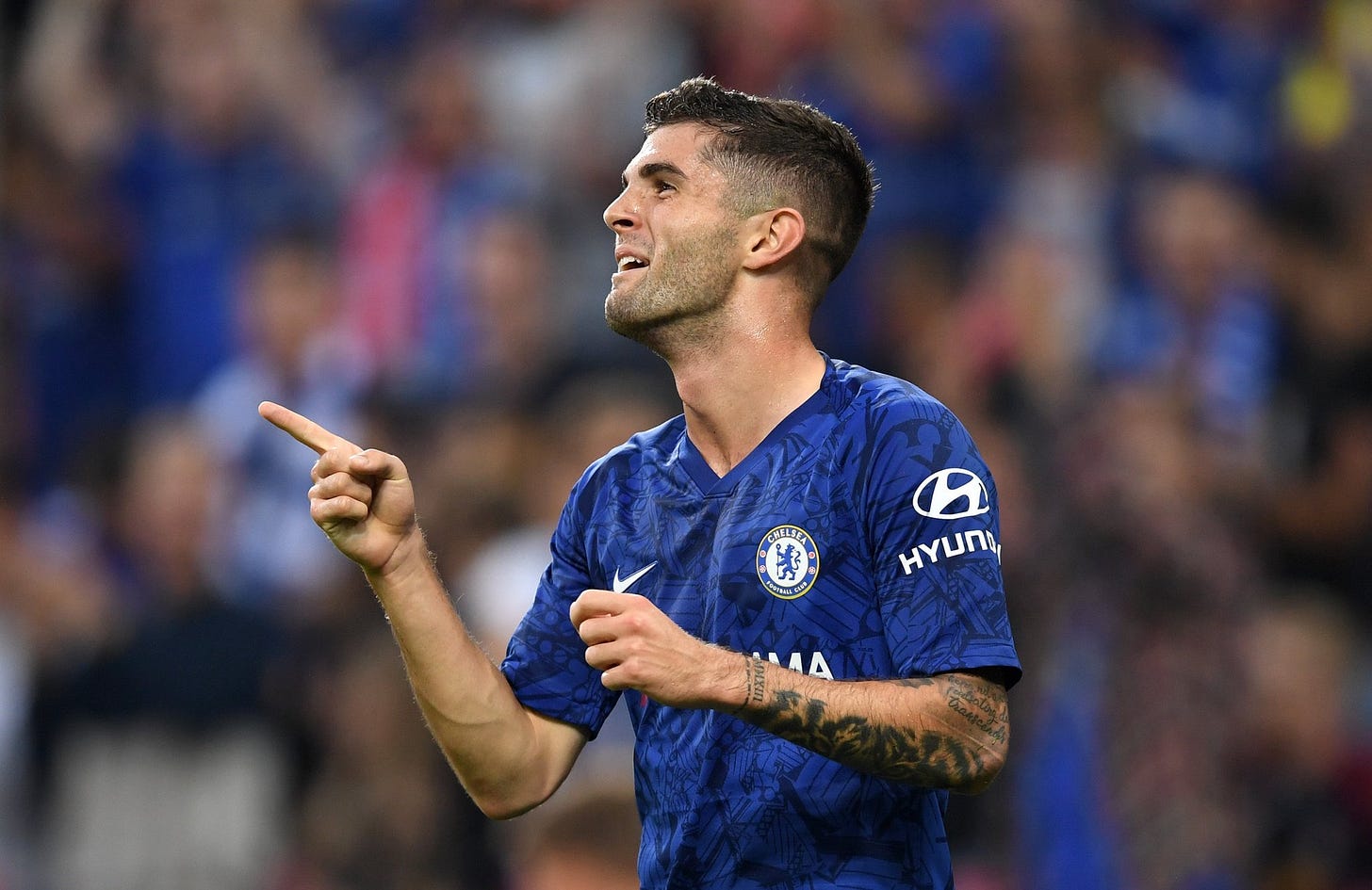 I decided to open it up to some questions from premium subscribers this week because people who have decided to pay for this newsletter have either a) exquisite taste, or b) steadily corroding brains that produce some wildly entertaining thoughts. I also decided to open it up because one week of the Premier League season doesn't really mean all that much. Chelsea's loss to Manchester United is the one result that seems like it could really shape the table 37 match days from now. But beyond that, your questions are way more interesting than Manchester City's 5-0 win over West Ham. (Yes, Raheem Sterling is going to score 114 goals this season). Sorry I couldn't get to everything; as I said in the initial email, I only answered the first four. Let's get to 'em!
Even in today's market, is Neymar really worth 200 million Euros?
-Chris
Here's the thing: today's market exists, in large part, because of Neymar. Paris Saint-Germain paid €222 million to acquire him back in 2017, but not because they specifically value him at that number. No, they did it because Neymar had a release clause for that exact number in his contract. PSG is funded by a trillion-dollar sovereign wealth fund, so they don't really have to worry about maximizing every dollar they spend; it's more about spending enough to get whatever you want. The deal more than doubled the previous world-record fee, though I highly doubt PSG would've paid that much money were it not tied to a release clause. Even still, the fee moved a never-before-seen amount of money into the coffers of Barcelona, who were already one of the three richest clubs in the world. As such, all the clubs who had players who might have then been of interest to Barcelona began to value those players at a higher number than they had before because of the Catalan club's coming spending spree. Seven of the 10 most expensive transfers of all time have occurred since the Neymar move.
And yet, overall spending has stayed roughly in line with revenue growth. On average, clubs have continued to spend about 20 percent of their revenues on players. For a given top club, a record signing will typically come in around that 20-percent mark, while moves for top young prospects will cost around 10 to 15 percent of revenue. Real Madrid are the newest team to be linked with Neymar, and they made €750.9 million last year. If they bought the 27-year-old for €200 million, that'd come out to about 27 percent of their revenue. Given that he'd be a large, obvious upgrade on any of Madrid's attackers, the €200 million number doesn't actually seem that silly. PSG's move for Neymar, on the other hand, was worth more than 40 percent of their revenue at the time.
There's only one other player on the planet who's even remotely similar to Neymar -- and it's the greatest to ever do it. Numbers via STATS LLC:
Despite the general spending trends in Europe all converging toward an average, the amount spent in individual deals is still wildly unpredictable and, frankly, often incomprehensible. "How much on-field value will this guy give us?" is just one factor that goes into a valuation; whims of agents and managers, group-think, unsourced media reports, length and cost of a player's current contract, length and cost of a player's new contract, a player's popularity with fans -- all of that plays into every deal, too. There are a couple of systems that try to take some of this into account. The CIES Football Observatory pegs Neymar's value at €124.7 million; Kylian Mbappe, Mohamed Salah, and Raheem Sterling are the only three who exceed €200 million. The model from Football Whispers has Neymar's value at €193 million, and the crowd-sourced valuation from Transfermarkt is €180 million.
Were I in control of that much money, I'm not sure I'd use it to acquire him. (I'm also not sure I would use it to pay rent on a professional athlete but that's neither here nor there!) Neymar's only played 50 combined Ligue 1 and Champions League games over the past two seasons, and then there are the myriad off-field issues that seem to follow him around. He also turns 28 February and will be aging out of his prime sooner rather than later. But over the past five or so years? Whenever he's played, he's been close to a €200 million player.
How much of Chelsea's defensive fallout is from the Luiz transfer, the youth in the back line, or Lampard's managing ability?
-Yeil
Last year, Chelsea had the clear third-best defense in the league, conceding 37.2 expected goals. (Liverpool were second-best at 30, while Wolves were fourth with 42.7.) Over the summer, they lost Eden Hazard to Real Madrid, lost manager Maurizio Sarri to Juventus, and didn't sign anyone new because of the transfer ban, but they retained all the effective defensive players who helped them suppress chances so well last season. That, theoretically, was a really nice base for Frank Lampard to build on in his first year managing in England's top flight. And then Sunday happened:
First off, it wasn't as bad as it looked. Per Opta, United created 2.2 expected goals, while Chelsea racked up 1.0. Some of that comes down to the fact that United have a keeper who saves an above-average number of shots and Chelsea do not, but something like a 2-1 loss would've probably been a more accurate result, and it certainly wouldn't have resulted in the same kind of fallout that the 4-0 produced. Had the Gs hewn closer to the xGs, I doubt Yeil would have even asked this question!
Let's go through all the goals:
1) Bad defending by Kurt Zouma led to a Marcus Rashford goal from the spot. In the penalty area, you can't thrash a leg out like Zouma did; punishment is a higher quality chance than anything other than an empty-net tap-in. You can write this off in two ways: 1) Zouma was pretty good last year in a relatively unstructured Everton defense, so I doubt he keeps playing like this. And 2) Zouma might not even be in the starting lineup once Antonio Rudiger, who started 33 league games for last season's solid backline, returns from injury over the next couple weeks.
2) A counter-attack exploited the space between midfield and defense. You know who's the best in the world at filling that defensive space? The same guy who didn't come into this game until after the third goal: N'Golo Kante! It's not a positive sign that Lampard's team left all of this space open in the first place -- you don't play like you have Kante when you ... don't have Kante -- but that probably won't be as much of an issue when Chelsea's best defensive player is back in the starting lineup.
3) An unstoppable, on-a-plate through ball from Paul Pogba broke down the defense all by itself. You can't always prevent a brilliant player from doing a brilliant thing for a full 90 minutes. Chelsea were already down, 2-0, and I have a hard time blaming them for pushing up a little higher than usual and then getting decimated by what already might be the Pass of the Season.
4) A deflected shot from a tight angle ricocheted into the net. United broke into the box once again, but Chelsea recovered this time and got unlucky with where Daniel James's attempt ended up. That's a one-in-10 chance, and Chslea got bit by the wrong end.
So, let's see what this team looks like with Rudiger and Kante back in the lineup before declaring a defensive crisis or writing off Lampard's managerial chops. I'm still not convinced they'll be able to score, though.
Can you chat about all things Christian Pulisic at Chelsea: expected playing time, what his role might be, how he's fitting in at Chelsea so far and also long term with players and management, if he, as someone at ESPN stated, actually has the same ceiling as Lionel Messi, and anything else?
-Joe
I think he's going to be a solid contributor for a Champions League team for a long time. To me, the question isn't whether or not he's a success or a bust; it's whether or not he becomes a superstar. He played more than 5,000 Bundesliga minutes for Borussia Dortmund before his age-20 season, and he averaged 0.50 non-penalty goals+assists per 90 minutes over that span. He's one of the most aggressive dribblers in the world, consistently rating at the top of Europe in dribbles completed and failed over the past couple seasons. He draws a ton of fouls, gets on the ball in the box all the time, and seemingly has the workrate and athleticism to be an elite pressing forward.
But how will that translate to the Premier League? Here's what 21st Club's Omar Chaudhuri wrote earlier this year:
Our Football Exchange rate model estimates that a player's scoring and assist rate when moving from the Bundesliga to the Premier League falls by about 8%. However, this small negative impact is outweighed by the fact that 19-year-olds - as Pulisic was last season - can expect their goal contribution rate to nearly double by peak age, and increase by around 50% in the next two years. As such, we'd expect him to deliver around 0.5 goals and assists per 90 within 18 months at Stamford Bridge.
That rate -- the same rate he averaged at Dortmund -- would've been 25th-best in the Premier League last season. Combine that with the other things Pulisic can already do, and he'll be an effective contributor for a top team in England. With his peak years still a long ways away, there's enough time and a high-enough baseline for him to develop into one of the best attackers in the league. Doesn't mean it will happen, but it could!
It seems like he'll play from the left wing, and that's probably where his future lies, although I could see him eventually playing as a havoc-wreaking "free eight" -- an attacking mid crammed into a traditional midfield starting role -- as he continues to refine his game. He should play a ton at Stamford Bridge, and my biggest concern for his future would be Chelsea's record of volatility, which has led to a cycle of managers with different preferences for different players. I asked Omar about this earlier this year when I was working on a piece about Pulisic for Slate. This is what he told me:
At the margins it's hard to make a call on whether a player should be at Dortmund or Chelsea - it'll really depend on the player, circumstance etc - but as a generalisation it's better for a player to be developed at a better club, because ultimately a) it's a signal of his potential and b) he'll get access to the best coaches, facilities and so on.
Ultimately, most top clubs are volatile, even a club with a reputation for doing things right like Dortmund, where Pulisic played under three different managers over his last two seasons. We'll see what happens at Chelsea, and I suspect if the move doesn't work out on the field, it'll have very little to do with him. As for off the field ...
As expected, yesterday's Chelsea match set record viewing figures in US. - most watched opening weekend match in cable history - second most watched match in cable history, behind only Leicester clinching title in 2016. Suspect we'll make a better impression next week. 👊⚽️🇺🇸
... it might already be a success.
Do you think the Alisson injury was a product of him getting brought back too soon from a long season + Copa America? I'm no expert, but it seems weird for a keeper to suffer a non-contact injury for reasons other than muscle fatigue.
Related question, does soccer need a longer (read actual) offseason?
-Patrick
Well, I can tell you what the players' union thinks:
Two things are true: 1) Alisson's injury could've been a freak occurrence unrelated to how many games he's played over the past year. And 2) professional soccer players play too many professional soccer games.
Earlier this month, FIFPro released a report about the demands asked of 16 professional players who have played for their national and club teams in various competitions over the past year. Some examples:
The report cites research that found that games played without at least five games of rest in between leads to a higher rate of injury, and it also mentions studies about how too many games cause players to miss more matches and perform at a worse level when they're available. FIFPro also note one of the various bits of research into how leagues that don't have midseason breaks see a much higher rate of injury from their players, compared with those in leagues that do.
It seems most coaches and players agree on this, too. Liverpool's Jurgen Klopp said the overfilled match schedule "will kill the beautiful game", while Manchester City's Pep Guardiola said that "it is going to kill our players". The report also mentions critical quotes from various players, including Juventus defender Giorgio Chiellini, who said, "For us to continuously player at our best and improve our performance, we need to be protected from excessive match schedules."
Among other things, the report recommends:
Introducing mandatory offseason breaks of 4 weeks, and mandatory midseason breaks of 2 weeks

Limiting the amount of times per season when players have back-to-back competitive games with less than the five days of recovery time in between

Considering whether to impose annual match caps for each individual player to protect his health and performance

Developing an early warning system to monitor player match load and assist with forward planning.
The schedules are overstuffed for the same reason they're that way in the NBA or why the NFL is considering expanding its season from 16 to 18 games: more games, at least in the short term, means more money. But the issues with basketball and American football almost seem quaint when compared to European soccer. In basketball, there are no substitution limits, and in football, no one plays offense and defense. But it goes beyond the rules of play. The NBA Finals ended on June 16, and the next season begins on October 22. In the NFL, last season ended on February 3, and next season begins on September 5. Meanwhile, Sadio Mane played for Senegal in the Africa Cup of Nations final on July 19. That was the ostensible end of his 2018-19 season. The next one began when he featured for 16 minutes in Liverpool's 4-1 win over Norwich. That game was last Friday -- just 21 days later.