Discover more from No Grass in the Clouds
Demystifying soccer -- one shot, and one sweater, at a time.
Over 8,000 subscribers
Who Really Deserved to Win the Secret Nike Cage-Soccer Tournament in 2002?
Let's relitigate the most important games that never happened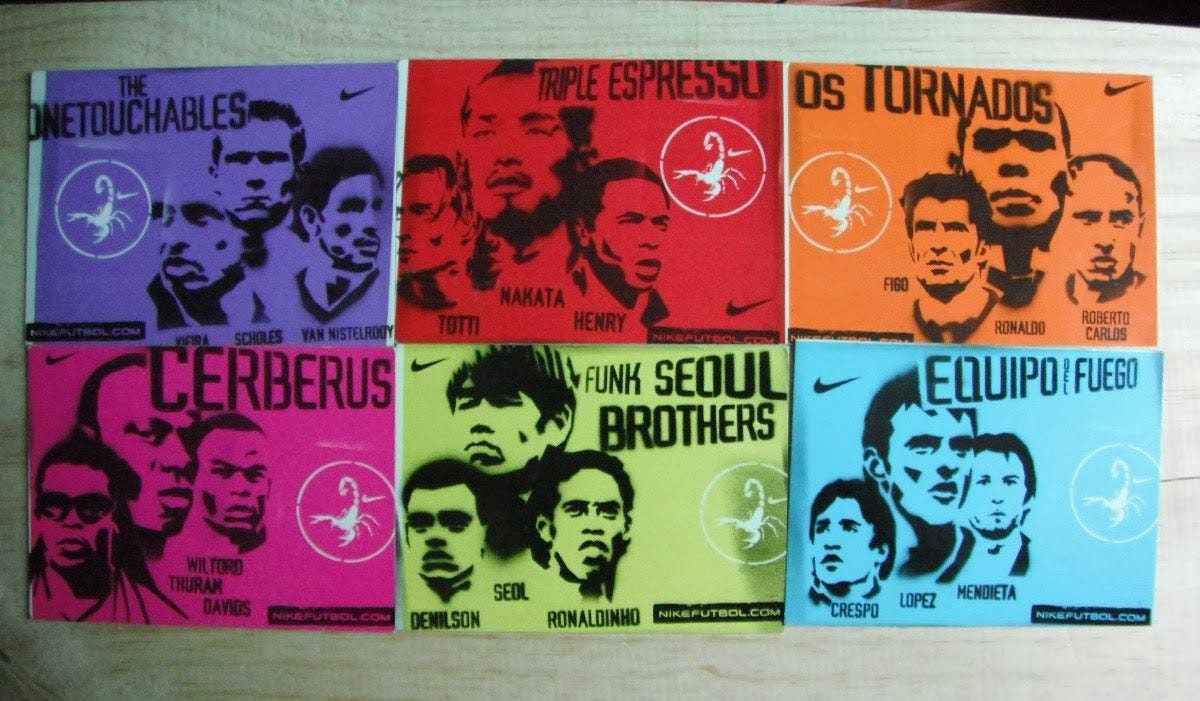 Where were you when Luis Figo scored the winning goal? It was a pure distillation of the benefits of star-centric team-building. Ronaldo drew the defense because he's Ronaldo. He squared the ball to Roberto Carlos, who could've unleashed something fierce with his left foot, but instead stopped and flicked the ball over his shoulders to a charging Luis Figo. Wide open, the Portuguese superstar caught the ball on a half-volley and picked out the upper corner.
Then, the hull of the ship exploded, water rushed in, the boat started to sink, and everyone had to swim to safety. A little less conversation? A little more action?
If you watched the 2002 World Cup, then you watched the Secret Tournament commercials. Hell, I might've cared more about the Secret Tournament than the actual tournament. I had posters for all eight teams in my bedroom -- tore 'em out of the latest copy of Eurosport --  and for an American teen in the suburbs, these commercials, along with FIFA, taught me more about the sport than just about anything else. They absolutely convinced me that despite what everyone else was saying, soccer actually was pretty cool. I was the ideal mark.
Nike spent over $100 million on this marketing campaign, and they had Terry Gilliam direct the commercials. (Need a movie rec? Go watch Twelve Monkeys and go watch La Jetée.) The conceit of the ad was this: 24 famous, Nike-sponsored soccer players somehow ended up inside some kind of freight ship. And inside the freight ship, there was a cage, and inside the cage, there was a tiny soccer field. Eric Cantona served as the MC-slash-referee, the 24 players were divided into eight teams of three, and they played a three-round single-elimination, single-goal knockout tournament. Cantona dropped the ball through a door atop the cage, a remix of Elvis Presley's "A Little Less Conversation" started playing, and away they went. Each match was released as its own commercial, and they're all stitched together, in order, here:
So, since we have no soccer right now, there's no better time to go back and re-litigate a soccer tournament that never happened. Inspired by an idea from my podcast producer, Jack Dawson: Did the right team win? What skills were best suited for a one-goal cage match? And what the hell actually happened in each one? Today, I'm gonna break down the first four matches of this imaginary tournament that really served no true purpose beyond convincing people like me to buy Nike merch for life, and then I'll break down the final four games later this week.
Quarterfinal 1
Triple Espresso: Thierry Henry, Francesco Totti, and Hidetoshi Nakata
The OneToutchables: Patrick Vieira, Ruud van Nistlerooy, and Paul Scholes
Here's my tactical overview of this thing: Defenders are basically useless in this competition because full-field defending is mainly about organization, aerial play, and covering large swaths of space. Plus, any defender in this tournament is going to be a significant negative on the attacking end, and when it's just 3v3 and the goal is the size of two shoe boxes stacked on top of each other, everyone has to be able to attack to create enough space for a decent shot. And on top of that, there's just way less space to defend so the attacking players who would typically struggle to defend effectively on a normal field aren't as bad inside the cage. Beyond that, guys who get by with long-distance speed, long-range passing, dominance in the air, and just general physicality -- you don't really want any of them, either.
And here's my analytical overview of this thing: I'm gonna combine the average attacking outputs of the players on each team from the 2001-02 season to just give a general rating to each side. This is all made up, but who says we can't bring a little bit of rigor to the process too? (No one says that because I'm making this up as I go along.)
So, for Triple Espresso, we've got Henry at Arsenal (0.77 non-penalty goals+assists per 90 minutes), Totti at Roma (0.48 NPG+A/90), and Nakata at Parma (0.23 goals+assists per 90). I thought Nakata was the coolest soccer player in the world, so I'm glad I didn't know anything about stats back then! The team average for Tripe Espresso is/was 0.49 NPG/90.
Now, the OneTouchables, which is an amazing name that more rec-league soccer teams across the world should be using. A quick, public-service announcement: STOP NAMING YOUR ADULT-LEAGUE TEAMS BY USING SOCCER-RELATED GAME OF THRONES PUNS. I PLAYED ON A TEAM CALLED GAME OF CONES. LOVED MY TEAMMATES, BUT WHAT ARE WE DOING HERE, PEOPLE? THIS IS NOT HOW PUNS WORK! Anyway! We've got Vieira at Arsenal (0.18 NPG+A/90), Van Nistlerooy (0.79) at Manchester United, and Scholes also at United (0.26). That comes out to 0.41.
We should maybe give the OneTouchables a chemistry boost because they have two players from the same team, but they also have Vieira, who, uh, well ... this was two years prior:
Probably negates the chemistry effect! Plus, Scholes probably needs the cage to be twice the size in order to maximize his passing, Vieira's box-to-box style doesn't exist in a tournament without boxes, and RVN was the kind of savvy in-the-box striker who relied on service from teammates that wouldn't necessarily exist in this tournament. Nakata and Totti -- creative, but not-super-athletic midfielders -- were perfect players for this thing, and Henry had more than enough wizardry to make up for the negation of his speed.
Unsurprisingly, this game consisted of Totti, Nakata, and Henry all doing effortlessly cool shit, while Vieira and Scholes both end up sliding at one point. If you're sliding, you're losing -- and that they did. Totti played the ball to Henry -- all languid flicks and fakes -- who  juggles it, and then pings it off the corner of the cage for an on-rushing Nakata (I think it's him; footage isn't clear) to volley into the goal. It wasn't just the commercial, either; Henry did this in actual games!
Nike absolutely got this one right.
Quarterfinal 2
Toros Locos: Freddie Ljungberg, Javier Saviola, Luis Enrique
Cerberus: Edgar Davids, Lillian Thuram, Sylvain WIltord
For Toros Locos, Ljunberg was coming off the best season of his career at Arsenal (0.71 NPG+A/90), while Luis Enrique -- yes, that Luis Enrique, the manager of the arguably the best club team ever (14-15 Barcelona) and currently of the Spanish national team -- was coming toward the end of his career with Barcelona (0.32). But forget them. Javier Saviola had just scored 17 goals and assisted two more as a 19 year old in his first season at Barcelona (0.67 NPG+A/90). Given his place in the general soccer consciousness -- faded or fading -- it might surprise you to hear that Saviola never really dropped off after that. In his next 11 seasons as a pro, he was only below 0.6 twice and 0.5 once (0.47 with Monaco in 04-05). He played for both Barca and Madrid, but the issue was that no club ever committed to Saviola long term. Maybe because he was too tiny -- 5-foot-6, 135 pounds -- but he kept producing wherever he went. It's a shame he didn't stick around anywhere for too long or he didn't get more time at one of the biggest clubs. He's truly one of the most underappreciated players of the 21st Century. And oh, yeah: this team's average was 0.57, best in the competition.
I am sorry to report that I don't hate this song:
As for Cerberus, they violate my no. 1 rule: DO NOT HAVE A DEFENDER ON YOUR TEAM. Thuram: great player! Also: averaged 0.10 NPG+A/90 for Juventus! Davids, a ball-winning midfielder for the same team, wasn't much better: 0.17. Maybe they could've made up for that with an absolute superstar attacker, but no, Sylvain Wiltord was just pretty good for ArsenaL(0.56) -- or, you know, lower than TL's teamwide average. Cerberus as a whole averages out to 0.28 NPG+A/90.
And whaddayaknow, Cerberus freaking won. Listen, I love Edgar Davids as much as anyone --  he, Henry, and Nakata were my Holy Trinity of What's Cool as a kid -- but c'mon. Ljunbrg's speed might've been negated a bit by the cage size and Cerberus had the chemistry throughline (Davids and Thuram were on the same club team, Thuram and Wiltord were on the same national team), but Toros Locos were one of the best teams in the tournament! Saviola literally became a futsal player after he retired; that's basically what this tournament is, save for the ball-type and playing surface. Of course, Cerberus had the more marketable players -- mainly: Davids -- so they won. Am I saying that Saviola would've become a superstar had Nike pushed him harder in this ad campaign? I just might be! Meanwhile, Luis Enrique doesn't even touch the ball at any point. He just tries to slide-tackle Wiltord, who scoops it over him, banks it off the cage, and then dives and heads it into the goal. I'm sick.
Quarterfinal 3
Tutto Bene: Rio Ferdinand, Fabio Cannavaro, and Tomas Rosicky
Equipo del Fuego: Claudio Lopez, Gaizka Mendieta, Hernan Crespo
I have strong feelings about this matchup. Three reasons:
1) Rio Ferdinand is a disgrace to cage-soccer and should, by law, only be allowed to touch a ball in an open-air environment
2) Mendieta scored more goals in the Secret Tournament than in the entire 2001-02 club season
3) Equipo del Fuego is the only team with three players from the same club: Lazio
Not only do Equipo del Fuego get the benefit from all being teammates, they get two guys (Lopez and Crespo) who are on the same national team, and they get to play against a team with TWO CENTRAL DEFENDERS. Mendieta had zero goals and zero assists for Lazio, but with Crespo (0.65) and Lopez (0.72), EdF are still wayyyyy ahead of Tutto Bene: Ferdinand put up 0.06 for Leeds, and Cannavaro put up a Mendieta-esque zero-point-zero for Parma. Rosicky, meanwhile, was a 20-year-old in his second season with Borussia Dortmund, but his respectable 0.51 only brings the team total to an absolutely pathetic 0.19.
Here's how Ferdinand tried to make up for the skill gap: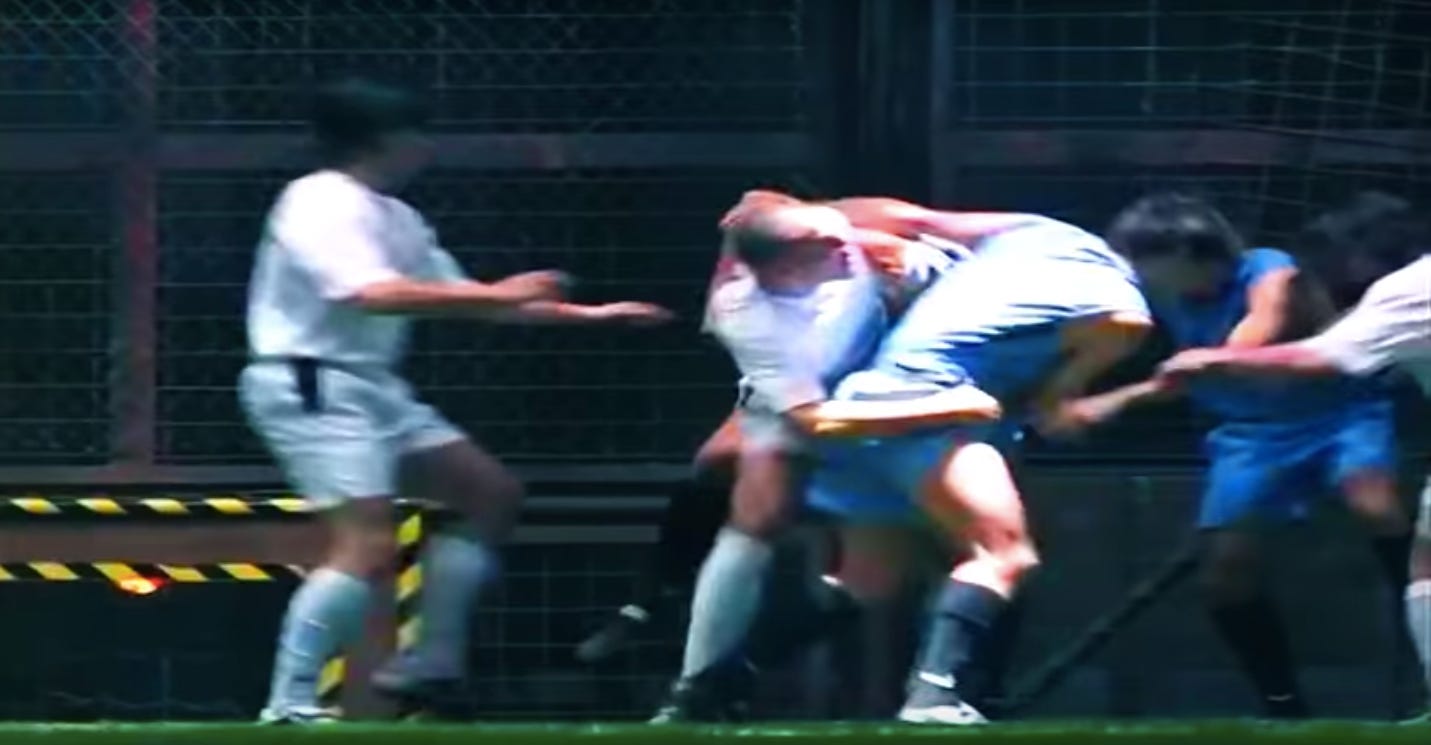 Ban him for life. 
Not only that, he gets absolutely cooked by Mendieta on the winner. It's a 1v1 and for some reason Ferdinand tries slide-tackling the guy who hasn't scored in over a year. If you slide, you die! This is basic stuff, buddy. The ball easily ends up in the net, and uh, see for yourself how he "handled" it: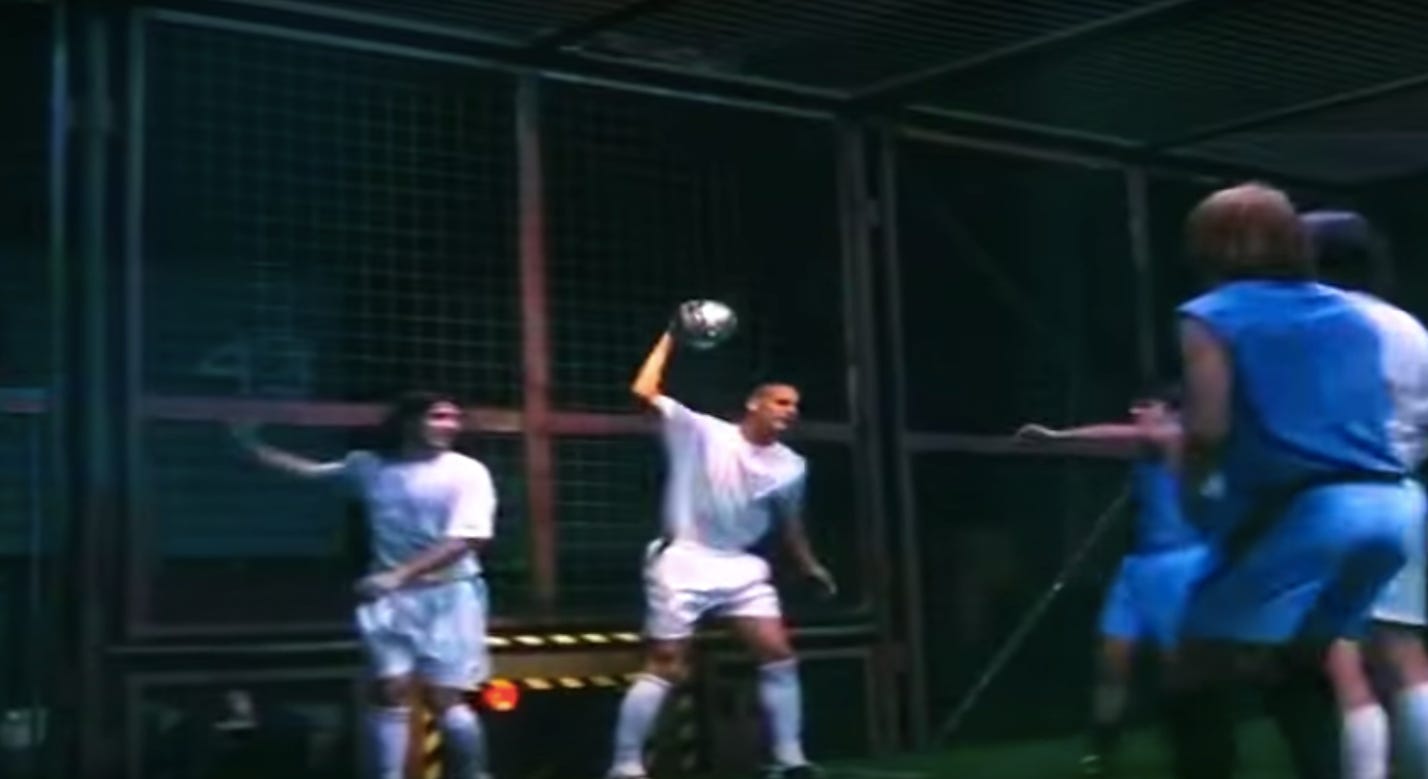 Way to go Rio. You ruined my childhood.
Quarterfinal 4
Os Tornados: Luis Figo, Roberto Carlos, Ronaldo
Funk Seoul Brothers: Denilson, Ronaldinho, Seol Ki-hyeon
This was Ronaldinho not only before before his drift toward fascism, before his attempt to illegally enter Paraguay with a fake passport, and before dominating a prison soccer tournament and reportedly winning a 15-kilogram suckling pig; it was Ronaldinho before the long hair and before Barcelona, and well, before he really became Ronaldinho. He'd just lit it up in his first season in Europe, notching 0.66 NPG+A/90 for PSG, who also were not close to reaching their ultimate Qatari-funded form. Meanwhile, four years prior, Denilson had become the most expensive player in the world when he moved to Real Betis for £21.5 million. He had the fastest feet I've ever seen, but he just never quite turned that into much. (He averaged 0.32 NPG+A/90 for Betis in 01-02.) Were he playing right now, I'd absolutely be telling people that Denilson is not as good as you think, and I hate myself for that. As for Seol, I loved him because he was in this commercial, but he was the worst non-defender in this tournament. He put up 0.44 NP+G/A in limited minutes in the Belgian league for Anderlecht. That shouldn't really count, but I make the rules here, so it does. Their average was 0.47.
There's extreme Seol erasure in this game, by which I mean: you don't actually ever see him in the cage. It doesn't seem like he was even part of the filming. Bummer. Ronaldinho and Deilson, however, both catch the ball on their necks at different points. I believe the phrase "sauce" was first coined upon first-viewing of this commercial. And well, this couple-second stretch from Denilson is the best individual stretch of soccer ever I've seen played anywhere -- boat, farm, field, moon, grocery store, airport, pet store, you name it.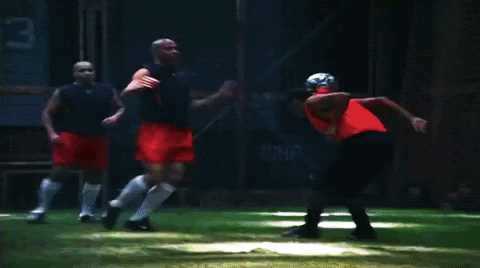 Of course, Denilson and Co. lose because they're playing three more-famous superstars all soon to be from Real Madrid. Figo was coming off a terrible season (for him) -- down to three non-pen goals and five assists (0.31 per 90) from seven non-pens and 17 assists the year before. Roberto Carlos put together a great-for-a-fullback 0.30 NPG+A/90. But Ronaldo put up 1.08 NPG+A/90 in brief minutes for Inter Milan. He missed the entire 2000-01 season and most of the seasons before and after due to multiple serious knee injuries. It's widely accepted that he was never the same after the injuries -- his combination of speed, skill, agility, and size was unheard of; he was Bo Jackson without the dual-sport thing -- and just think about this for a sec.He averaged at least 0.90 NPG+A/90 in each of his first three seasons at Real Madrid, who he signed with in the summer of 02, after multiple serious injuries. He healed just in time for the summer tournament (and the Secret one, too), as he scored seven goals and assisted one more in just 665 minutes at the tail end of the club season for Inter, and then won the Golden Boot as Brazil won their most recent World Cup. Despite Figo's down year, these guys averaged 0.56 NPG+A/90, just below Saviola and Co.
Of course, in this specific made-up game, Denilson and Ronaldinho made three of the best players in the world look like the Washington Generals, only for Roberto Carlos to suddenly grab the ball between his legs, dive forward, and fling the ball into the net. (For you purists, this is not a scorpion kick.) Obviously the All-Madrid team was gonna win in some completely soul-crushing fashion against the more-fun team, but Funk Seoul Brothers should've played Tutto Bene or Equipo Del Fuego in Round 1. We needed more Ronaldinho and Denilson, and just any amount of Seol, too.
More on Friday.