Why Did Liverpool Sign Andy Robertson?
Or: How did a little-known defender for the worst team in the Premier League suddenly become one of the best fullbacks in the world?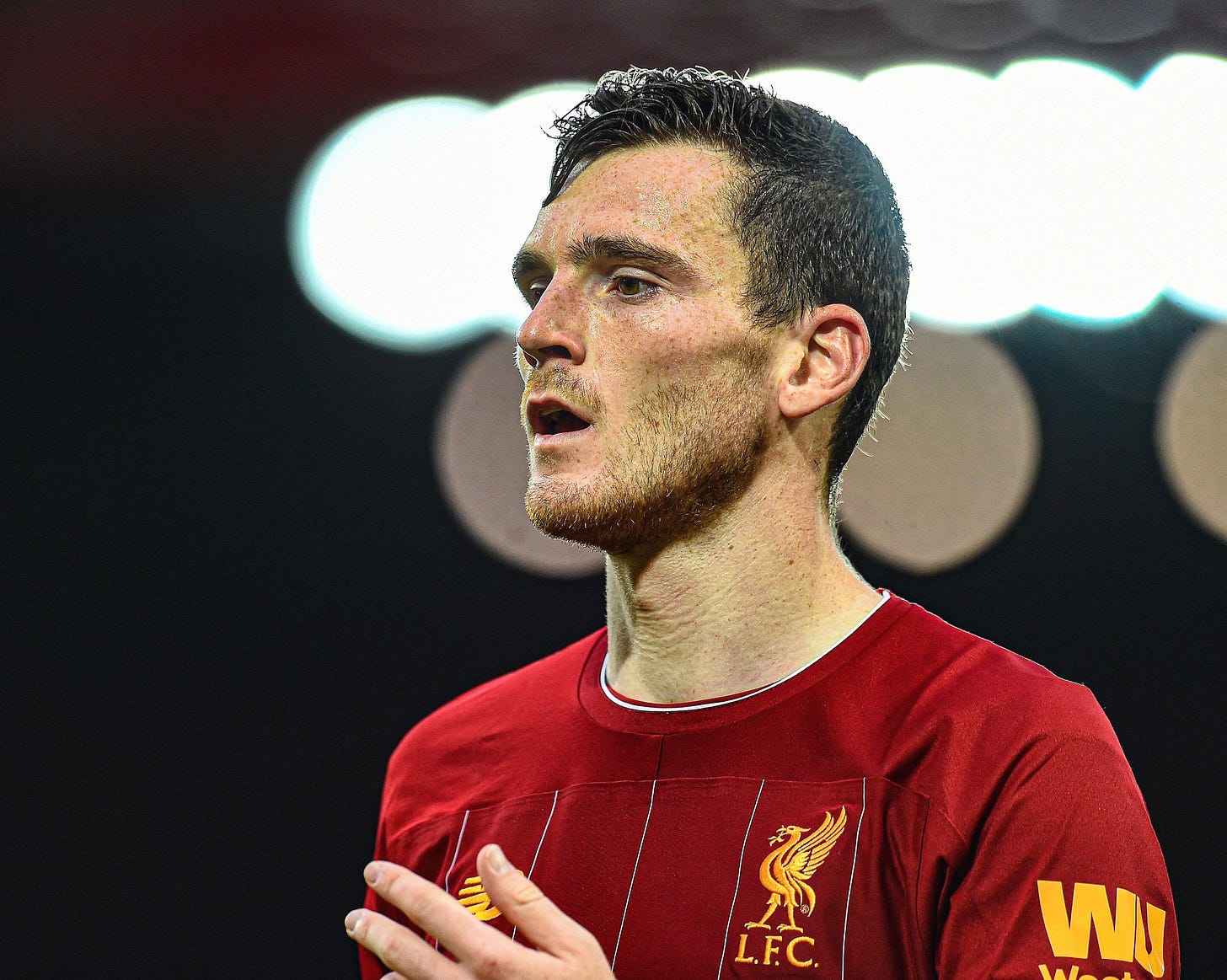 What do you remember about the 2016-17 Hull City team? Not what do you know now, but what can you recall?
For a lot of you, it's probably "nothing." That's three seasons ago, and the team got relegated with a minus-43 goal differential. Why waste brain space on any of that, or any of what I'm about to describe? For others, it's the black-and-orange sad-tiger stripes. And for some, it's probably a handful from a roster full of That Guys: Sam Clucas! Ryan Mason! Ahmed Elmohamady! Curtis Davies! Michael Dawson! Robert Snodgrass! Jake Livermore! Adama Diomande! Lazar Markovic! Andrea Rannochia! Oumar Niasse! Omar Elabdellaoui! David Meyler! Shaun Maloney!
If you were an unspectacular journeyman from the British Isles or a briefly-touted prospect from elsewhere, chances are you played for Hull City in 2016 or 2017.
If you were both, you also played for Hull and were Tom Huddlestone -- the man with the perfect right foot. Also: one of my dad's favorite players. (Listen, I don't know, man.)
The team was also managed by a hilarious succession of names: Steve Bruce resigned before the season started; he now coaches Newcastle. Bruce was replaced by Mike Phelan, who was then fired in January; he's now Ole Gunnar Solskjaer's right-hand man at Manchester United. Phelan was replaced by Marco Silva, who resigned after the season; he now manages Everton. And Silva was replaced by Leonid Slutsky, who left the club in December 2017; he manages Vitesse in the Netherlands now, but also lost his job as a TV pundit during the 2018 World Cup because, well, here's what Hull Live says about it:
The Mirror report that the 47-year-old has been axed as a pundit on state-run station Channel 1, amid claims he is being punished for mentioning taboo name Alexei Navalny on state-run TV.

Slutsky, who managed City from June to December last year, had reportedly responded to another pundit Kirill Dementiev who made a reference to "navalny football', which roughly translates as "route-one football" - the word is an adjective as well as a surname.

Russian-style political correctness forbids the 42-year-old anti-corruption campaigner's name - the N-word - from being mentioned on air on state-run channels, it is claimed.

[...]

[During] Germany's game against Mexico ... [Slutsky] said: "Does Navalny play football? It would be interesting to see."
Remember when we had a World Cup in Russia just 18 months ago! Weeeeeee!
Anyway! When it comes to this Hull team I mainly remember Liverpool losing to them, 2-0. And I also remember Harry Maguire, a kind of husky, dribble-happy center back I'd never seen before. Maguire, of course, went on to play for England at the World Cup, and he's now back together with Phelan at Manchester United. One thing I do not remember: the presence of a 22-year-old Andy Robertson, who has since become one of the best left backs on the planet for Liverpool.
Liverpool signed Robertson for £8 million after the 2016-17 season, and as far as I can tell, the move didn't even warrant its own Guardian article and was instead covered in a transfer-roundup piece that mentioned a couple other deals for players like Lucas Leiva and Bruno Martins Indi. Given the small fee and the lack of media coverage around the deal, I don't think anyone expected Robertson to be this good, and I'm not sure many people were even convinced that he would become a starter at Liverpool.
However, Liverpool are just about as good as any club at projecting and expecting things. As Bruce Shoenfeld wrote about Ian Graham, the club's director of research, for The New York Times Magazine:
Graham, who earned a doctorate in theoretical physics at Cambridge, built his own database to track the progress of more than 100,000 players from around the world. By recommending which of them Liverpool should try to acquire, and then how the new arrivals should be used, he has helped the club, once soccer's most glamorous and successful, return to the cusp of glory.
The most publicly available of the Liverpool brain trust, Graham appeared on the Freakonomics podcast last month. When the host, Stephen Dubner, asked him who his favorite kinds of players were, he said, "players who shine through in the data but don't naturally shine through for your typical football fan". And then he went on to cite Robertson as an example:
Andy Robertson's problem was his background as much as anything. So he only started playing English Premier League football maybe at the age of 22. And he played for Hull City, which was not a very good football team. They got relegated from the Premier League. And he was the best young full-back in Britain at the time. He was a really strange case of a really attacking full-back playing in a really poor defensive team.
When Dubner asked him what kind of data he looks at to evaluate players, here's what Graham said:
We try to take whatever action a player does on a pitch -- whether it's a pass or a shot or a tackle if you're a defender -- and ask the question, "What was this team's chance of scoring a goal before this action happened?" And then, "What was this team's chance of scoring a goal after that action happened?" And we call that 'goal probability added,' which is a really catchy name.

The thing that I'm really obsessed about is the risk-reward pay-off of passes. Some of the best passers in the game have some of the lowest pass-completion percentages in the game. And that's because the risk-reward pay-off is very, very skewed in football. So it's very easy to massage your statistics and get a high pass-completion percentage by playing very conservative passes that do nothing for your team's chance of scoring a goal.

The passes I really love are the passes that go in behind the opposition defence, that take four or five defenders out of the game. Those passes are really hard to make. Someone who gets those passes correct half the time would be a world-class attacking midfielder.
So, my question: Was there something obvious in the data that made Robertson stand out?
First, a video with music no one wants to hear:
Now: I'm no quant; I only write about them. And I don't have any access to the kinds of EPV models that Graham talks about. (Wanna listen to a talk about their shortcomings, though? Check out this from Statsbomb's Thom Lawrence.) But from the data that I do have access to, there's not a ton that stands out, at least in terms of what Graham mentions.
Among fullbacks who played at least 19 matches in the 2016-17 Premier League season, Robertson is one of nineteen players who completed at least one pass into the penalty area and two passes into the attacking third per 90 minutes, per Stats Perform. Among those players, Robertson was last in penalty-area entries, while James Milner, the player Robertson would soon replace, was first. Robertson was also one of only two fullbacks in the league to average at least one dribble, one tackle, and one interception per 90 minutes. The other player, though, was Swansea City's Kyle Naughton, a player whose name could easily fit on that earlier list of forgettable That Guys. Lower the restrictions a bit, and a handful of other uninspiring names pop up.
Now, Hull were an awful team. And so I think the fact that Robertson produced at a respectable rate within a dysfunctional system at least made him an intriguing prospect, if not a nailed-on future superstar or even a likely full-time player at a Top Six team. At the very least, there aren't any red flags.
But the deeper you dig, the better Robertson starts to look. The analyst Cheuk Hei Ho (@taticsplatform) sent me a graph of Robertson's passes at Hull. There are the passes he attempted more frequently than the average Premier League fullback. Similar passes are grouped together by color: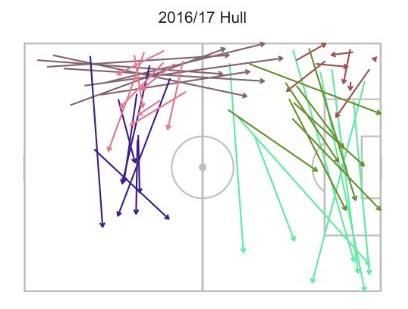 Long balls up the sideline and into the attacking third. Early, angled crosses into the box. Those are the exact kind of passes that Graham mentions. The global soccer analytics site Smarter Scout has a system that rates players on a 0-100 scale for various contributions like these. Robertson rated out as above-average (59) in passes toward the goal and link-up play (60), which consists of all the other passes in a game. His dribbling, which rates a player's ability to progress the ball with his feet, was even better (89). Smarter Scout's database goes back to the beginning of the 2016-17 season, and not a single fullback in Europe's Big Five leagues has rated as above average in those three facets of the game other than Robertson in his one PL season with Hull. He hasn't even done it with Liverpool!
"There are usually trade offs between (1) types of passing and (2) passing and dribbling; you either do more of one or the other," Dan Altman, creator of Smarter Scout, told me. "But he managed to be above average in all three."
Except, this all might just be over-complicating things. Forget the algorithms or the number of passes into the box. There were two simpler things about Robertson that made him stand out. The first: He played for a relegated team, and Liverpool, especially, have found value in players from teams that just got booted from the Premier League. Their reputations and their price tags take a hit, no matter how well they've performed. In addition to Robertson, Liverpool acquired Giorginio Wijnaldum from Newcastle and Xherdan Shaqiri from Stoke City -- to varying degrees of success.
"Football clubs typically don't sign players from teams that were relegated because they are seen to be failures," AJ Swoboda, managing director for the Americas at the consultancy 21st Club, told me. "As such, those players tend to be undervalued -- in the Big Five leagues between 2016 and 2018, players who were bought from relegated teams saw their values more than double at their new club compared to the fee paid".
The second thing -- well it's a combo of two things, actually: Robertson's age and his playing time. He was 22 when the season began, and his 2,736 minutes were more than all but one Hull player. According to Swoboda, Leo Dubois of Nantes was the only fullback younger than Robertson who played more minutes across the Big Five leagues during the 2016-17 season. Dubois now plays for Lyon, and he started for France in their most recent competitive match.
Dubois is featuring for the defending world champs, and Robertson just won the Champions League. Oh, that guy? Yeah, now he's one of the guys.