Why It's Impossible to Manage Manchester United
Ole's at the wheel, but is his grip already slipping?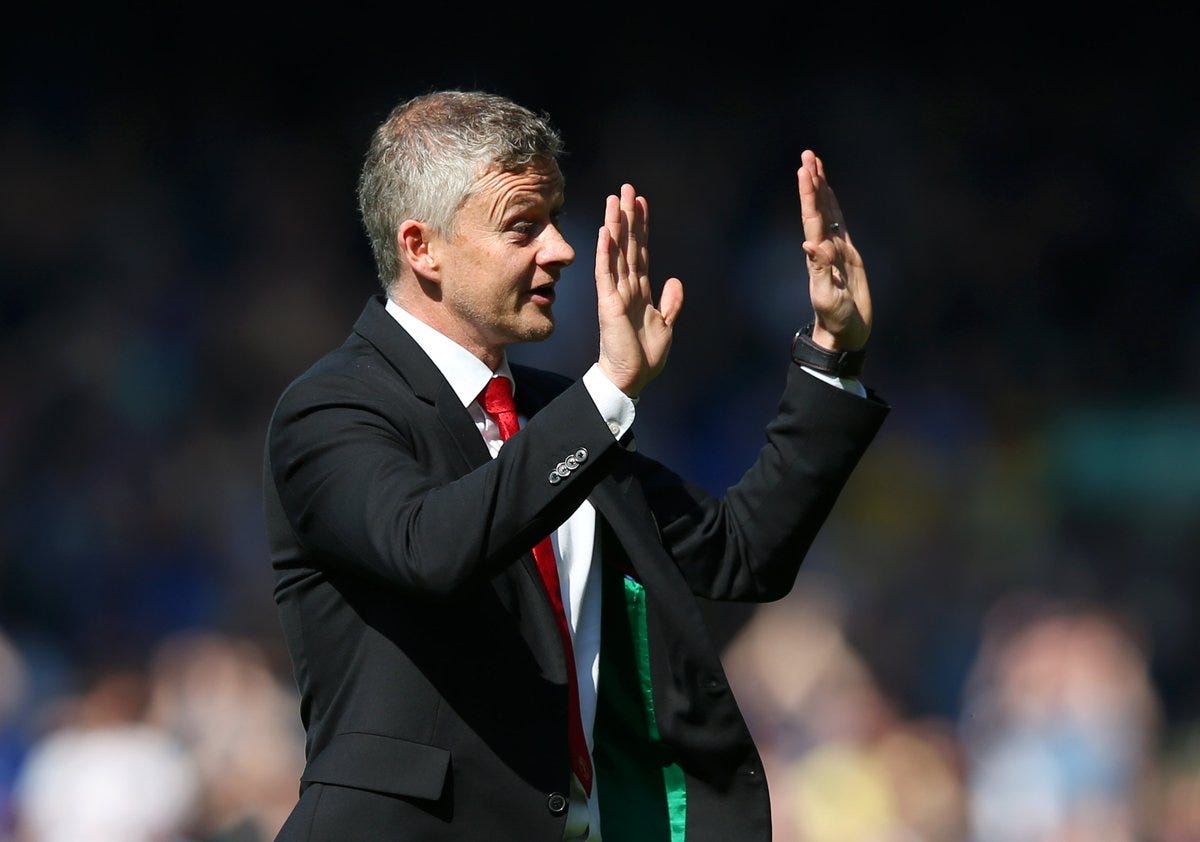 At the end of February, Manchester United went to London and beat Crystal Palace, 3-1. Of course, Manchester United are supposed to beat Crystal Palace, and the three points pushed United to just one point back of fourth-place Arsenal. Compared to the previous season, when they finished second? Not great. Within the grand historical context of United, who've won more English titles than any club? Even worse. But compared to where things were on December 18, when the club fired Jose Mourinho and replaced him with interim manager Ole Gunnar Solskjaer? Pretty good! Upon Mourinho's departure, the team was 11 points back of fourth, sporting a dictionary-average goal differential of zero down in sixth place.
With just 11 league games under his belt as United manager, Solskjaer, who scored 91 goals in 231 Premier League appearances while playing for the club, had yet to lose -- nine wins, two draws. His only other managerial experience at this level couldn't have gone any differently. In January 2014, he was hired by Cardiff City, with the club just one point clear of the relegation zone. With Solskjaer on the sideline, Cardiff won nine of 30 games, drawing five, and losing the other 16. They were relegated, and club and manager parted ways a month into the following season, with the club suddenly sitting in 17th place in England's second division.
Some five years later, all signs were pointing toward OGS being appointed as the full-time manager of one of the three richest clubs in the world. Seeing this possibility set in motion and and moving down the tracks toward reality, a Dutch analyst named Sander IJtsma said something that made a lot of people mad on the Internet:
It's an absurd thought: Rip up the contract for your dream job, coaching the club at which you spent the best part of your playing career. Pass up a sum of money that'll put your grandkids through college. (Although perhaps Elizabeth Warren will hopefully soon make the previous sentence moot!) But really, it was just a provocative way to point out what was really happening: United were getting incredibly lucky. In the first 11 games in the Solskjaer era, they scored 26 goals on just 20.8 expected goals, and they'd allowed just seven on 13 xG. In the Palace match, United were outshot, 17-13, and the expected goals total also favored the hosts: 1.7 to 1.0. Look back at the highlights, and you'll see three United goals and three impressive, tight-angle, tough-to-replicate finishes. Great plays by talented players, but not the kinds of things you can rely on, week after week
Since the Palace game, United went on to beat Paris Saint-Germain in the Champions League, thanks to an improbable 3-1 victory in France, with all three goals aided by a succession of bizarre errors from PSG players. Then, they hired OGS full-time. And then -- well, they haven't won a road game and are just 2-4 on the whole since letting Ole permanently take the wheel. They went out of the Champions League meekly, 4-0 on aggregate to Barcelona. And with Manchester City coming to Old Trafford tomorrow, their Champions League hopes will be completely blown out with just the tiniest gust of wind. FiveThirtyEight gives them a seven percent chance of finishing top four.
There's regression to the mean, and then there's getting punted into outer space by Lucas Digne and the boys at Goodison Park:
Now, the question seems to be: Did United make a mistake? Gary Neville, who works for Sky Sports and played with Solskjaer at United, was quick to blame the players and absolve his former teammate of any fault re: recent results. However, over at the BBC, Jermaine Jenas said that the move to appoint Solskjaer was "based on emotion rather than actual logic".
But I wonder if Sander wasn't asking the right question a couple months ago. Everyone has their own needs -- financial and otherwise -- and please, follow whatever blisses you may or may not have. It's just that while Manchester United are the most successful club in the history of English soccer, almost all of their managers have been failures.
There's Sir Matt Busby, who won five first-division titles. There's Sir Alex Ferguson, who won 13. And then there's everybody else. From a piece John Brewin wrote for The Blizzard back in March:
Only three managers of 22 full-time appointments, Busby, Ferguson and Ernest Mangnall, who departed the club in 1912, have contributed to the 20 league titles that make United the most successful club in English domestic terms. Only four others presided over a trophy win: Tommy Docherty, Ron Atkinson (twice) and van Gaal with the FA Cup and Mourinho with 2017's League Cup and Europa League double.

And of those who followed Busby and Ferguson, only Atkinson properly reaffirmed himself as a manager when, in charge of Aston Villa, he became the main challenger to the Ferguson team that lifted the first ever Premier League title in 1992-93. As a club, Villa and Sheffield Wednesday both fitted "Big Ron" far better than United. The League Cups he won in 1992 and 1994, both at United's expense, are the only trophies collected by a post-war post-United manager.
No one succeeds at United; no one succeeds once they leave.
Despite a trio of meager exits -- from the FA Cup to Wolverhampton, from the Champions League, and (most likely) from the race for the top four -- United have, on the whole, been a pretty good team under Solskjaer in the Premier League. Since he took over, here's the top four, via the Total Football app: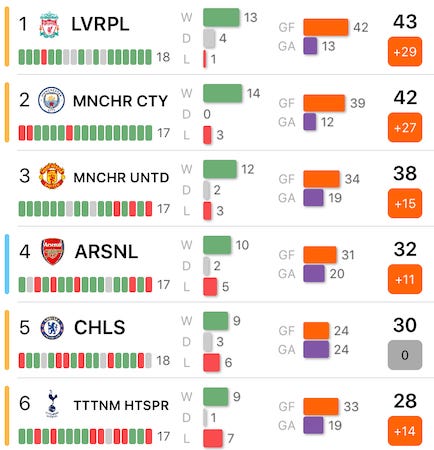 Over that span, they've also got the clear third-best xG differential (plus-11, while Liverpool and City are at plus-23.2 and plus-28.6, respectively). In other words, if United played like they've played under OGS for the whole season, they'd probably -- perhaps comfortably -- be in third place right now.
Of course, when you're richer than every club outside of Madrid and Barcelona and you've got 20 English first-division titles and three European Cups, that unmatched mix of historical and financial power means that third-place isn't ever good enough. For a United manager, good enough is being good enough to win every competition you set foot in. But you're also expected to work within a dilapidated infrastructure. When almost every manager a club hires goes on to leave in disgrace, the machine is the problem -- not all of the guys who seem like they keep pressing the wrong buttons.
The core issue is that while United have leveraged their popularity into massive revenues and sponsorship deals for just about every product capitalism has found a market for -- seriously, have a scroll through this list -- the club hasn't modernized the way they actual team runs. Ed Woodward, who helped the Glazer family complete their takeover of the club back in 2005 when he was a member of JP Morgan's mergers and acquisitions team, has been the highest-ranking executive at United since 2013. He's a former investment banker, and since he's been in charge, I'm not sure thee club has even signed one player that you could call an unmitigated success. These are the top 10 most expensive deals of the Woodward era:
-Paul Pogba, €105 million: One of the best midfielders in the world, but can any midfielder make an impact to match this price-tag?
-Romelu Lukaku, €84.7 million: Scored 16 goals last season, is no longer a guaranteed starter
-Angel Di Maria, €75 million: Lasted one year, now plays for PSG
-Anthony Martial, €60 million: Has only played more than 1,600 league minutes in one of his four seasons
-Fred, €59 million: Signed last summer, has started 12 league games
-Juan Mata, €44.73 million: Has never scored more than nine goals or assisted more than five in his six seasons with the club
-Nemanja Matic, €44.7 million: Called himself the "biggest problem" after the loss to Everton
-Henrikh Mkhitaryan, €42 million: Started 26 games over a season-and-a-half before moving to Arsenal last January
-Eric Bailly, €38 million: Has played fewer than 600 minutes this season
-Luke Shaw, €37.5 million: Signed in 2014 but didn't become a first-choice starter until this season
The latest rumors say that the club is eyeing Mike Phelan to become its first-ever director of football. As Liverpool and City pull away from the pack with forward-thinking front-office people who are empowered to make decisions in concert with the manager, United badly need someone in what is essentially soccer's version of the GM role. It's just that Phelan has no experience in that position beyond a couple of months last year as the sporting director of the Central Coast Mariners in the Australian league. He too was fired as manager by a Premier League team that got relegated. Phelan is currently ... Solskjaer's head assistant coach and another former United player. Some of the wealthiest baseball teams, like the Dodgers and Cubs, have used their financial clout to attract some of the most progressive analytical thinkers to come run their shops and solidify their monetary advantages (and underpay their players, but that's a discussion for another time!). I'm not sure that exact person even exists yet in soccer -- but it doesn't seem like United are anywhere close to the kind of modern, open-minded thought process that might lead to someone similar.
Manchester United's last decade reminds me of this line from The Big Short, Michael Lewis's book-that-became-the-movie about the 2008 housing crisis: "What are the odds that people will make smart decisions about money if they don't need to make smart decisions -- if they can get rich making dumb decisions?"
The rest of Solskjaer's story at United is still to be written, but history suggests there's one overwhelmingly likely way it's going to end. The fist manager United signed to replace Sir Alex Ferguson was David Moyes. He was hired in the summer of 2013 and fired before the end of the 2013-14 campaign. Had Moyes fulfilled the contract he signed -- well, he'd still be the coach today.