Champions League Preview Mailbag
Who's this year's Ajax? Who's this year's Frenkie de Jong? And why are talking about energy drinks?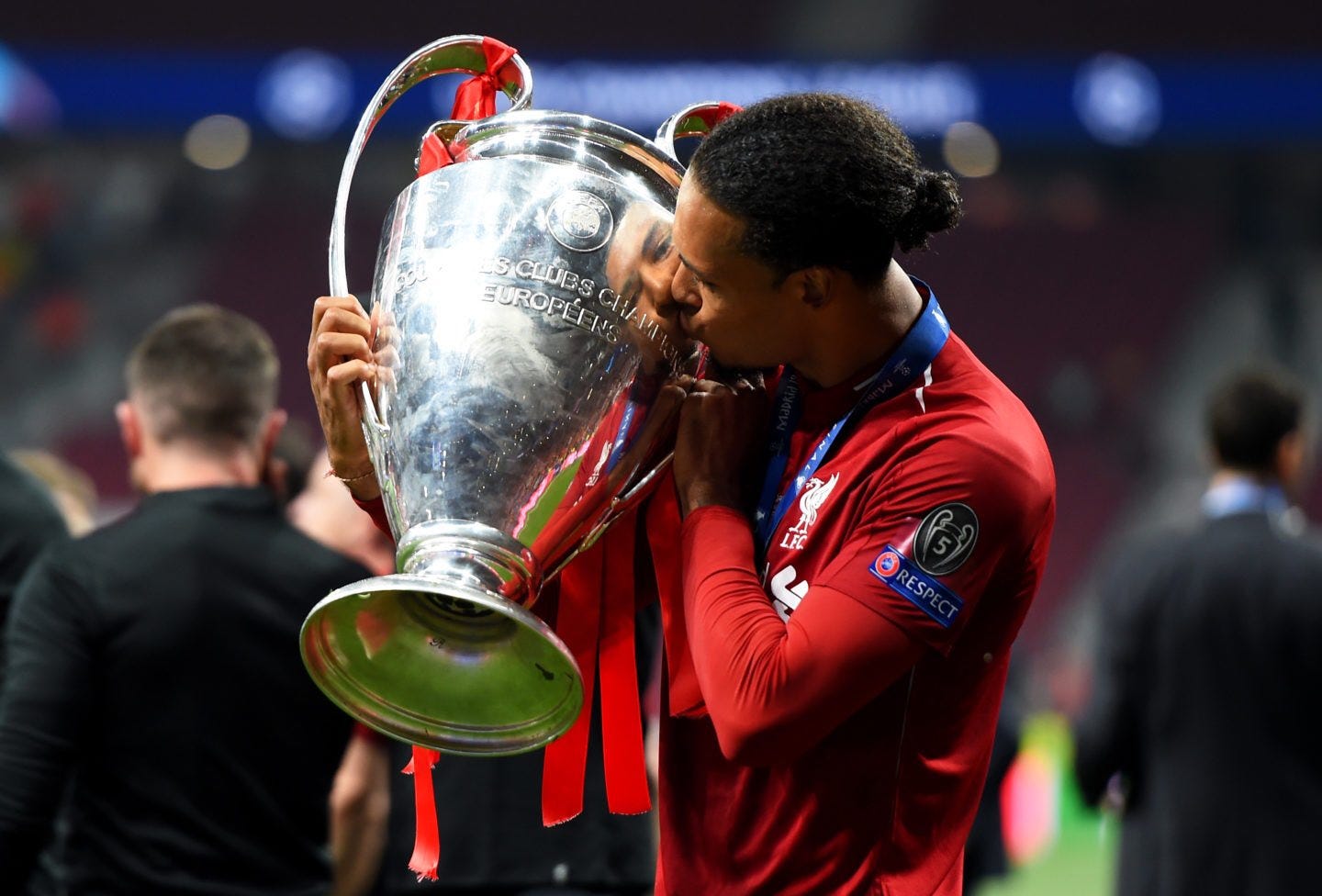 It's back -- at least until Andrea Agnelli finally gets his way. The group stage for the best sports competition in the world begins today, and like we did before each round last year, I have a mailbag for ya. The questions all come from paid subscribers, but the answers are available to all. 
Before we get started: No one asked for straight-up predictions, so I'm just gonna do em myself. In a piece I just wrote for ESPN, I made the case that there's a new Big Three in Europe: Manchester City, Liverpool, and Whatever Team Employs Lionel Messi. The most likely Champions League winner is going to come from that trio. If my life -- or anyone's life, for that matter -- depended on getting these picks right, I'd put all three teams in the semis and City all the way up to the champion's podium. But no one's mortality is at stake here, so penciling in all the favorites is no fun. Instead, let's say that the final four is gonna be City, Barcelona, PSG, and RB Leipzig. Picking the finalists is absurd without knowledge of the draw, so I'm not gonna do that, but I will say that I think this is the year City finally wins it all. Please ignore these predictions if they don't come true, and please send me a bespoke care-package if I get all four right.
OK, on to the mailbag!
RB Leipzig: Does Red Bull own them? And the NY Red Bulls? Brasil, Salzburg, Ghana?  Or just sponsors? I think they own, but where does all that money come from??
-John
You bet they do. Red Bull own all those clubs, though the Brazilian iteration is now-defunct. And the RB in Leipzig technically doesn't stand for Red Bull. From The Guardian:
Until 2009, RB Leipzig was a fifth-division club called SSV Markranstädt that few had heard of even in its native Saxony. Then the Austrian energy drink manufacturer Red Bull bought the club's licence, changed its name, crest and kit, and promised a transfer budget of a rumoured €100m (£85m).

Since the rulebooks of German football do not allow clubs to be named after their sponsors, the new club was christened Rasenballsport Leipzig, meaning "lawn ball sports" – a name that the club's marketing team studiously avoids in its promotional material in favour of "The Red Bulls" or simply "RB".
The Red Bull conglomerate of teams is probably the most progressive, innovative, forward-thinking group in all of world soccer. The strange spot they occupy in the financial hierarchy of the game encourages them to be so. The Red Bull teams all have a ton of money because they're owned by a corporation that made $7.391 billion in 2017, but because of spending restrictions, they can't just buy their way to the top of every league. (Due to the financial uncertainty that comes with  relegation, soccer teams cost way less to buy than American sports teams. For example: Newcastle United is rumored to be for sale for around $440 million; the expansion fee for the most recent NHL team was $650 million.) Sure, Leipzig has spent a ton of money on players, but most of their investment, it seems, has gone into creating both a coaching and a player-development pipeline. Jesse Marsch was the coach for the New York Red Bulls, then became an assistant at Leipzig and now he's the head dude at Salzburg. Tyler Adams went from New York to Leipzig, while Naby Keita went from Salzburg to Leipzig to (the training room at) Liverpool. There are plenty of others, too.
According to Transfermarkt's player valuations, Leipzig currently have the 16th-most valuable squad in the world. Among the 100-most-valuable clubs, they're also the youngest team by a significant margin. The average age of their players? Twenty-two-point-seven! And guess what? Their manager, Julian Nagelsmann, is only 30-freaking-2. He wouldn't even be one of the oldest players on Juventus.
Anyway, all the Red Bull teams tend to play a vertical, fast-paced, high-pressing style, and their players all fit that mold in one way or another -- dribble-happy midfielders, run-in-behind attackers, rangy defenders who can pass. Red Bull understand this sport as well as anyone ever has. If they're buying someone, he's probably good and is going to get better. If they're hiring a coach, he's probably someone who thinks about the game with an open mind. And yes, this metaphor is way too-on-the nose: an energy drink company rises to prominence presumably because the global workforce is over-fatigued, and then -- as a side business -- they take over the world's most popular sport. 
Besides the obvious RB Leipzig, which team from pot 4 has the best chance of making it out of the group stage and maybe even past the round of 16?
Likewise, besides the obvious pick Chelsea, which pot 1 team has the best chance of not making it out of the group stage?
-Alex
Re: potential pot-four advancers, Atalanta stand the best chance of advancing to the first knockout round and beyond. For one, they had THE BEST expected-goal differential in Serie A last season: plus-33.2, while Inter was second at plus-26.4 and runaway winners Juve third at plus-25.9. They kept their manager Gianpiro Gasperini and all of their key players, so there's a case to be made that they're just one of the 16 best teams in the world, full stop. But, and for two: they nabbed a relatively easy draw. Obviously, being in a group with City would be awful for anyone -- they're the best team in the world and strong favorites to win the whole thing -- but Shakhtar Donetsk and Dinamo Zagreb are two of the weaker teams from pots 2 and 3, respectively. In fact, betting markets give Gianpiero Gasperini's side a slight edge over Shakhtar to advance from the group.
As for pot-one laggards, the obvious answer is Zenit St. Petersburg, not Chelsea. The current set-up awards the Russian champs a spot in pot one, even though Zenit currently sit 32nd in FiveThirtyEight's global club rankings. I don't think their group is impossible by any means -- Benfica might be the weakest team in pot two, and Lyon aren't the best side from pot three -- but the markets actually project Zenit to finish last in their group. 
I also wouldn't be shocked if Juventus went out in the group stages. I don't love what they've done with their team so far -- taking an already-old roster and then playing all of the oldest players; with the current lineup, they've got basically an even xG differential three games into the season -- and Atletico and Bayer Leverkusen are both tricky teams to play, with each one sitting at opposite ends of the attack-or-defend strategic spectrum. 
Who is your breakout player pick for this year's Champions League? Obviously last year the value of most of the Ajax players skyrocketed due to their success, but in particular it still kind of shocks me that Frenkie De Jong was worth only $7.98 million as of June 12th 2018 (according to transfermarkt). Given that another team making an Ajax style run is unlikely I'm curious how big of a breakout could someone from a team eliminated in the group stage expect and who that might be?
-Harrisen
Let's go with my man Erling Braut Haland, the baby-faced Norse god of annihilation. Some of you might remember him from this summer's under-20 World Cup, where he scored nine goals ... in a single game against Honduras:
Whenever something like this happens, my mind tends to preemptively write it off as an oddity without any intrinsic value. It tells us that Honduras's u-20 team was not very good, yes, but I'm not sure what else there is to glean from it -- especially considering that Norway didn't go very far in the tournament, either. 
Well, I was wrong, and my brain is decaying. First off, Red Bull Salzburg had already bought Braut Haland, which, as we've already been over in an earlier section, suggests that he's probably a pretty good prospect. And as his performance in the first seven games of the Austrian season suggest, he might be something more than that. The guy has 11 goals (10 non-penalty) and four assists already. That's a non-penalty, per-90 rate of goals and assists of 2.21. Messi is a scrub, and Mbappe should go to law school.
Now, the Austrian league isn't a good league by any means, but such thorough domination at such a young age is incredible. In Sadio Mane's first season with Salzburg, he put up 16 goals and eight assists across a full campaign, and he was a year older than Braut Haland at the time.
On top of all that, Salzburg are a sneaky dark-horse pick to make some noise in the tournament. They're actually ranked 14th (!) in FiveThirtyEight's global rankings, which is two spots higher than Napoli, who they're in a group with. In addition to that, they get two high-profile games against the defending champs, Liverpool, and one of the few centerbacks, Virgil van Dijk, who's a physical match to EBH. Betting markets aren't as high on Salzburg as FiveThirtyEight, but this is the same model that was higher on Ajax than anyone else at this point last season. Keep an eye on these guys.
Braut Haland moved to Salzburg for $5.7 million. That number is about to sky-rocket, if it hasn't already.
If this year's UCL was played NCAA Tournament style, with seeds and brackets (and single elimination), what would it look like?
-Scott
Let's just draw it out, based on the pools (seeds one through eight come from Pot One, etc.) and FiveThirtyEight's rankings (to determine the seedings within each pot). Liverpool get the overall one seed because they won it all last season:
1) Liverpool (defending champs)
32) Slavia Prague
16) Shakhtar
17) Salzburg
8) Zenit St Petersburg
25) RB Leipzig
9) Real Madrid
24) Dinamo Zagreb
4) Barcelona
29) Lokomotiv
13) Atletico Madrid
20) Valencia
5) Juventus
28) Galatasaray
12) Ajax
21) Olympiacos
3) Bayern Munich
30) Genk
14) Napoli
19) Inter Milan
6) PSG
27) Atalanta
11) Tottenham
22) Lyon
7) Chelsea
26) Lille
10) Borussia Dortmund
23) Club Brugge
2) Manchester City
31) Red Star
15) Benfica
18) Bayer Leverkusen
OK, so a bunch of you also asked mailbag questions about what I would do to make the Champions League better. From a pure enjoyment standpoint, the worst part of this tournament is the group stages. Most of the favorites advance, and there really only ends up being a handful of genuinely compelling games before the knockout rounds begin. If you wanted to make the tournament more fun, you'd have to find a way to add a little more juice to the group stages, but the only way I see that happening is by ensuring that there are better teams in the group stages. And well, doing so would close the doors on teams from outside the top leagues and then make the inequality across Europe worse than it already is. Would Sevilla be a more interesting competitive prospect than Slavia Prague this year? Sure, but ensuring that the Champions League includes the strict "32 best teams in the world" would be to give in to the idea of a European Super League, which I think is a terrible idea! So, that's a long-winded way of saying that none of the improvements I can think of re: the Champions League are ones that wouldn't require massive institutional upheaval to the financial structure that currently underpin the way global soccer works so Croatia's best team stands a chance against the fourth-best club in Germany.
However, just looking at this hypothetical knockout tournament we've set up above, I kinda like it. I'm going to ignore a lot of group stages matches, but I'd watch all of these games. Every potential Sweet 16 matchup would be fun, and since soccer is soccer, I'm sure we'd probably get a couple unforseen upsets, too. Maybe there's a way to expand this out to a full 64 teams -- get rid of the convoluted qualification process and just give 64 teams automatic spots into this tournament, and then play it as a two-leg, 64-team knockout tournament over the same time span as the current competition. I guess that would rob some of the smaller teams of home games; Slavia Prague get to host Barcelona, Dortmund, and Inter Milan this year, but in a knockout competition they'd likely only get the home leg of their home-and-away tie. The fans miss out, and the ticket revenue disappears, too. But we can redesign the rules to more equitably distribute the revenus. I believe in the hypothetical us.
Despite the title on offer, the Champions League IS NOT designed to determine the best team in Europe. Two years ago, the final was between the third-best team in Spain and the fourth-best team in England! Last year, it was between the second- and fourth-best teams in England! There are too many random draws and too few games for this structure to truly produce the best team on the continent when all is said in done. So, who really cares if chopping off the group stages produces even more volatility than we get right now? A little more recreational, low-stakes chaos never hurt anyone.
Talk about Zidane! He is historically a bummer in an endurance tournament like La Liga, yet somehow manages to consistently pull it off in random chance tournaments like the CL. Many call it black magic, but what is it really? Madrid play PSG this week, and Hazard might start. What does Zidane do differently in CL games versus league games, and is it measurable? How is he able to put a lid on the chaos and control it to the tune of 4 trophies in five years? How can we better understand coaching/management by studying at the Zizu Academy of Dark Arts?
-eco suave
Frankly, I don't think there's much we can learn, actually. I've thought of this way too much, and every time I come up with a conclusion, there's a pretty easy counter that pops the bubble. Here's my biggest takeaway: Real Madrid had probably the biggest collection of elite talent over the past half-decade, and Zidane was able to design the team in such a way that they had at least a 50-50 chance of winning every game they played. If you flip a coin enough times, it's eventually going to land heads an improbable number of times in a row -- at least, it'd appear that way to someone who hasn't been paying attention to every flip. And so if we say that every knockout matchup in Champions League history is coin flip, then Madrid's three CL titles in a row are the 12 times in a row that it landed heads.
Even if you think that Zidane's teams (or at least their players) had a special ability to rise to big moments -- and I'm sympathetic to this, to a degree -- that's not enough. Their first title came in a shootout win against Atletico Madrid (who'd improbably beaten Pep Guardiola's Bayern the round before). Madrid were better prepared for that shootout than Atletico -- seriously -- but if they lose the shootout, then eco suave isn't even asking me this question in the first place. The third title came after a Round of 16 matchup against a PSG team without Neymar for the second leg. The quarters saw them blow a lead at home to Juventus but then advance ... after Juve conceded a last-second penalty and Gianluigi Buffon was sent off for arguing with the ref and Juve's then-backup, Wojech Scezsny, had to come in and attempt to save the shot. In the semis against Bayern, they got absolutely thumped in the second leg but got through after another backup keeper, Sven Ulreich, mistook a backpass and let it roll toward his own empty net. And in the final, well, Liverpool's best player got hurt in the first 30 minutes, then their since-deposed keeper made two horrible mistakes, and then Gareth Bale scored on a bicycle kick. These teams didn't really put a lid on chaos; they just dodged it better than everyone else.
In short, you need a ton of luck to win the Champions League -- no matter how good your players are. But it certainly helps to have a lot of good players. Here's what Omar Chaudhuri, head of football intelligence at the consultancy 21st Club, told me about squad construction back in January:
I suppose you could look at it from a pure risk perspective; at the top end of the game, you need a bit of extra variance to win trophies - your highs have to be higher than your opponents highs, and it doesn't really matter if your lows are lower. So I'd say it is a good strategy to have a top-heavy team if you're chasing league titles and Champions Leagues, because with a more 'balanced' team you're less likely to be in the running anyway (given the same budget). Real Madrid have definitely been top-heavy (see chart), and it's resulted in some amazing seasons and UCL wins, but also a horrendous season this year after injuries. Does it really matter that they've had a woeful season? Probably not as much as it mattered that they've had trophy-winning seasons.
None of Madrid's runs in the Champions League really screamed "tactical masterclass" to me, and with Madrid's collection of talent, they didn't have to be. The one big, believable tactical story from Zidane's first stint with Madrid is that he carried enough gravitas with players that he was able to insert a more functional, defensive player like Casemiro into the starting lineup at the expensive of another big-name star.
Basically, I think Zidane's teams had a lot of things go their way, but he was also able to arrange a lopsided collection of talent in a way that prevented it from ever totally tipping over in Europe. 
However, if that happens again and Zidane wins his fourth trophy in as many tries, I am absolutely going to start studying black magic.
I was reflecting again today on USC's horrible loss against BYU and how they always claim that '[the coches] are focussing on us, not the opposition: we just need to execute' etc. If you take this seriously, and not just the usual coach-speech bromide, it asks an interesting question of team sports in general: with champions league teams, how much should teams try to tactically adjust for the teams they are playing? And how much is a settled style and approach the better option? You watch Mourinho talk about his Inter team when they played Barca, and everything was set up to counter them, but you look at Klopp's Liverpool and their tactical predictability seems like more of an advantage than a problem.
So, horribly phrased question: but what is the trade-off between tactical flexibility and a consistent approach when we're dealing with this level of football? Do smaller teams always do the right thing by trying to change to a much more defensive stance when they play a more dominant style domestically?
-Simon
When coaches say this, they are one of two things: 1) lying or 2) not a good coach. Bill Belichick is probably the best coach in modern sports history, and the New England Patriots have won Super Bowl after Super Bowl by taking away whatever their opponents do best. Last year, the Los Angeles Rams were close to unstoppable on offense thanks to their use of misdirection plays and play-action. The Patriots played man-to-man defensive coverage nearly two-thirds of the time during the season, but that approach is particularly susceptible to all of the confusion the Rams try to sow into each play with ball fakes and constant movement. So, in the Super Bowl, the Patriots suddenly played zone coverage almost two-thirds of the time, and they held one of the best offenses in NFL history to a whopping three points.
And here's how Liverpool manager Jurgen Klopp prepped for Tottenham before the Champions League final:
Humility -- i.e. understanding your team's true talent and your likelihood of winning each game -- seems to me like one of the most important characteristics for long-term coaching success. At the same time, I don't think it's really possible for a team to drastically change what it does every game. Every player has a specific skill-set and it's impossible to build a team of players who can all do everything. Plus, if you're running a different system every practice, it's really hard to develop the kind of high-level, relationship-based proficiency you can get from constant repetition with the same people around you. I thought the point Jose Mourinho made in this video -- right around the four-minute mark -- was fascinating. He's so good on TV, by the way:
You need a general theory of how you're going to play -- that's what you develop each week and identify players to fit within -- but the way you implement that theory should change with your opposition. And I think this is particularly pertinent w/r/t the Champions League. Most of the teams that make the knockout stages are teams that can impose their style on almost all of the games they play domestically: they have more talent, more money, and probably better coaches, so they dominate the ball, dominate space, and/or both. But when, say, Bayern Munich gets matched up against Liverpool, that calculus all changes. You won't have as much of the ball; or if you do, the guys running at you on the counter are suddenly way better than the guys on Wolfsburg or Watford. In addition to some good fortune and an uber-talented team and a phenomenal manager, I think this is the other reason Liverpool have been so successful over the past two tournaments: they can kill you in space and they can break you down with sustained possession. This probably applies to Madrid, too. They just relied on their superstars to make super-plays, so it didn't really matter how the game flowed or how the opposition played. Both teams were/are comfortable in just about any environment. 
Which players on teams outside of the Real/Barca/Juve/Bayern/EPL oligarchy do you think are most capable of playing their way into the knockout rounds with a few outstanding performances? Obviously soccer is a team sport where the performance of one individual has a limited impact, but in a smaller sample size competition like the CL it seems as though a player getting hot can have a greater impact than on a domestic season.
-Patrick
Let's go with Alejando "Papu" Gomez and Josip Ilicic, both of Atalanta, both of my feloow 31-year-old cohort. In Europe's Big Five leagues last year, according to Stats Perform data, there were five players who took at least five shots, played at least three passes into the final third, played at least five passes into the penalty area, and completed at least 1.5 dribbles per 90 minutes. Messi is one, and he shatters every baseline: 5.4 shots, 3.8 dribbles, 6.2 final-third entries, and 7.2 penalty-area entries. Then we've got Angel di Maria (the guy is still pretty good, you guys) and Memphis Depay (I wouldn't hate seeing him on Liverpool). And then, of course, there's Ilicic and Papu.
Papu and Messi were the only two players in Europe to hit seven penalty-area entries last season; no one else was over 6. Other than his countryman, Papu's probably the best player in the world at facilitating play once possession has been established in the final-third. He's just so good at finding space, creating time, and also operating when neither one exists. He was fourth in Europe in chances created with 3.75. Oh, and he's listed as 5-foot-4.5. Watch him and fall in love.
As for Ilicic, he's Papu, but a stretched-out inverse. The 6-foot-2.5 Slovenian is obviously a capable passer and creator, but his goal-scoring/shooting -- he averaged four attempts per 90 -- makes up a higher portion of his game. He's also the target of passes into the box more often than the passer himself.
I love this duo for a couple reasons. They're late bloomers, and in the age of Kylian Mbappe, it's fun to see players reach their final forms and start to dominate after their primes were supposed to end. I also love the way they compliment each other. The roles in the relationship aren't as clearly defined; there's not one guy who's the creator and another who's the finisher. Instead, there's one guy who does 70-percent creating, 30-percent shooting, and another who flips the percentages around. And I think that played a big role in why Atalanta were so successful and so fun last year. If you shut down one of the two, the other can always pick up the slack. But if, say, Papu only created and Ilicic only finished, you could turn into Belichick, take Papu out of the game, and eliminate Ilicic's influence at the same time.
Whose legacy is most in need of a Champions League title this season? From a self-preservation point of view, it feels like Messi and Guardiola are those most in the balance. Neymar could also put some respect back on his name. Alternatively, the legacy impact of a win for Simeone (finally validates his elite status) or Ronaldo (winning with Juve makes him the GOAT imo) could be the greatest.
-Jack
This is one of those questions where its very existence negates its premise. If the legacies of all of these people rest on the outcome of a single 13-game knockout tournament, then I think we're probably defining the word "legacy" in the wrong way. Here's an example. Lionel Messi and Cristiano Ronaldo played in the same soccer league as each other for nine seasons. Guess how many times Ronaldo won the La Liga player of the year award over that stretch? Once. Messi won it seven times. And he won it the season before Ronaldo arrived and he won it the season after. My stance on this is hopefully well-established for subscribers at this point: Messi is the best player of all time, and it's not close. Ronaldo might be the second-best ever and he's definitely one of the greatest goal-scorers I've ever seen, but Messi matches the goal-scoring ... and then dribbles, passes, and creates chances at the same out-of-the-world level, too. But even ignoring that: we had a controlled experiment in which each player played against the same exact competition, home and away, for nearly 10 years in a row, and Messi was the better player almost every season. If Ronaldo's team wins another Champions League, then bravo. Same goes to Messi. Neither outcome is gonna change how I think about either player.
One quick note on Simeone, though: He won La Liga! That's way harder to do than winning the Champions League. Out-lasting Madrid and Barcelona for 38 games should be impossible; to me, it might be an even greater achievement than Leicester winning the Premier League. The guy is a king already.
And so, I'll end with this: Manchester City are big favorites this time around. They're favorites in the same way that Guardiola's Barca sides were or the Messi-Suarez-Neymar teams of Luis Enrique were, too. I don't think anyone, at this point, would argue with the idea that City are the best soccer team on the planet. (And if they're not, who is it? The, uh, Liverpool team that they beat in the Premier League? The, uh, Barcelona team that lost 4-0 to that same Liverpool that City beat?) I have a feeling how the game would go, but we still haven't seen City go toe-to-toe with one of the continental giants yet. Instead, they've been knocked out by Premier League teams in each of the past two seasons. So, one thing I hope we do get from this tournament is at least one City matchup with either Barca, Bayern, Juventus, or Real Madrid. We all know how good City are at this point. Hopefully they finally get a chance to prove it.