How Manchester City Broke English Soccer
Pep Guardiola's teams have been even better than you think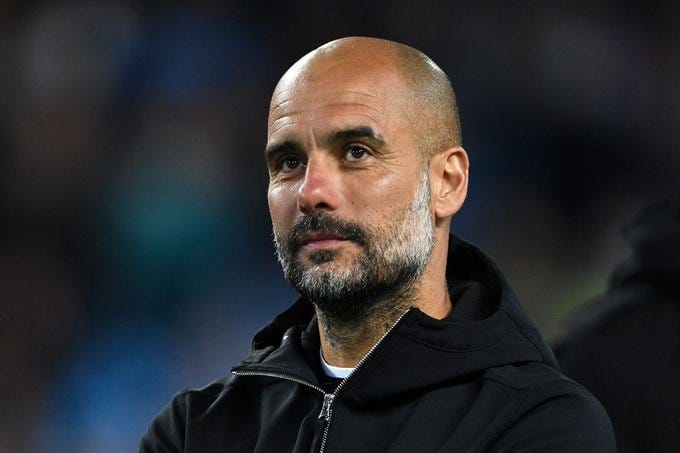 All right! We're way, way north of $3,000 in donations now. Thanks to everyone who's sent money, and if you haven't yet but would still like to, check out the details here. Be my editor! Today's piece is at the request of Jared, who asked me to write about the "brilliance of Guardiola's Manchester City". Here I am, writing about the brilliance of Pep Guardiola's Manchester City.
They've conquered England; you know this. In 2017-18, they became the first Premier League team to reach 100 points; a year later, they might have been even better. In 2018-19, City became only the second team to reach 98 points (other than, you know, themselves). They achieved that tally despite competing in a league that included: a team that won 97 points and the Champions League, a team that finished second in the Champions League, and both Europa League finalists. Plus, results can be random -- a two-point difference isn't anywhere near enough to make a definitive statement about team quality -- and City produced a better expected-goal differential last year (plus-66.71, per StatsPerform data) than the year before (62.71).
In fact, those are the two best xGDs for the Premier League era -- since 08-09 -- that the advanced data is available for. Hell, Guardiola's first season with the club, which resulted in a widely criticized third-place finish, actually produced the fourth-best underlying performance of that era. On top of that, this year's run, which sees them 25 points back of first-place Liverpool at the moment, still gives them the eighth-best xG differential of the era, even though they have 10 games left on the schedule.
In other words, Guardiola's teams have mastered the core, controllable aspect of the sport; they systematically create better chances than their opponents, and they do it at a rate and by a margin that English soccer has never seen before.
How'd they do it? Well, for starters they've spent over a billion dollars on players, thanks to funding from the Abu Dhabi royal family. And of course UEFA recently decided that Manchester City spent more than they were allowed to, and pending an appeal (and the unknowable global fallout from the coronavirus), they'll be suspended from European competition for the next two seasons. But despite all that total spending, they haven't gone all in on one particular player. Kevin De Bruyne is their most expensive purchase, at €75 million. He's currently in the midst of what might be the best creative season ... ever. But City managed just fine without him last year. Manchester United, meanwhile, have purchased four more expensive players than KDB, Real Madrid and Barcelona both have five, Paris Saint-Germain and Juventus have two, and Liverpool, Atletico Madrid, Arsenal, Chelsea, and Bayern Munich each have one. The finances of European soccer are incredibly opaque -- purposefully -- and so I personally don't feel like the recent UEFA ruling invalidates what Guardiola's City have done. Domestically, they've scratched up against the limits of what I thought was possible on a soccer field, with or without an Earth-shattering superstar.
It's not beautiful, and I'm not sure it's meant to be. (Would someone who cared about aesthetics dress like this?) There's obviously something incredibly exhilarating and emotional about Jurgen Klopp's Liverpool; same goes for Diego Simeone's Atletico Madrid, if enacted from the opposite tactical pole. Real Madrid's European dominance under Zinedine Zidane was irresistible because it relied on continued individual brilliance, and somehow felt inevitable and completely unsustainable at the same time . Since Pep left, Barcelona have leaned deeper and deeper into the hopes that Lionel Messi will save them. Meanwhile, the handful of upstarts to capture the soccer-watching public's imagination over the past few years -- Napoli, Ajax, Monaco, Atalanta -- all played lovable, high-powered attacking soccer under the existential cloud that haunts mosts of the teams that haven't already been mentioned in this paragraph: all of your best players are gonna leave. You can find whatever romance you want in any of these clubs.
Somehow, Pep's City have taken all of the beautiful aspects of the Beautiful Game -- goal-scoring, selflessness, high-pressing, passing -- and turned it into a brutal, machine-like efficiency. Per Stats Perform data since 2010, no club in Europe' Big Five leagues has begun its average sequence (basically, an interrupted possession) higher up the field than City in each of the past two years. No team's average sequence has lasted for longer than City in each of the past three years. And no team completed a higher proportion of final-third passes -- your passes, compared to your opponent's -- than City's 17-18 vintage. 
Without a direct route into Pep Guardiola's brain, I can't explain City's tactics to you, but this 2014 piece from the site Spielverlagerung does as good of a job as anything I've seen. The basic foundational idea is that Pep's teams want to create multiple man advantages in key areas of the field. As Pep once said, it starts all the way at the back:
In football each player is responsible for another, except in the [2 central defenders] vs. [1 striker] tip of each team. We start our 2 vs. 1 with a central defender driving out towards the opponent goal, causing an opponent out to prevent his progression, freeing his [partnering central defender]. Danger! If we lose the ball the opponent strikers have a 1 vs. 1 against our defenders. Each team decides how they will play now.
If a striker steps to one of the center backs, then the other center back will be open. If he's open, he can step into the midfield, and if an opposing midfielder has to step to him, then someone else will be open, and then it cascades from there. But really, it only works if all the players maintain relatively strict positioning across the field. The spacing for Pep's teams, especially with City, is one of the most striking aspects of watching them play. So many other teams -- Chelsea with Eden Hazard and Tottenham with Harry Kane are the two that immediately come to mind, but there are plenty others -- have star attackers who drop deep to get the ball or midfielders who drop on top off the defenders and do the same. The issue, of course, is that when a player drops into a deeper zone, it means that there's now one fewer player higher up the field to create the numerical advantage where it really matters, once the dominoes start falling far enough. The Spielverlagerung piece quotes a piece that Pep wrote for the Spanish newspaper El Pais before he became Barcelona manager:
I think, and maybe I'm wrong, but what I see is: [Barcelona] like to organize themselves according to the ball—that they attack and defend with the ball and understand that it is unacceptable that the ball is there and we are here. The players feel that, instead of moving towards the ball, the ball will reach them where they are. They feel that, in order for the attackers to succeed and appear in the newspapers, [they] need a good ball from the midfield and they, to do so, need a good ball from their defenders. I will pass it on to you and you pass it to them.

Ronaldinho knows that he is better with Eto'o and Eto'o knows he is better with Ronaldinho. They have their aspects, but are better together than alone. They insist on knowing where the free man is at every moment, and know that it is better if that man is Iniesta rather than a winger. They know that Xavi and Iniesta are compatible. And why wouldn't they be, dammit? They understand, as all good collectives should, that when you start on the right, it is better to finish on the left end and a back pass does not indicate fear, but the beginning of another, better play.
I hate to use the "word" machine to describe these teams. They're filled with brilliant individuals -- De Bruyne, Raheem Sterling, Aymeric Laporte, Fernandinho, and on and on --  who constantly make the right decisions and are then only able to execute on their choices because of an impeccable level of skill and fitness. But this is how the Oxford dictionary defines the word: "An apparatus using or applying mechanical power and having several parts, each with a definite function and together performing a particular task". Re-read that last clause -- "several parts, each with a definite function and together performing a particular task". That's why these teams have been so good at controlling everything that happens right up until the moment the ball leaves the shooter's foot, at either end of the field.
They, of course, have never won the Champions League, and in the past two years they were eliminated in the quarterfinals by English teams that they wildly outperformed in domestic play. City, however, were on the verge of eliminating Real Madrid before this season's tournament was suspended. Given how dominant Pep's teams have been -- against the teams they lost to -- there's not much more to do than shrug and point to the volatility of this silly game. If anything, the Champions League has infused City's games with the kind of confounding emotions that they've managed to all but eliminate every weekend: What does it mean if the best team in the world isn't even the best team in Europe?