Liverpool Really Did It, Huh?
Wow.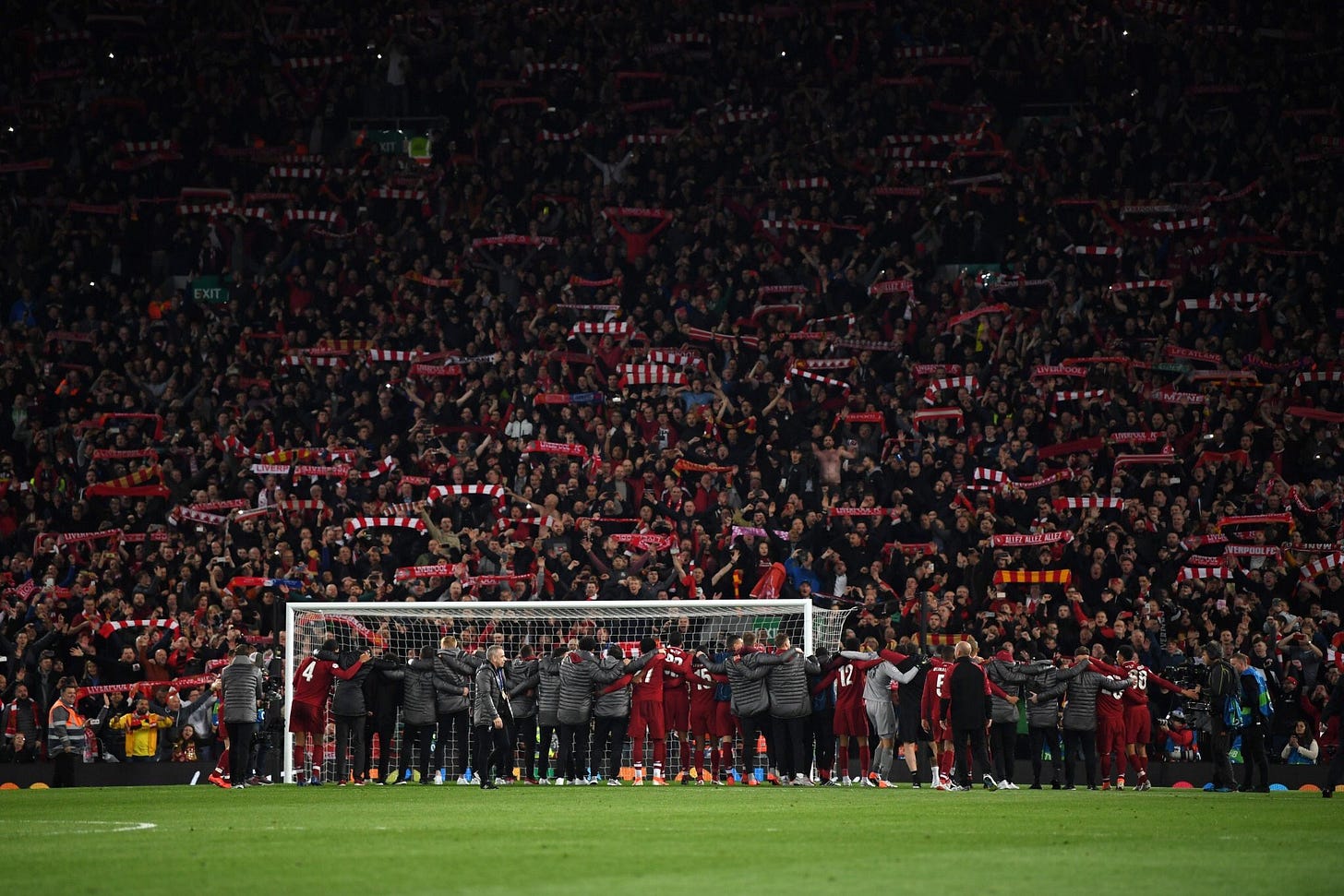 I was in Florida last week -- met my parents and brothers who were on vacation, out on the southern Atlantic coast. My dad and brothers are all huge sports fans -- Jets, Knicks, and Yankees, mainly -- and my mom went to the University of Florida on a gymnastics scholarship. She doesn't care much about sports, other than the Holy Cross soccer team (my brother and I played there) and Penn State football (where my other brother went). But anyway, she gets sucked into enough conversations about sports that it's at least a huge part of her life when we're all together. Silly? Perhaps, but it's a glue that helps bind us together, like I'm sure it is for a lot of you.
We were all sitting on the beach, a couple hours before the first leg of the Barcelona tie. Not many of the teams any of us root for have won anything since we went through puberty. There was that one Yankees title back in 2009, but that's it, and none of us are really Yankees fans in the way we're fans of the other teams. My mom asked what team winning a championship would mean the most to me: Liverpool? The USMNT? The Jets? The Knicks?
I told them that I didn't really know anymore. I work in sports, and I'm lucky to, but when it becomes your job, it's hard to maintain the joy and the kind of unadulterated irrationality that it entails. Plus, you see how hard everyone on every team works and those subjective allegiances can start to fade. Fandom in the US isn't defined by the long, historic cultural divides that create supporters in Europe or South America, so the hold isn't as tight. At least, it hasn't been for me. I still root for the Jets and I'd like to see the Knicks do well, but none of that has any effect on how I feel anymore. So, I told them that a Liverpool title would mean the most to me, but that it wouldn't mean as much as it would've a few years ago. And I told them that since I pretty much write about soccer for a living now, in, say 10 years, I wouldn't be surprised if my ties to the team -- in a lot of ways, rooting for Liverpool FC has been the one constant in my life for the past decade -- had all but faded away, too.
---
Before today's game against Barcelona, Liverpool had longer odds of winning the Champions League than they did at the beginning of the season. Sure, they were one game away from the final; they might as well have been floating through outer space.
Then Divock Origi scored the biggest goal of his life. And then Gini Wijnaldum scored the biggest goal of his life. And then Gini Wijnaldum scored the biggest goal of his life. And then Divock Origi scored the biggest goal of his life. 3-0? No Salah? No Firmino? No Keita? No Ox? No energy after Saturday's last-minute win over Newcastle? No big deal.
What was that? What do you even say? They needed three goals; they scored four. Wijnaldum started at striker last game, and didn't take a single shot; he came on as a midfielder and scored twice. Origi was on loan at Wolfsburg last season, he scored six goals and they finished 17th; he just scored twice in the Champions League semi-finals, and Lionel Messi scored none. Trent Alexander-Arnold was seven years old when Liverpool last won the Champions League, he got benched in Barca, and nearly blew the Newcastle game; he was the youngest player on the field Tuesday and won the game with veteran savvy. Jordan Henderson was supposed to lose his spot in the starting eleven with Ox, Fabinho, and Naby all around; he turned into Patrick Vieira and created the first goal by sheer force of will. Joel Matip started the season as the fourth-string center back and has at times looked more likely to put the ball into the Liverpool net than any of the attackers he's defending; he clamped Luis Suarez and Messi and Coutinho down when a single goal would've been the end of it. Sadio Mane has 24 goals this season and was supposed to be Liverpool's main attacking threat; he didn't take a single shot, and he might've played the best game he's ever played for the club.
I cringe at this expression, and I don't care: This fucking team, man. That's two Champions League finals in two years; it's three European finals in Jurgen Klopp's four seasons with the team. I don't know if there's something different about this club -- mega-clubs are mega-clubs, devoured by the race to the top -- but I'm sure it feels that way for anyone who knew anyone at Hillsborough or Heysel. That's a connection I can't even begin to imagine. It could all be a coincidence, but since I started watching, the moments have kept stacking up: Gerrard against Olympiakos. Istanbul. Gerrard in the FA Cup Final. The comeback against Dortmund. And now, this.
It almost seems silly to analyze that -- like trying to light a match in a blizzard. As I wrote about earlier today, an early goal and a set piece helped paved the way. Really, though: they finished their chances and their keeper stood on his head. Barcelona could've scored, but they didn't. Origi and Wijnaldum took four shots ... and all four of them went in. Barca's age was obvious in this one; without Ousmane Dembele — and oh boy, what a miss that was — they just don't have the deep option to keep an opponent who's chasing the game honest. Their midfield can't control a match anymore, and their defense just isn't very good. They have the best player in the world, though, and that's almost always enough. But they're a lopsided, imperfect team -- one that can't possess a game to death and can't counter-attack efficiently. The kind of side that, up against another team that knows exactly what it wants to do, can get blown to pieces. They created more than enough at Anfield to end the tie; Alisson was a wall. But once Barca went down 4-0, they fell apart: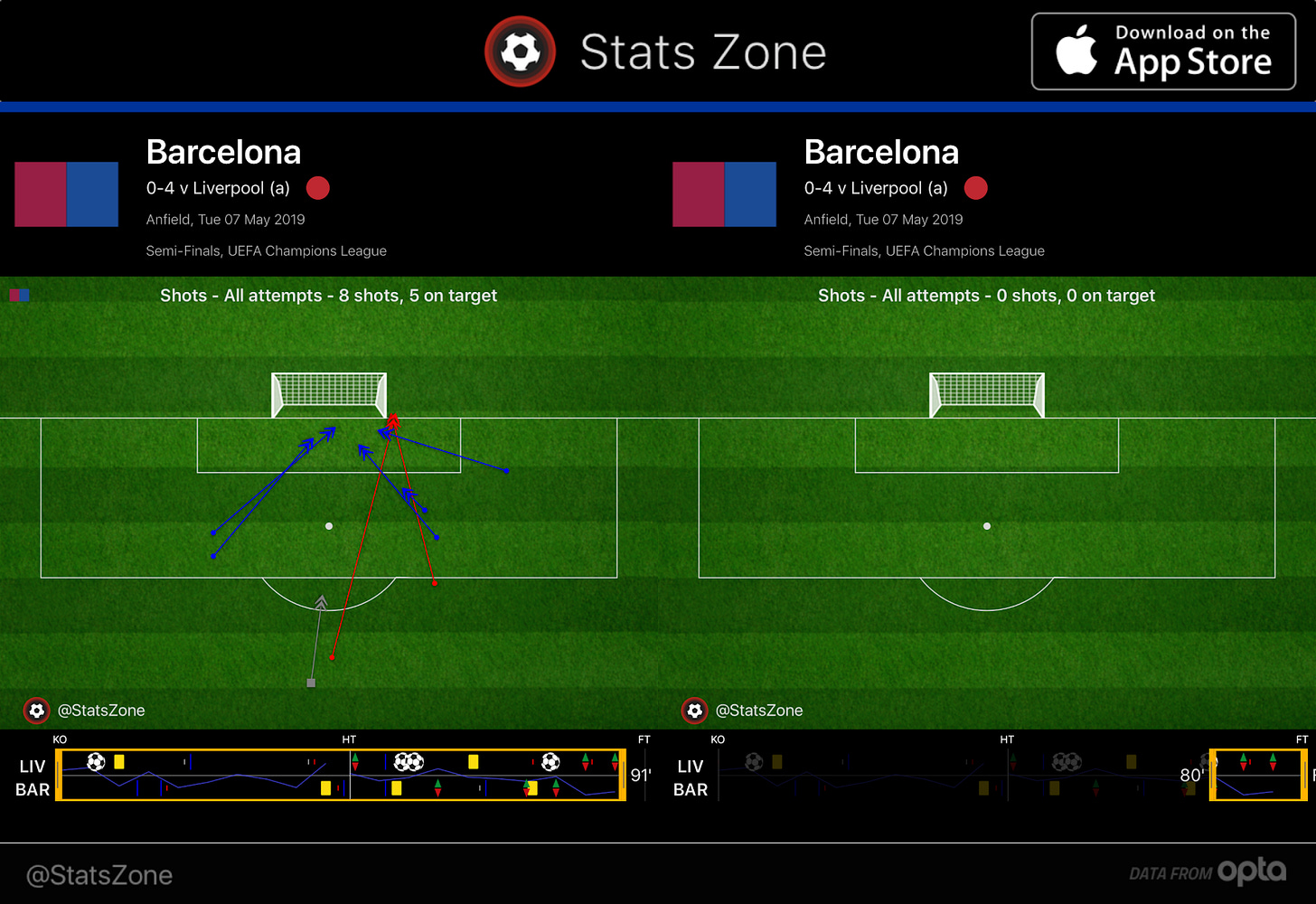 Somehow, the chances were exactly even across the two legs, and the team without Messi -- and without Salah -- is the team that put more of them away.
First with Luis Enrique, now with Ernesto Valverde as manger, Barcelona have an away-game problem:
Liverpool, meanwhile, move on once again. Klopp called his players "fucking mentality giants", and who's gonna argue with that right now? What a difference 90 minutes makes. They have shorter odds to win the Champions League than ever before. They might put up 97 points at home, and they still probably won't win the Premier League. But they're gonna be favorites to lift the European Cup -- no matter who they play. This feels good, whatever it is. I'm pretty sure I'm still a fan.