Psst, Christian Pulisic Has Been Kinda Awesome for Chelsea
Everyone take a deeeeeeeeeeeep breath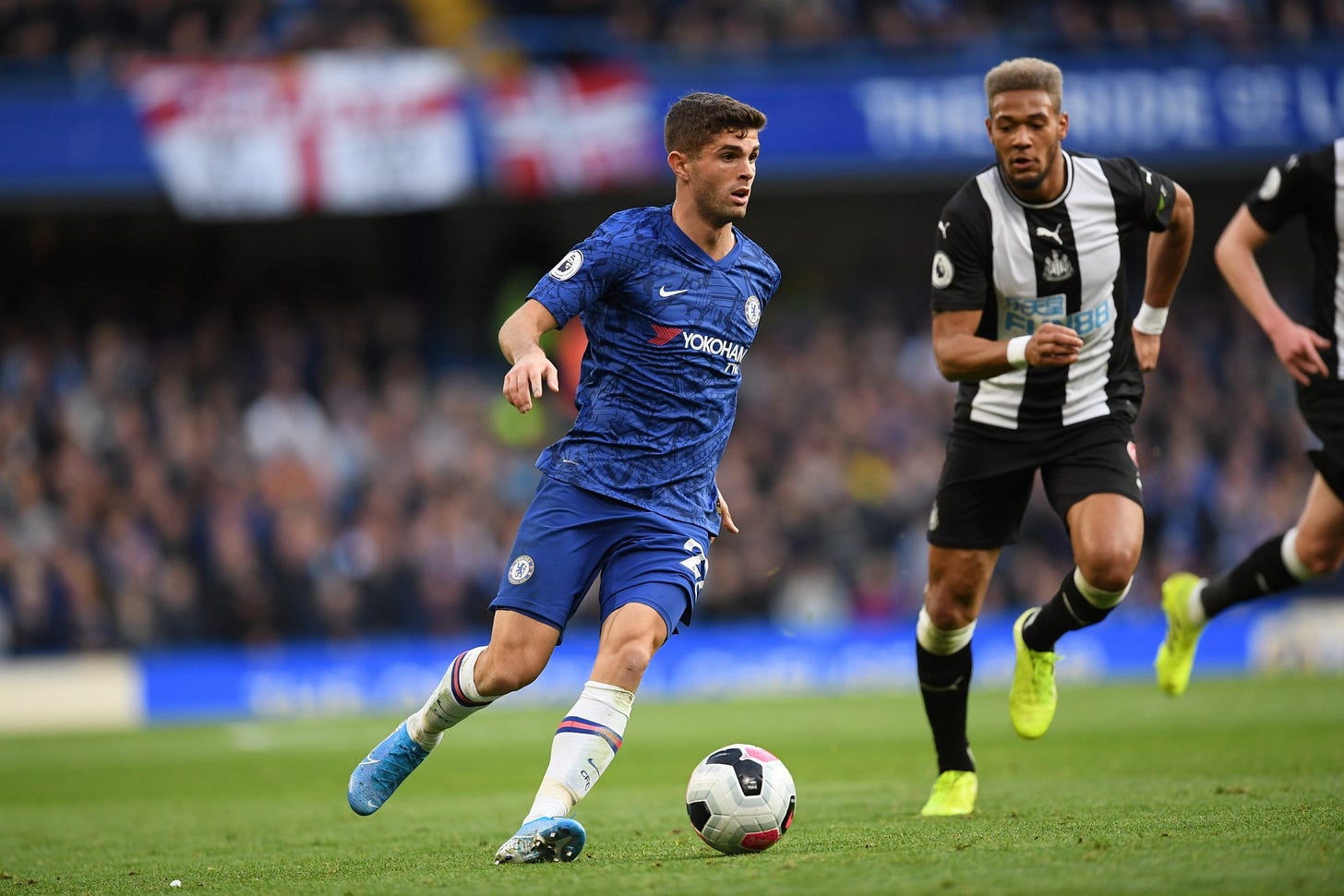 I can't stop looking at this:
App idea: Which American soccer player do you look like? Another app idea: Which British footballer to do you look like? This like Animorphs, but instead of turning into a praying mantis or a frog, you get to become another the Next Big Thing for another nation in the Anglosphere.
Anyway, Christian Pulisic was supposed to be Mason Mount, and vice versa. Pulisic, as you, a subscriber to this newsletter, are probably well aware by now, is a 21 year old who doubles as perhaps the most accomplished American soccer player of all time and definitely the most expensive American soccer player of all time. Just for fun, here's the rest of the top 10: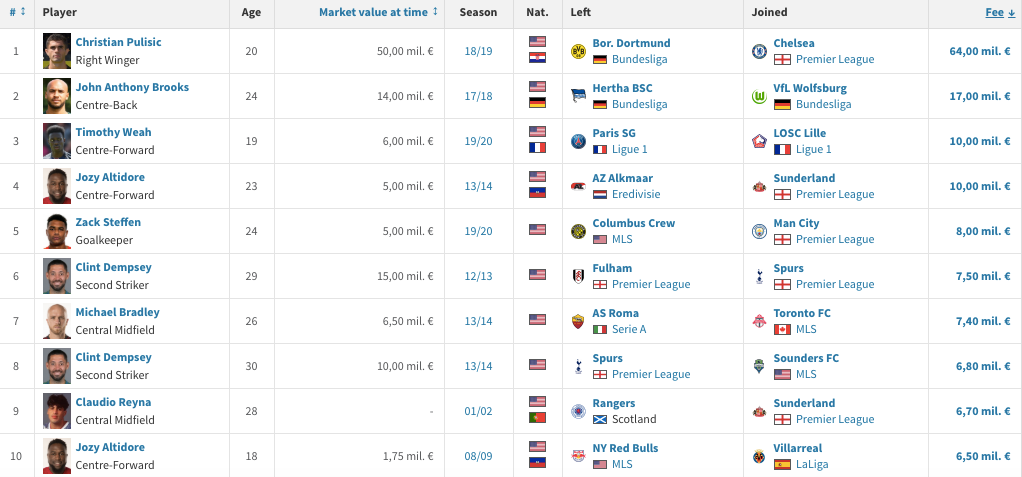 While Pulisic has spent the last few seasons playing in the Champions League for Borussia Dortmund, Mount spent the last two seasons on loan with the sixth-best team in the Dutch first-division and the sixth-best team in the English second-division. Given their pedigrees and experience, Pulisic was supposed to be the one who slotted into Chelsea's starting eleven from the jump, while Mount would, presumably, get some playing time here and there as he eased into his first-ever season of high level soccer. Instead, Mount has started every game -- it can't hurt that the current Chelsea manager, Frank Lampard, was also his manager in the Championship last season -- while Pulisic has been in and out of the lineup and occasionally even been a healthy scratch from the bench.
Mount had played every minute of every Premier League match -- until the body/face-swap mentioned above during this past weekend's game against Newcastle. Pulisic nearly scored soon after coming on, and then he, as the USMNT Twitter account put it, gleefully, "provid[ed] the hockey assist" to give Chelsea a 1-0 lead they would not relinquish. He also created a tap-in for Tammy Arbaham -- only for his USMNT teammate Deandre Yedlin to deflect the shot wide at the last moment. Watch it all below:
As much as the idea of "providing a hockey assist" makes me laugh, Pulisic really did influence that Chelsea goal as much as a player can without actually assisting or, you know scoring -- picked up the ball 30 yards from goal, pushed the ball into the box, then completed a pass within the box. But in order to understand Pulisic's influence with Chelsea so far, you don't even need to reach for something like "hockey assists'. No, when he's played, he's simply created and gotten on the end of high-quality chances as frequently as just about anyone who isn't a crew member on Pep Guardiola's Death Star. 
Now, Pulisic hasn't even played half of the available Premier League minutes, so he actually misses the cut-off for the FBRef leaderboards. (He's played 313 of a potential 810 minutes.) But even in terms of the raw goal value he's created, he's among the club leaders. He's tied for the team high in expected assists (1.5) with Cesar Azpilicueta, who's played all of the 810 minutes. And he's third behind Mount (3.1) and Abraham (5.2) in expected goals.
He's also doing most of the same stuff that made him such a coveted prospected at Dortmund. Take a look at this comparison across a number of different indicators provided by Stats Perform. Not much has changed: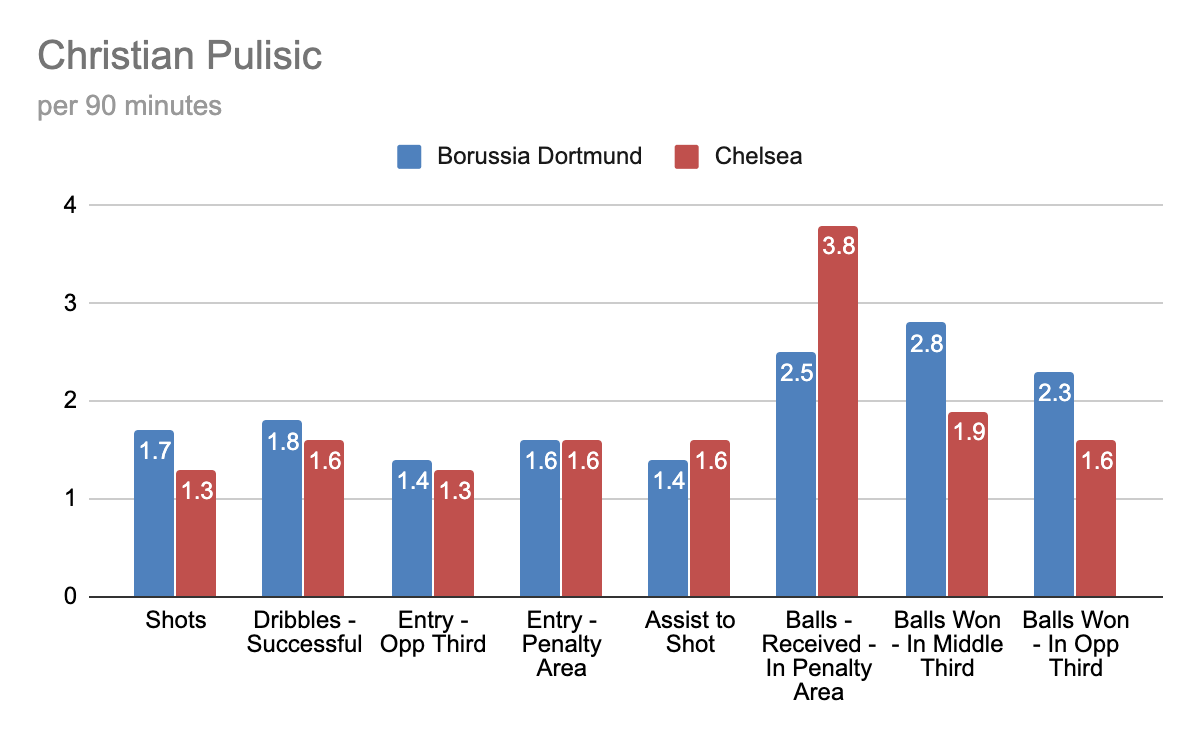 The two biggest differences so far: he's receiving the ball in the box more often than he did at Dortmund, but in Germany he won possession back more often in midfield and in the attacking third. Not included in the chart is that, at Chelsea, he's also receiving passes in the attacking third more often than he was at Dortmund: up to 22.7 from 18.8. Those would mainly seem to be system-related changes, rather than any kind of new developments in his game. But it's still too early to tell.
With just over 300 minutes of game time under Pulisic's belt -- and a chunk of that coming off the bench in weird, uneven game states -- I'm hesitant to draw too many conclusions about anything. And frankly, I'd be hesitant to draw any conclusions if he'd played every minute of every game, too! After all, the guy has only taken five shots so far this season. (The higher the xG, the bigger the circle -- blue were saved, purple were blocked, and red missed the net.)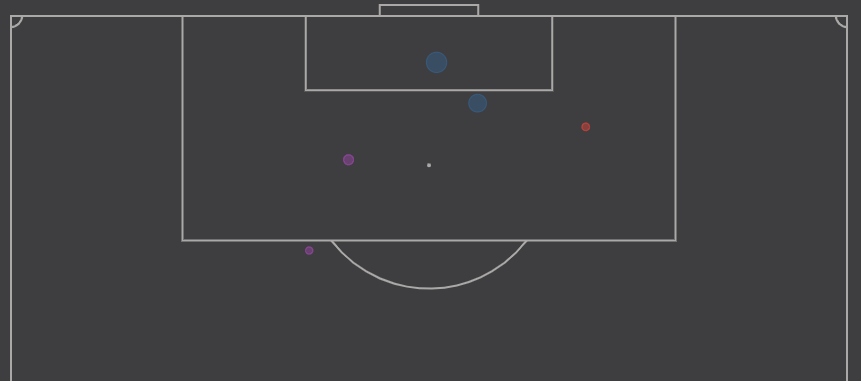 The biggest blue dot looks like this:
So, both of Pulisic's big chances came off goal-mouth scrambles or minor deflections. That might not seem like a sustainable or a particularly impressive thing, but when you're getting in the box as often as he is, good things are just bound to happen. Among Chelsea players with at least 200 minutes of game time, Pulisic is receiving the most passes in the attacking third and the most passes in the box. In fact, Pulisic's playing profile so far spits out some pretty promising comps. Here's the list of guys -- per 90 minutes, min. 200 minutes played -- with at least three balls received in the box, 15 received in the final third, one pass into the box, and one pass into the final third. That's a mouthful, but it signifies players who help out in buildup play but also manage to consistently get on the ball in the most dangerous area of the field. OK, the list:
-David Silva
-Mohamed Salah
-Lucas Moura
-Heung-min Son
-Sergio Aguero
-Bernardo Silva
-Harvey Barnes
That's one player in Barnes who I personally think has a ton of potential. Then it's six of the best attackers in the league, and six players who Chelsea (and USMNT) fans would be happy to see Pulisic develop into.
Back in August, I wrote that the big question about Pulisic's career is not whether he can become a key player for a top European team; no, it's whether or not he can become a superstar. This brief snippet of play hasn't really done much to answer the latter, but it's close to proving the former. Chelsea nearly have an identical xG differential to Liverpool, who, you know, are undefeated and in first place. And per FiveThirtyEight's ranking system, they're the seventh-best team in the world.
For all the consternation about CP's lack of playing time -- and there's been plenty! -- he's still going to get lots of opportunities, especially if he keeps playing like this. The long-term plan for the Chelsea lineup seems pretty clear, with Abraham up front, Mount behind him, and Callum Hudson-Odoi and Pulisic flanking 'em on both sides. That's one hell of a future; not a single one was older than 21 when the season began. Meanwhile, the club's other winger-y attacking options, Willian and Pedro, are 30 and 33, respectively, and they've combined for a single goal and assist in combined 748 minutes of Premier League play. I think we'll soon be spared from the Pulisic-for-Mount sub -- and that horrifying accompanying image. It won't be long until they're both consistently on the field from the start.