Why Is Timo Werner Going to Chelsea?
If the reports are right, the RB Leipzig superstar is headed to London, not Liverpool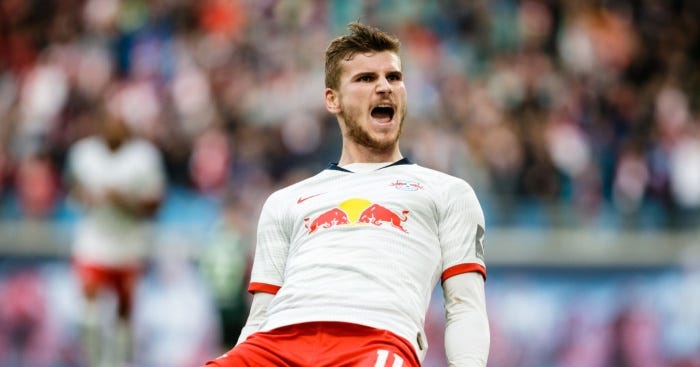 Black lives matter. The policemen who murdered George Floyd and Breonna Taylor need to be prosecuted and brought to justice, as do the policemen who have murdered an unconscionable number of other black men and women. Police departments need defunding; the role of police in society needs a total re-think. Protests about police brutality are, every day now, being met with even more police brutality.
If you support the cause, and you feel comfortable with the health risks, go out and protest. Every extra body makes a difference. I had a link to bail funds in Tuesday's email, but as far as I'm aware, most of them have brought in more than enough money for right now. This document has an exhaustive list of places you can donate, though. It's also got an incredible library of black literature and anti-racist texts. Donate, read, call and email your representatives. We're all in this together. Like I did with coronavirus -- and am still doing, so don't worry if you've already donated! -- I'll let you assign me a newsletter topic if you donate to any of the organizations or funds in the doc linked above. Just email me a screenshot of the donation along with what you want me to write about. There's a long backlog of stuff I'm still working my way through, but you'll get added to the list. And if you haven't read "Letter from a Birmingham Jail", I'd be happy if you went and did that before you keep moving down this page.
For the most part, though, you guys signed up for soccer analysis. Everyone needs a brief, minor distraction anyway, and I'm privileged to be able to provide one. Plus, there's some actual transfer news, so let's get to it.
Well, that wasn't supposed to happen. Liverpool have a relatively deep connection with Red Bull. Timo Werner is the perfect age at the perfect position. He and his countryman, Jurgen Klopp, had been making eyes at each other. And more important than any of that, the betting market had Liverpool as heavy favorites to land the young German superstar this summer.
Instead, on Thursday, various reporters announced that the 24-year-old Werner is about to be on his way to Chelsea.
The Blues have reportedly agreed to activate Werner's release clause, and his reported new salary just shows how big the financial gap is from the Premier League to everywhere else. Per FiveThirtyEight's rankings, RB Leipzig rank as the seventh-best team in the world, with Chelsea 10th. But based on their actual specific ratings, RBL are closer to Barcelona in fourth than Chelsea. And yet, according to Melissa Reddy at the Independent, his new club is able to triple his wages, up to somewhere beyond £10 million a year.
So, why Chelsea, and why not Liverpool?
We'll start with the first question. Chelsea don't really seem like they need another attacker, do they? [coughs] GOALKEEPER [coughs] They'd already pre-acquired the services of Hakim Ziyech from Ajax. Plus, they already have the trio of Christian Pulisic, Tammy Abraham, and Mason Mount -- all of whom were 21 or younger when the season began. (I'm not including Callum Hudson-Odoi, who was arrested on suspicion of rape last month.) Ziyech should be an upgrade on the presumably departing Willian, while Pulisic, Abraham, and Mount seem like they're only going to get better. Plus, they're already driving the third-best attack in the league (based on FBRef's expected goals) -- behind only Liverpool and Manchester City.
It might seem like they're already punting on the youth-movement, but that's not really true. The dominance of Liverpool and City over the past couple years may have created a false impression of the power dynamic in the Premier League. While Manchester United still keep tripping over their unlimited piles of money, Chelsea, yes, do fire their managers more often than the current administration swaps out cabinet members, but they also win a lot. Since the 2014 World Cup, they've won as many titles as any PL club. Since Roman Abramovich bought Chelsea in 2003, they've only missed out on Champions League qualification twice.
Also, Roman Abramovich is a Russian oligarch with more money than you or I could spend in 50 lifetimes! Chelsea want to be competing at the top tier of Europe along with Liverpool and City, and other than Liverpool, all of these teams -- City, Bayern Munich, Barcelona, Real Madrid, PSG, and Juventus -- have super-deep squads at the attacking end of the field. They all have multiple players who could/would be starting for almost any other club in the world. Adding Werner to the ranks gives Chelsea its own, relatively young version of that. It's a group that could get better and better together, too.
Then there's Werner himself; he's better than any of Chelsea's already-good attackers and is having a genuine superstar-level season right as he enters into his peak years. To get a guy like that for £50 million would've been a steal before the global pandemic hit; it's tough to contextualize it now since we don't really know how much revenue all of the clubs are gonna lose, but you grab him if you can get him (and afford him).
We've been over Werner a couple times recently, but I'll run through it again. He has the second-most non-penalty goals (22) of any player in Europe's Big Five leagues, behind only Bayern's Robert Lewandowski. That's partially aided by the extra games he got to play, but he's still sixth among all qualified players in NPG per 90 (0.83). Throw in is seven assists, and he's been one of the most productive players in the world -- both in quantity and per-minute quality.
Goals+assists don't tell you everything, and what Werner did for Leipzig doesn't really matter much to Chelsea if he's not doing the same thing for them. But Werner's production is backed up by sterling underlying performances -- sixth among all players in non-penalty xG plus expected assists per 90 (0.96) -- and an ability to contribute elsewhere on the field. Per the site Smarterscout, Werner's attacking output -- which is standardized for his position and to a Premier League level out of 100 -- is a 94. The only other striker with a higher number (96) is PSG's Kylian Mbappe.
As I talked about in Tuesday's newsletter, there's still more to being a superstar than just scoring and creating, which is what the Smarterscout rating aims to take into account. Per every minute of Leipzig possession, Werner's on-ball actions are creating 0.10 expected goals worth of valye. That's double what Abraham has contributed to Chelsea's attack this season. While Abraham has had a really nice season around goal -- 34th among all players in NPG+A per 90 -- he hasn't contributed a ton beyond that on the offensive end. Smarterscout only rates his attacking output at the same position as Werner at a slightly-above-average 56.
As for the others: Ziyech was a lights-out 97 among right wingers based on his Eredivisie performance (and a still respectable 70 in the Champions League) this season, while Pulisic rated as an 88 among left wingers and Mount produced at a just-about-average level of 52 among attacking midfielders.
Based on that, and based on the investment made on the players, it seems like Werner, Pulisic, and Ziyech should be next season's starting front three. That's who I'd go with, but all five players provide something different. Here's a comparison of their various stylistic characteristics from Smarterscout. This is just a summary of how often they take various actions -- not how effective they are -- compared with other players at their position. "Link-up passing" is all passes that don't bring the ball at least 10 meters closer to the opposition goal; everything else is self-explanatory.
The issue with a Werner-Ziyech-Pulisic front three might be spacing in the final-third, as Werner tends to break into the penalty area with the ball at his feet or only to finish off chances, rather than camp out there as a focal point. Pulisic, though, is a wizard at finding space in the box, so that should help balance it out. Plus, two dribblers like Werner and Pulisic paired with Ziyech's elite passing seems like it'll stress opposing defenses in multiple ways. That's a really nice balance. Meanwhile, Abraham and Mount are both capable, effective defenders from the front, so they provide a nice alternative, too, depending on the opponent or the game state. Whether or not Frank Lampard can effectively juggle and utilize the different pieces, though, is the subject for another newsletter.
One other benefit of signing Werner, even if he's not in an area of supreme need -- is that no one else gets him. His fit with Liverpool seemed almost too good to be true and, well, yeah. Mo Salah, Sadio Mane, and Roberto Firmino are the best front three in the world, but they're all gonna be 28 at the start of next season, which seems young but in soccer years usually signals the tail end of a player's prime. Werner would've been an ideal refresh, as the current front-three backups are Divock Origi and Takumi Minamino, neither of whom seem like long-term starters for a team that wants to win the league and the European Cup every year now.
Given the facts that Werner seemingly wanted to go to Liverpool, Klopp seemingly wanted Werner to go to Liverpool, and Werner offered the statistical and stylistic profile that fits with how the club tries to play, it seems like the most likely explanation for why the move didn't happen is ... money. Roman Abramovich's wealth is, uh, somewhat robust against a global recession and declining club revenues because he is, again, an absurdly wealthy oligarch. John Henry and Fenway Sports Group, meanwhile, have an occasionally conflicting history of two things: 1) winning a ton, and 2) suddenly, uncompetitively cutting costs regardless of public pushback. The Red Sox traded their best player, Mookie Betts, to the Dodgers for an unimpressive return ... a year and a couple months after beating the Dodgers in the World Series. And they've attempted to enact controversial pay-cuts with both the Red Sox and Liverpool since the sports world ground to a halt.
My favorite anonymous Liverpool super-fan Twitter account, @ElstonGunn_, put it this way, "Ultimately, I find it very plausible we'd miss out on Werner because FSG runs the club like a business and revenue collapsed." I wouldn't go so far as to say that FSG are running both of their teams as businesses, but they hew closer to that description than most of their competitors at the top of baseball and soccer most of the time. That is, other than maybe Tottenham, who recently announced that they'd taken a $220 million loan from the British government and were expecting revenue losses of $250 million through June of next year. In 2018-19, Tottenham made the largest pre-tax profit in the league, while Liverpool were second.
Liverpool make more money than Tottenham and they didn't just build a shiny, expensive stadium only to have it sit empty for who knows how long. However, John Henry's history suggests that he's less likely to push his team into the red than other owners, and the team is simply just going to have significantly less revenue than they would've expected to a couple months ago. They could spend into loss — John Henry is a multi-billionaire — but given that they're the defending European champ and will become the PL champ soon after the games resume, I wouldn't count on it. But hey, maybe they've found someone else. That Kai Havertz kid looks pretty good, no?
Other things I wrote
I wrote about how German managers aren't taking advantage of the five-sub rule, for FiveThirtyEight. Contains some interesting quotes from Bayer Leverkusen manager Peter Bosz. Also, last week at ESPN I wrote about corner kicks: why is almost everyone terrible at 'em, and what's the best way to get good at 'em? Contains a funny anecdote about Roberto Martinez's time at Everton.
Thanks, as always, for reading. Have great weekends, all.