Discover more from No Grass in the Clouds
Demystifying soccer -- one shot, and one sweater, at a time.
Over 8,000 subscribers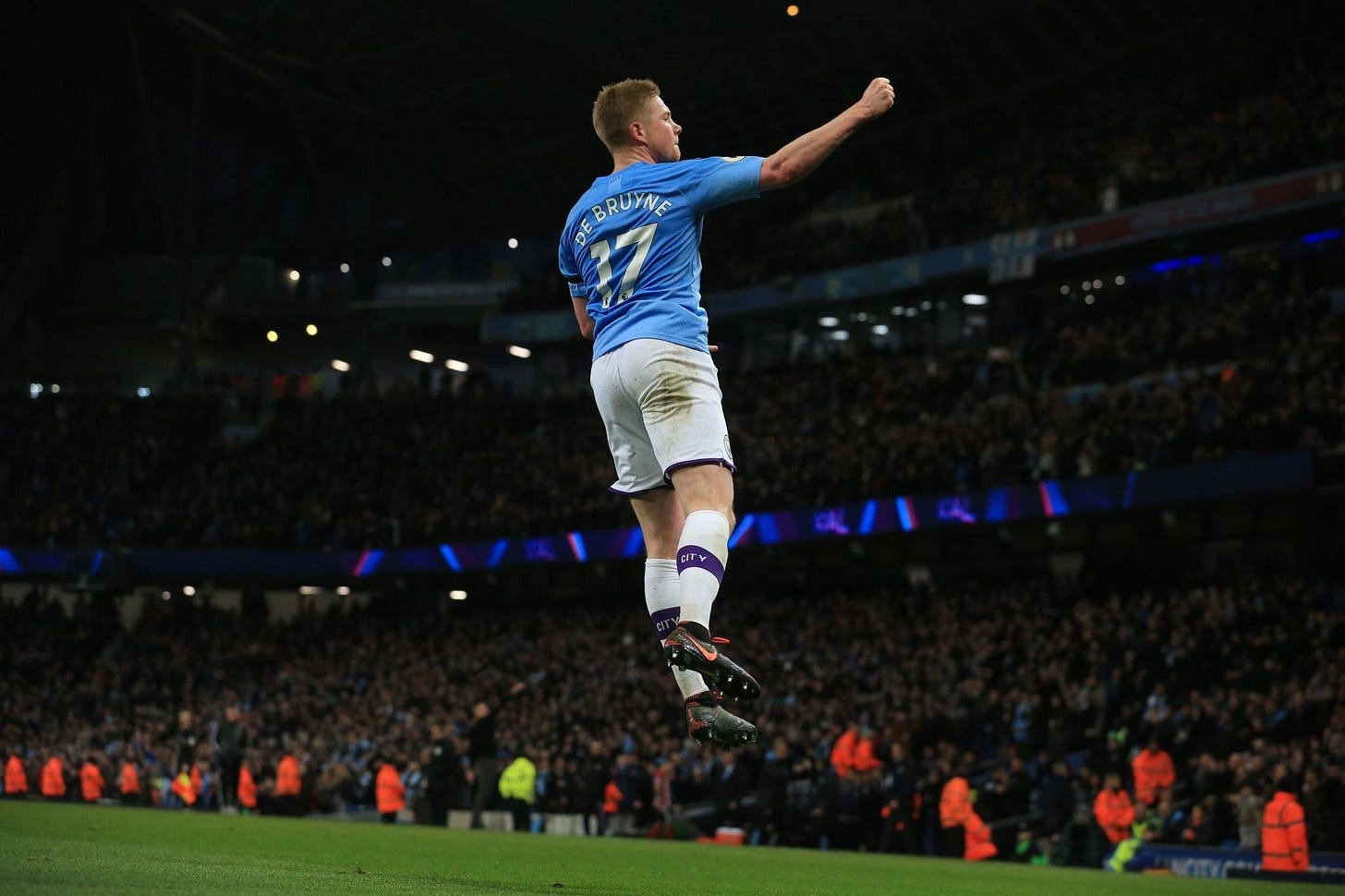 Last year, a reader named Ido threatened to inflict bodily harm on a number of key Liverpool players if I didn't create an imaginary Premier League all-star team. I gave into his demands, those players mainly stayed healthy, Liverpool won the Champions League, and Liverpool are now very likely going to win the Premier League. The lesson: threats work!
Anyway, we're running it back this year, but I'm tweaking the rules. Last season, I self-restricted to only choose two Manchester City and Liverpool players and then only one player from all the other teams. Pep Guardiola and Jurgen Klopp's teams were so far ahead of everyone else at that any honest list would've likely included mainly players from those two teams with one or two other players from other Top Six teams sprinkled in. Well, this season, Liverpool have a 13-point lead with a game in hand on the second-place team, which is Leicester -- not Manchester -- City. Arsenal are in 10th; seventh-place Wolverhampton have just as many points as sixth-place Tottenham.
So, there'll only be one restriction this time 'round: If you have teammates in the starting XI, you are ineligible for any of the seven reserve slots. I wanna spread the wealth at least a lil' bit. Like last time, I'll be focusing on what players have produced, not what they're projected to produce. In other words: goals are greater than expected goals, and raw totals matter more than per-90 performance.
Keeper: Vicente Guaita, Crystal Palace
Trying to assess keepers reminds me a lot of baseball's small-sample-size problems. A pioneering sabermetrician named Voros McCracken came up with this theory called "Voros's Law": any player can look good over 60 at-bats. (Quick note: I came across this idea in my former colleague Ben Lindbergh's recent book The MVP Machine. If you enjoy this newsletter, then go read his book. I can't recommend it enough.) Watch a handful of baseball games and you could be convinced that a Hall of Famer is a scrub who's in way over his head, or that a Quad-A guy was on pace to be league MVP. Same goes with goalkeepers -- anyone can look like a world-class shot-stopper for a couple matches. The only way to truly know how well a keeper has performed is to look at every single shot he's faced.
Thankfully, there are stats for that. FBRef calculates the number of expected goals each keeper faces by stripping out all of the shots that weren't on target. You can then compare that number to the number of goals the keeper has allowed, and you'll get a rough sense of how many goals each keeper in the league has saved. Three players in the league have saved at least 0.25 goals per 90 minutes: Liverpool's Alisson (0.43), Leicester City's Kasper Schmeichel (0.30), Aston Villa's Tom Heaton (0.30), and Guaita (0.27). Alisson has only started 11 matches, so he's out, and some of the shot-stopping models that also take into account where the shots are placed on the goal frame are not as convinced by Schmeichel or Heaton.
So, the peroxide-blonde, 32-year-old Spaniard is our man. Crystal Palace's underlying numbers aren't too different from Norwich's. The Canaries are in last place, while Palace area all the way up in ninth. Guaita is the biggest reason why.
Right Back: Trent Alexander-Arnold, Liverpool
If I think about this guy for too long, my brain starts to hurt. He's second in the league in expected assists. (He's second in actual assists, too, but the former does a better job of showing what the player has control over.) He's in the top 15 of passese completed into the final-third. And he's second in the league in passes completed into the penalty area. His closest comp is Kevin De Bruyne, who is a peak-age attacking midfielder. Alexander-Arnold, of course, is a 21-year-old fullback with the body of a 16 year old. What the hell do you do with that? He's three years away from his prime! The best team in the league is built around his right foot. Will he get moved into midfield, get on the ball more, and become ... the best attacking midfielder of all time? Will he stay at fullback, get better at all of the things he's already great at, and become ... the best attacking fullback of all time? Will this be a Steph Curry-type thing where all the most-talented kids suddenly wanna play right back and ping balls into the box? Nothing is off the table at this point.
Center Back: Virgil van Dijk, Liverpool
Only one other team in the history of the Premier League has won 58 points through the first 20 games. And only one player has played every minute for the team that is currently doing that. The best defender in the world sits in the center of the best defense in the world. Never not in control, VVD has turned what's supposed to be a reactive position into a proactive one.
Center Back: Harry Maguire, Manchester United
Leicester finished in ninth last season. They sold Harry Maguire over the summer, didn't buy a replacement, and now they're in second. Except, their defense is slightly worse than it was in 2018-19 -- at least in terms of shots conceded, which is the thing defenders are supposed to prevent. Last season, Leicester allowed 1.1 xG per game; this year, it's up to 1.2. Leicester are certainly a better team than a season ago, but it's not because of the Maguire-less backline.
United, meanwhile, conceded 1.3 xG per game last year, and this year that's down to just a hair below 1.0. The defensive improvement is being hidden by a down year from David De Gea -- they've conceded the second-fewest xG and the sixth-fewest G -- but there's not much Maguire and Co. can do about that. United signed Harry Mags and Aaron Wan-Bissaka for more than £125 million over the summer to fix the defense, and well, it worked. There's no spot for AWB because of TAA, so Maguire gets the nod.
Left Back: Andy Robertson, Liverpool
I wanted to have more fun with this, but there's no better choice. Leicester's Ben Chilwell is a nice player, but he plays for a worse defense and does way less on the attacking end. Everton's Lucas Digne is in the top 20 of expected assists, and he's completed more crosses into the penalty area than all but one player. Of course, that one player is Liverpool's Andy Robertson, who's also top 10 in expected assists. Both Robertson and Maguire started for the Hull City team that was relegated from the Premier League in 2017. Now they're both members of this made-up team that only rewards players for half-a-season's worth of performance. Someone make a meme about that come-up.
Defensive Midfield: Wilfred Ndidi, Leicester City
Remember that entire newsletter I wrote about how hard it is to gauge the impact of a midfielder? How beyond "passes into the box", no one really knows that much about how the actions of the guys in the middle actually help their teams win soccer games? And how it's at least possible that midfield might not actually matter all that much?
Yeahhhhhhh, forget all that. 
This one's pretty simple: Ndidi leads the Premier League in tackles won, and he leads the Premier League in interceptions. If you need someone to go take the ball from the other team, there might not be anyone better in the world to go and do it.
Central Midfield: Oliver Norwood, Sheffield United
Coming into the year, Sheffield were the bookmakers' favorites to finish in last place. More than halfway into the season, they're in eighth place with underlying numbers to match (eight-best GD and eight-best xGD). Manager Chris Wilder has done a wonderful job turning what is mostly a group of unfancied no-names into a competent, incredibly cohesive, professional Premier League side that defends well and attacks just enough to get by. Per the website Transfermarkt, the total market value of their players is a league-low $134.18 million. Tottenham's squad valuation is north of a billion, and they're just one point ahead of the Blades in the table.
Were the headline of this post something like "Standout Players" rather than "All-Stars", David McGoldrick would be somewhere in here. The guy has generated shots worth 5.5 expected goals, and he's turned them into ZERO actual goals. Light a candle for him next time you're at your preferred place of worship, please. But since we're awarding production rather than perfidy, Norwood is the pick. The 28-year-old Northern Irishman had never played a minute of top-flight professional soccer before this season, and yet he's been one of the best midfielders in the league right from the jump. He's the only player in the PL with at least 100 passes into the final-third and 20 passes into the penalty area. As a team, Manchester City have completed over a thousand passes into the final-third this year -- no one else has more than 850 -- but Norwood has played more of those passes than any City player. He doesn't have any assists yet, but he's also leading Sheffield with 2.5 expected assists. Maybe it's time to stop passing to McGoldrick?
Central Midfield: Kevin De Bruyne, Manchester City
De Bruyne is currently averaging 0.65 assists per 90 minutes. In the history of the Premier League, no one who's played at least half of the available minutes has broken 0.60. The record, as of now, is David Beckham's 0.59 for Manchester United in 1999-2000, while Arsenal's Robert Pires (01-02) and Tottenham's Darren Anderton (94-95) both hit 0.58. When Thierry Henry set the record for most assists (20) in a 38-game season for Arsenal in 02-03, his per-90 rate was 0.55. 
Could De Bruyne both break the rate and total records? 
Barring injury, I think he might. He's currently on 16 assists for the season; five more as the fulcrum for the fiercest attack in the league seems like it'll almost definitely happen. As for the per-minute production, the underlying numbers suggest it's close-to-sustainable, too. He's on (an absurd)  0.56 expected assists per 90 minutes, so if his teammates just finished an average percentage of the chances he created, he'd still be on one of the hottest paces the league has ever seen. Given the baked in buffer, plus the fact that we'd generally expect City's roster talent to push ahead of their xG totals, the 0.60 mark is absolutely in play. 
City might be experiencing a down year, but KDB, who's also got seven non-penalty goals, is having one of the best individual seasons we've ever seen.
Wingers: Sadio Mane, Liverpool; Raheem Sterling, Manchester City
Mane learned how to pass, and now he's on par with Sterling. Technically, they play on the same wing, but we're bending the rules: 1) because they've both played on the right in the past, and 2) because they're the two obvious choices for our wide attackers. I'm looping 'em together because they're having freakishly similar seasons. They're the only two players in both the top 10 of non-penalty goals and expected assists. They've both found the net 11 times from open play, and their xA totals are almost exactly the same, too: 4.9 for Sterling, 4.7 for Mane. The main difference is that Mane's teammates have been clinical with his passes (six assists), while Sterling's have fallen on their faces every time he's passed them the ball. With just one assist so far, the 25-year-old Englishman has the biggest gap between creative expectation and reality. Someone tell him he's been honored with a selection to this hallowed, imaginary team that I was lightly cyber-bullied into creating. Maybe that'll make him feel a little better.
Striker: Jamie Vardy, Leicester City
If only Sterling played with this guy. Vardy has 14 non-penalty goals on just 8.8 non-penalty expected goals -- the widest gap between those two numbers of anyone in the league. For reference, Mane outperformed his xG by the widest margin in the league last season: six goals. Vardy's almost already there with 18 games to go!
So, the smart money is on Vardy to start missing the target, defenders starting to get a toe in, keepers starting to save a couple more shots -- some confluence of factors that'll bring his finishing back down to Earth. But, well, all of the goals he's already scored don't just go away, and they're a big reason why Leicester are 14 points clear of fifth place, rather than in a fight for the fourth and final Champions League spot. Plus, even if he cools down closer to average-ish conversion rates, Vardy's still fourth in the league in total npxG -- and he's also top 10 in npxG per 90 minutes and npxG+A per 90 minutes.
He turns 33 next week, and he's playing the best soccer of his life. City, Chelsea, and United have all bought big-money stars from Leicester since they won the title in 2016. Vardy never left, and now "City, Chelsea, and United" are the three names you'll read when you scroll below Leicester in the Premier League table.
Reserves:
Goalkeeper: Lukas Fabianski, West Ham
Center Back: James Tarkowski, Burnley
Fullback: Lucas Digne, Everton
Center Midfield: John McGinn, Aston Villa
God: Adama Traore, Wolverhampton
Striker: Danny Ings, Southampton
Striker: Tammy Abraham, Chelsea
Fabianski has only started nine games, but only the four guys I mentioned in the keeper section above have saved more shots-vs-expected than him. He's a hidden world-class player who soccer's sabermetricians are going to be worshipping a half-century from now. The bottom's fallen out from Burnley's defensive wizardry, but Tarkowski has been a rock, and he's as good as anyone in the league when the ball is up for grabs. Like I said earlier, let's consider Digne our Robertson Lite. Robertson Dry? Who's Robertson Heavy? Roberto Carlos? Robertson Platinum? Gianlucca Zambrotta? Anyway, McGinn has been a fun, modern midfielder -- lots of dribbling and passing into the box -- for a pretty poor team. Adama Traore is a religion. And Abraham and Ings are fourth and fifth, respectively, in non-penalty goals+assists. It's -- mostly -- a great time to be an English striker.
Manager: Jurgen Klopp, Liverpool
I said this last year: "Let's not overthink this. The coach of the best team gets to coach the All-Star team." I'm saying it again this year: Let's not overthink this. The coach of the best team gets to coach the All-Star team.
Agree? Disagree? Let me hear your thoughts! Sorry I didn't pick your favorite player! Have a great day!