What Can Arsenal Learn from Liverpool?
How to re-build the Gunners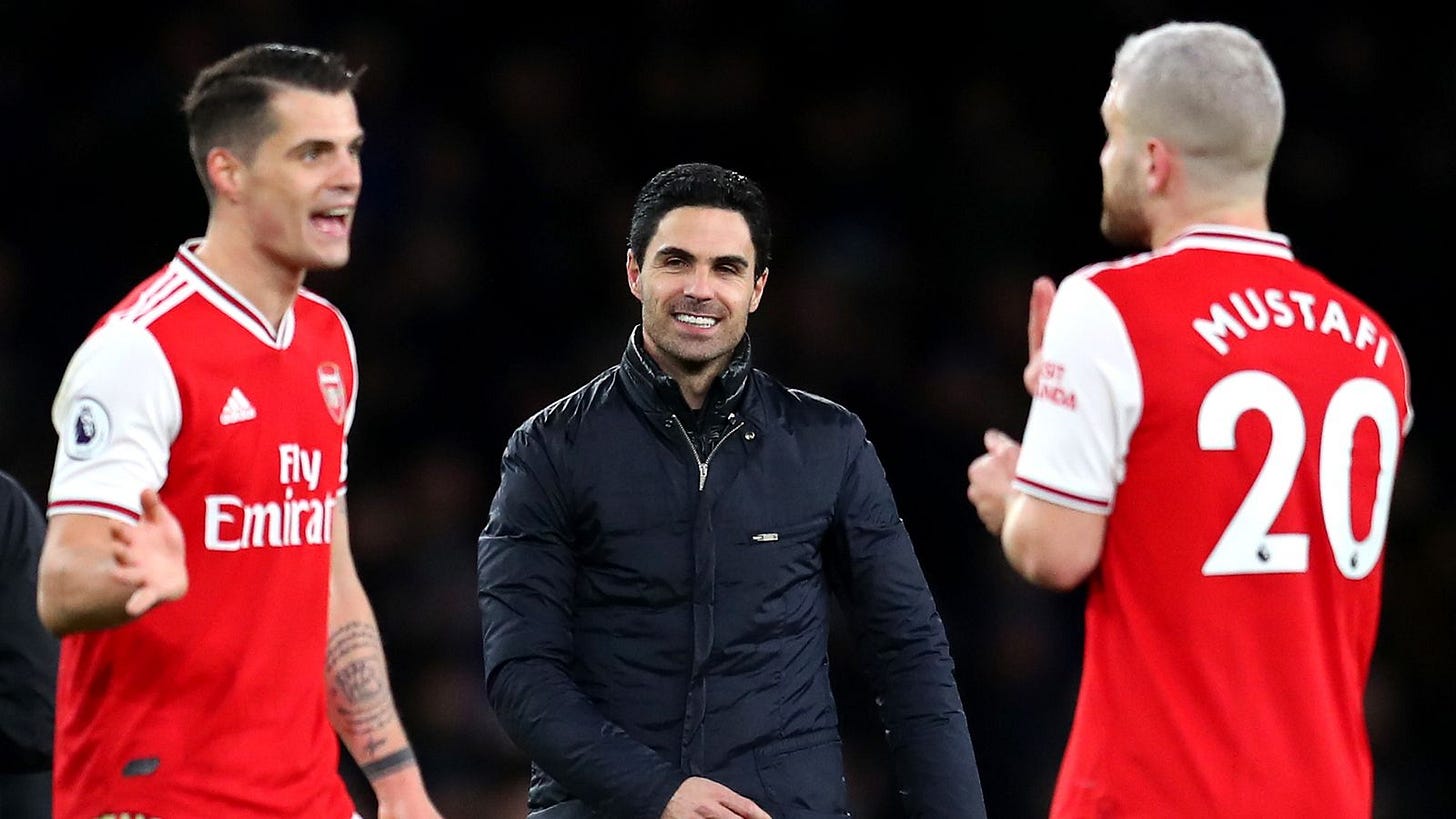 We continue on with the donation requests. In honor of the Premier League's stated plan to return in a couple weeks, we're gonna address this one, from Mark: "Come up with a real, no bullshit plan for Mikel Arteta to lead Arsenal back to glory. Real, no bullshit, Invincibles-type glory, not finishing fourth behind Liverpool ,Chelsea and Spurs."
The way I see it, there are two options here. The first? Get bought by a natural-resource-rich nation state with a multi-trillion-dollar sovereign wealth fund. It worked for Manchester City, and it worked for PSG, too. In the first decade of this century, the two clubs qualified for the Champions League a combined two times and won a combined zero titles. Since the start of the 2010-11 season, they've qualified for the Champions League a combined 18 times and won a combined 11 league titles.
Manchester City are funded by the United Arab Emirates, while PSG's paychecks come from Qatar. The quickest way for Arsenal to re-achieve some of the old glory and compete with the likes of Manchester City and PSG would be for the club to suddenly have more money than just about any other club in the world, in addition to an ownership group that's looking to spend as much of it as they possibly can.
That's an unfortunate outcome of the collision of the most popular league for the most popular sport in the world with rampant, unchecked, resource concentration of global capitalism, but that's just the environment Arsenal are competing in now. Upon his arrival in England back in the 90s, two of Arsene Wenger's revolutionary ideas were to sign non-English players and to make sure his players took care of their bodies. As Patrick Vieira told me a couple years ago: "When Arsene arrived, he changed things. You weren't allowed to eat chips with brunch. You weren't allowed the butter. You were doing all the stretching. He'd bring a nutritionist to make us understand how important it is to eat properly." I'm not being churlish; they were legitimately game-changing ideas, but the bar is so much higher now.
And so, the only team to really achieve what Mark is asking for during what we'll call the post-oligarch era -- the years since Roman Abramovich bought Chelsea and signaled a shift in the kind of money that would now be dominating the sport -- seems to be Liverpool. While there have been outsider-type champions here and there -- Leicester, Borussia Dortmund, Monaco, and Atletico Madrid -- none of them have really achieved the kind of sustained glory Mark is talking about. 
Of course, it remains to be seen whether or not Liverpool can sustain it, either. But after finishing sixth and then eighth from 2014 through 2016, they haven't finished outside the top four. Two years ago, they made the Champions League final. Last year, they won the Champions League and put together the third-best season in Premier League history. And this year, before play stopped, they were on pace to shatter the points record and win their first-ever PL title. That, I think, is Invincibles-type glory -- more points than the Invincibles last year, on pace for more points again this year -- so Liverpool perhaps serves as a better model for how Arsenal could theoretically rebuild and one day start challenging for domestic and top-tier continental titles again.
For the purposes of this exercise, I'll simplify what's driven Liverpool's rise up the European ranks down to two things: they have a coach who makes his players better than the sum of their parts, and the club is as good, if not better, at identifying new players than any other club in the world.
The Coach
Could Mikel Arteta be Europe's next great coach? Possibly! But it's not likely -- just because most coaches don't have much of an effect. There are some great coaches who consistently outperform the resources they're given, and there are some terrible ones who make their teams worse than they should be, but the vast majority of guys manning the sidelines are indistinguishable from one another in how they affect a team's long-term results. It's part of the reason why wages are such a good predictor of results.
Now, Arsenal are one of the richest clubs in the world, but they're gradually slipping down the Deloitte Money League rankings because of their lack of Premier League success and the lack of Champions League football that comes along with it. While teams like Barcelona and Real Madrid can still win trophies without a strong, results-rising manager leading the way, it's gonna be hard for Arsenal to assemble a collection of talent that would allow them to do the same.
Liverpool lucked out with Jurgen Klopp -- but any grand success like theirs, in any area of life, is driven by lots of good fortune. He'd experienced an incredibly unlucky final season with Borussia Dortmund that led to the end of his tenure. While that (wrongly) dinged up his reputation a tiny bit, he was still considered one of the best, most influential managers in the world at the time: He won the Bundesliga multiple times and took Dortmund to the Champions League final. Since he left Germany, Bayern Munich have won every Bundesliga title. Despite Liverpool's struggles the season before, the atmosphere and history at Anfield held some appeal for Klopp, and despite Dortmund's disappointing season, Liverpool's analytics-friendly front-office were able to write it off as a fluke.
In other words, Liverpool's current run of success is partially driven by the fact that they were able to identify an out-of-work, slightly-undervalued, world-class manager, and then they jumped on the opportunity to hire him by cutting ties, in-season, with a Brendan Rodgers, himself a good a coach who'd led them to a second-place finish two seasons prior.
There's way more risk with the Arteta hire for this simple reason: Klopp had managed 586 professional matches before joining Liverpool. For Arteta and Arsenal, that number was ... zero. He could become a great manager at Arsenal, he could become a great manager for another club, he could never become a great manager at all. Were I running the rebuild at Arsenal, I would've used the Premier League's financial might to hire a somewhat established coach who had established a track-record of improving teams to a level higher than where we're currently at. Who knows if they could've been convinced, but I would've backed the money truck up for Julian Nagelsmann this summer, or someone else off the Red Bull managing tree. I also would've hired Thomas Tuchel back in 2017 when it seems like the club had the chance. That might've been their missed Klopp-for-Rodgers moment. Or maybe they'll get the chance to hire him again. Who knows.
Instead, it's Arteta. The team hasn't been any better than they were before he took over; their underlying performances have actually been slightly worse. I wouldn't read into that too much. Nothing suggests that he isn't the guy yet, but there's also nothing to suggest that he is the guy, either.
The Players
Here's Liverpool's lineup from Klopp's first game with the club: a scoreless draw against Tottenham: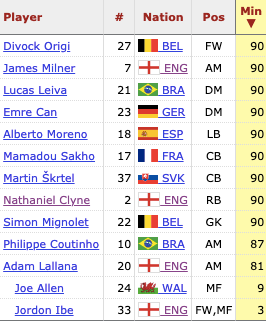 What you'll notice: none of those players are first-choice starters anymore! What you'll also notice: just four of them are still on the team! Clyne hasn't played a minute this season, while Milner has made seven league starts, Origi five, and Lallana three. However, Roberto Firmino, Joe Gomez, and Jordan Henderson -- three members of the current starting XI -- were already on the team at this point, as was Dejan "I Am Launching a 'Coronavirus Is a Hoax'-Branded Type of Cryptocurrency" Lovren, who's started nine matches of his own this season.
Given that Liverpool barely made any additions to the squad last summer, we can say that the transformation from the first side to the current version needed about three years. All it took for Jugren Klopp to create one of the three best teams in the world was ... a near-complete overhaul of the side he inherited. To get as good as they are now, they essentially had to replace eight of the 11 starters from this original team.
That seems wild, but really, it makes sense. The players Liverpool had were producing results  at a level of about the seventh-best team in the Premier League. The best coaching available isn't enough to turn that into arguably the best team in the world. So, even with one of the top managers out there, it took a near-total squad revamp over three years to get Liverpool where they are now.
That should put Arsenal's project into a bit of perspective: Liverpool are the best case scenario. They have an elite manager and they have one of the most forward-thinking front offices in football. If Arteta turns out to be as good as Klopp and Arsenal's decision-makers nail every signing from the next few windows, it's still likely going to be at least three years until they start challenging for major trophies. And if they do, chances are it will be with a radically different crop of players from the ones they currently have.
More likely, though, is that Arteta is not Klopp and Arsenal's front office doesn't have the hit rate of Liverpool's. Plus, Arteta is inheriting a significantly worse team than Klopp did.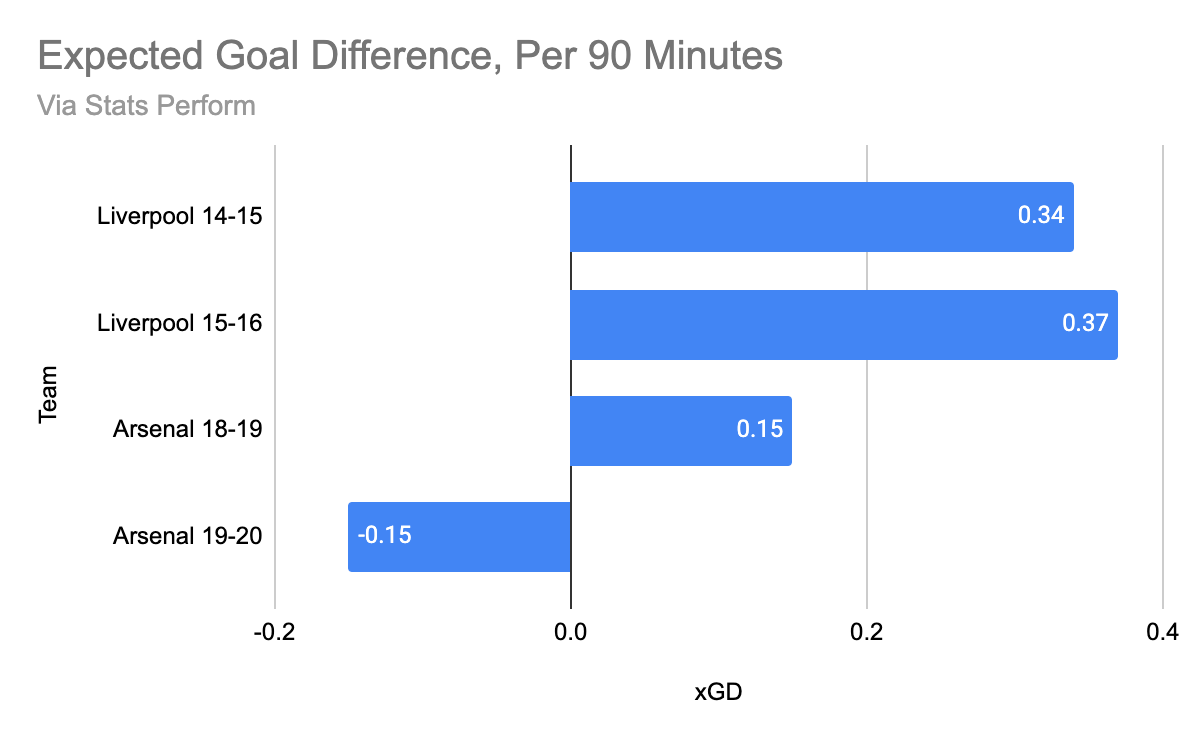 So, given that Arsenal's collection of players have produced a significantly worse level of performance than the ones who were at Liverpool when Klopp arrived, it stands to reason that Arsenal will likely need an even greater degree of turnover to become an elite side again -- unless, of course, it turns out that Arteta is a once-in-a-generation manager who's even more effective than Klopp.
You can also see this idea through the progression of Liverpool's team. In Klopp's first full year, they finished top four, but only three of their top eleven minutes-getters are first-choice starters in this final-form version of Liverpool we see today. They were able to make the leap into the Champions League spots without much personnel change -- Sadio Mane and Gini Wijnaldum, were brought in from lesser Premier League sides over the summer -- because the team was already pretty good. Those xG differentials are both top-30 marks in the Premier League since the 2014-15 season. Champions League qualification likely then allowed them to sign Mohamed Salah and Alex Oxlade-Chamberlain. They also promoted a once-in-a-generation prospect in Trent Alexander-Arnold, and they nabbed Andy Robertson for cheap from relegated Hull City. A continued place in the top four and Champions League advancement, plus the massive sale of Philippe Coutinho to Barcelona, allowed their spending to rise into a new bracket, as they broke the record fee for a defender to acquire Virgil van Dijk from Southampton. Then, no doubt aided by the continued CL funds and that season's run to the final, they added the two final pieces of the puzzle: Fabinho from Monaco for a reasonable price, and then a record-for-a-goalkeeper fee to grab Alisson from Roma. 
Here's how it went: Klopp plus Wijnaldum and Mane is enough to qualify for the Champions League. The emergence of two great fullbacks, plus the savvy acquisition of Salah and the big-money deal for Van Dijks, solidifies a top four spot and then spurs a run to the Champions League final. Then, the additions of Fabinho and Alisson further strengthen the team's weak point -- defense -- and they become champions of the world. That's not the whole story, but it's broadly what happened.
Arsenal's return to the top will likely have to follow a similar path, not skipping any rungs, and the first step is re-establishing themselves amongst the top four. But that's gonna be harder than it was for Klopp and Co -- for all of the reasons outlined above.
So, let's be generous and say that if it took Liverpool three years to get to where they want to be, it'll take Arsenal four to get where Mark is looking. The oldest key contributor for Liverpool this season is Jordan Henderson. He was 29 when the season began. Another reason the team is great: it's filled with peak-age and pre-peak age players and James Milner. Take that four year time horizon as a rule, and these players won't be a part of the next great Arenal team: David Luiz, Sokratis, Pierre-Emerick Aubameyang, Alexandre Lacazette, Mesut Ozil, Shrokdan Mustadi, Sead Kolasinac, and Granit Xhaka. Pablo Mari, the on-loan center-back, would be right on the edge of the cut off.
Given that the current team that includes all of these players isn't very good, I'd be trying to sell as many of them as I can. Research from 21st Club has shown that teams that give more playing time to youth players don't actually experience worse results. It didn't make sense for Liverpool to tear everything down since the quality of the team was so close to the CL level already; that's not the case with Arsenal. So, I'd replace as many of these vets as I can with in-team youngsters and promising players both across Europe and below us in the table in the Premier League who I can offer higher salaries to. Find a pan-European rating underlying system you trust, figure out which teams are better than you but have less money, scout the players in positions of need from sides who play a similar style, and then sign whoever you can. I'd also scour the relegated sides for their young guys who played a bunch of minutes; these are low-risk deals with, as Liverpool have shown, a great potential pay-off. At The Athletic, Tom Worville suggests some names. 
I'd also play as many of the 24-and-under players as possible to 1) get a sense of how good they are, 2) give them more experience and speed-up their development, and 3) get a sense for how good my team could be with all of these relatively untested players getting the majority of the minutes. My hunch is "not much worse", but you see what you've got, and then that'll inform where to make improvements going forward. Bukayo Saka seems like a star-in-the-making, but  he's probably the only guy on the team you could reasonably project as a starter on this theoretical Arsenal title-contender we're building. All the other guys in the age group seem a little less certain. The earlier you can get yourself an answer, the better.
On top of that, stop signing older players like Aubameyang; he's been great, but he doesn't fit the timeline, and those resources could've went elsewhere, to younger players who also could've been great, in the future, for longer, or both. I understand the need for "a veteran presence", but you're not gonna be able to move on all of the guys I mentioned, so the ones who stay can provide a steady hand while they're still around. The David Luiz or the Sokratis transfers -- just stay away from those, too. Aim for 24-and-under.
Also: stop signing players like Lacazette and Nicolas Pepe -- expensive deals for attackers whose numbers were inflated by penalty goals. The Lacazette deal wasn't great because he was also halfway through his peak years. The Pepe deal wasn't great because they spent a club-record amount of money on a player with a lot of uncertainty around him and only one top season under his belt. A team in Arsenal's position really can't afford to have a player who cost as much as Pepe not produce like a superstar, and given the general inefficiency of the transfer market, I'd stay away from any massive deals like that in general. Even if Pepe does become a superstar, you're not getting an amazing value for what you paid. Frankly, just the nature of soccer and the fact that 11 players play at once, mean that most players probably aren't worth these huge fees. If you hit on three $20-million signings, youre team is going to improve more than it would from one successful $60-million deal. Liverpool's first major cash-splash came after the team had steadied itself as a top-four side. None of the deals for Firmino, Mane, or Salah break into the 50-most expensive transfers of all time, and the pre-VVD version of Liverpool was still a really good team. 
The smaller, savvy deals and the in-house development build the team that you can then, eventually, put a big-money signing on top of. They also speed up the process. If you miss, then you've still got the solid team you've already built. But if you try to sign a superstar right away and you miss; you're both without a superstar and without a team that can at least partially make up for it. Forget about flashy star-type names and record-level deals, and focus on prospects with promising profiles and track records of helping their teams win. That's where Arsenal's focus should be for the next couple seasons, but even if Arteta is the next Klopp or the next Pep Guardiola, they've still got a really long way to go.