How Liverpool Found Their Pace and Won the Champions League
First, Jurgen Klopp and Co. slowed down. Now, they're European champs.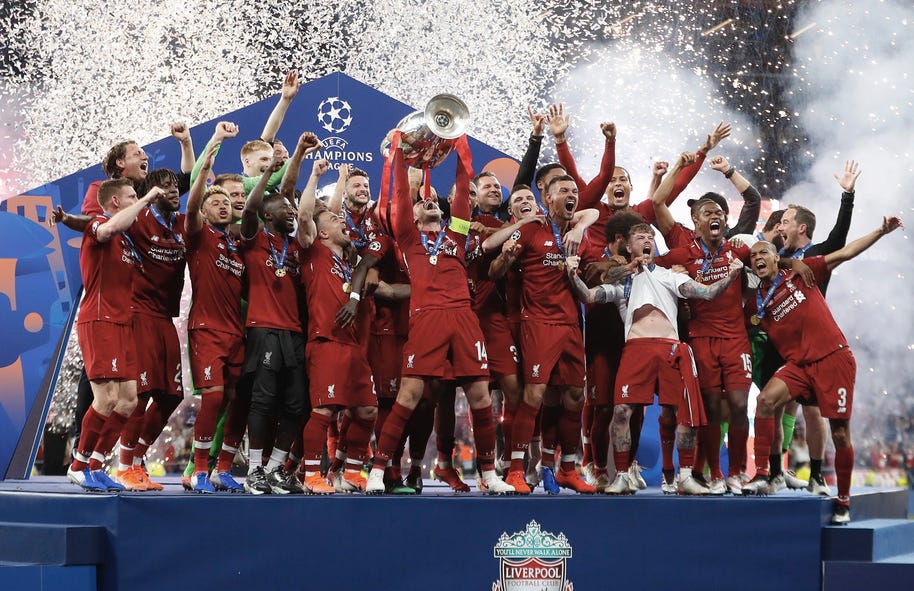 That was Liverpool?
First, go back to the beginning of 2016-17, Jürgen Klopp's first full season with the club. The only game that mattered was the first one, at the Emirates against Arsenal. Liverpool went down 1-0 in the 30th minute -- and then they pressed the detonator, scoring four goals in 15 minutes right before and after halftime. This was heavy-metal football, until someone pulled the power cord. Arsenal then scored two of their own, and just couldn't get a fourth. Liverpool out-shot the Gunners, 16 to 9, but every time their opponents attacked, it seems like they'd score. The rest of the season went much the same way, volcanic eruptions suddenly covered in snow. It was just barely enough, as they edged out Arsenal for the fourth and final Champions League place by a single point.
Then, late October, 2017 -- early in Klopp's second full season with the club. In the previous campaign, they'd gone undefeated against teams that finished in the top six. If they could just even things out against the teams they were supposed to beat, then who knows where this could go? An early-season blowout to Manchester City, a 5-0 defeat, was marred by an early red card to Sadio Mane; so, you could write it off. Coming into the game at Wembley against Tottenham, it was a chance for Liverpool to re-establish the fact that their closest rivals couldn't handle their tempo. They pressed like banshees -- more than tripling the rate of their supposedly-frenetic opponents -- and they found the target more often, too. Also: they lost 4-1, barely created anything of value. Their starting center back, Dejan Lovren, was so far into outer-space that Klopp subbed him off just 30 minutes into the game. He wasn't injured. The volume was way too loud.
And now, today. Liverpool won a penalty in the second minute. They scored. And then they shut off the music. In the Champions League final, Tottenham out-shot Liverpool, 16 to 14 total, 8 to 3 on target. Klopp's team completed fewer passes in this game than in any other match the entire season. But here's the thing: They won, 2-0. They're European champs.
---
When Klopp arrived at the club in 2015, he didn't have much time to implement any sort of complex tactical structures, strategies, or interplays. So, he just told his players, as was recounted by Adam Lallana in Raphael Honigstein's biography of Klopp, Bring the Noise: "Work hard and give me everything." The benefit of running so hard, though, isn't just that it makes up for the lack of intricacy, a kind of brute-force cureall. No, when you run your hardest, you have to pass through every possible pace in order to get there. So, in the process of getting to your limit, you also brush up against your best.
In Klopp's first full year with Liverpool, they conceded 42 goals in the league. Last season, it was 38, and this year, it was 22. Their pressing rate (passes per defensive action) was second in the league (7.23) in 2016-17, fourth last year (9.55), and sixth (9.99) this season. Guess what went in the other direction? 76 points in Year One, 75 in Year Two, and 97 this time around.  It took a couple years, but Liverpool finally found their best pace.
And really, can it get any better than this? That's the third-most Premier League points in history -- and a European Cup. No one's ever hit that many points and paired it with the Champions League. In fact, the previous-high points total in a Premier League season for a European champion was Manchester United in 2007-08 with 87. This is, quite literally, unprecedented.
As was today's match. Liverpool have dialed back the intensity this year, but they've still battered plenty of teams on the road to the final: 4-0 against Barcelona, 4-1 against Porto, 3-1 against Bayern Munich. They averaged 58.8 percent possession this season -- seventh-highest in Europe -- and took 15.1 shots -- 16th, right ahead of Paris Saint-Germain, who scored 105 goals in Ligue 1. On the other end, Liverpool conceded just 8.1 attempts, third behind Bayern and City.
Well, against a Tottenham team that took 14.1 shots per game and allowed 12.1, those trends did not hold. Spurs took 16 shots to Liverpool's 14 and had 65 percent of the possession. I've joked that if Liverpool were an Italian side, then this performance would be getting lauded as a defensive masterclass. And get this: Liverpool are the first team to win a Champions League Final without a possession advantage since Jose Mourinho's Inter Milan in 2010.
Liverpool scored in the second minute ... and then sucked the life out of the game. After the early goal, Mohamed Salah and Sadio Mane didn't have much of an impact, while Roberto Firmino got subbed off early in the second half after less than an hour of relative invisibility. Yet, despite having so much of the ball, Spurs didn't register a single shot on target until the 72nd minute of the match. In the first half, Tottenham more than doubled-up Liverpool's pass total, but came away with a shot map that looked like this: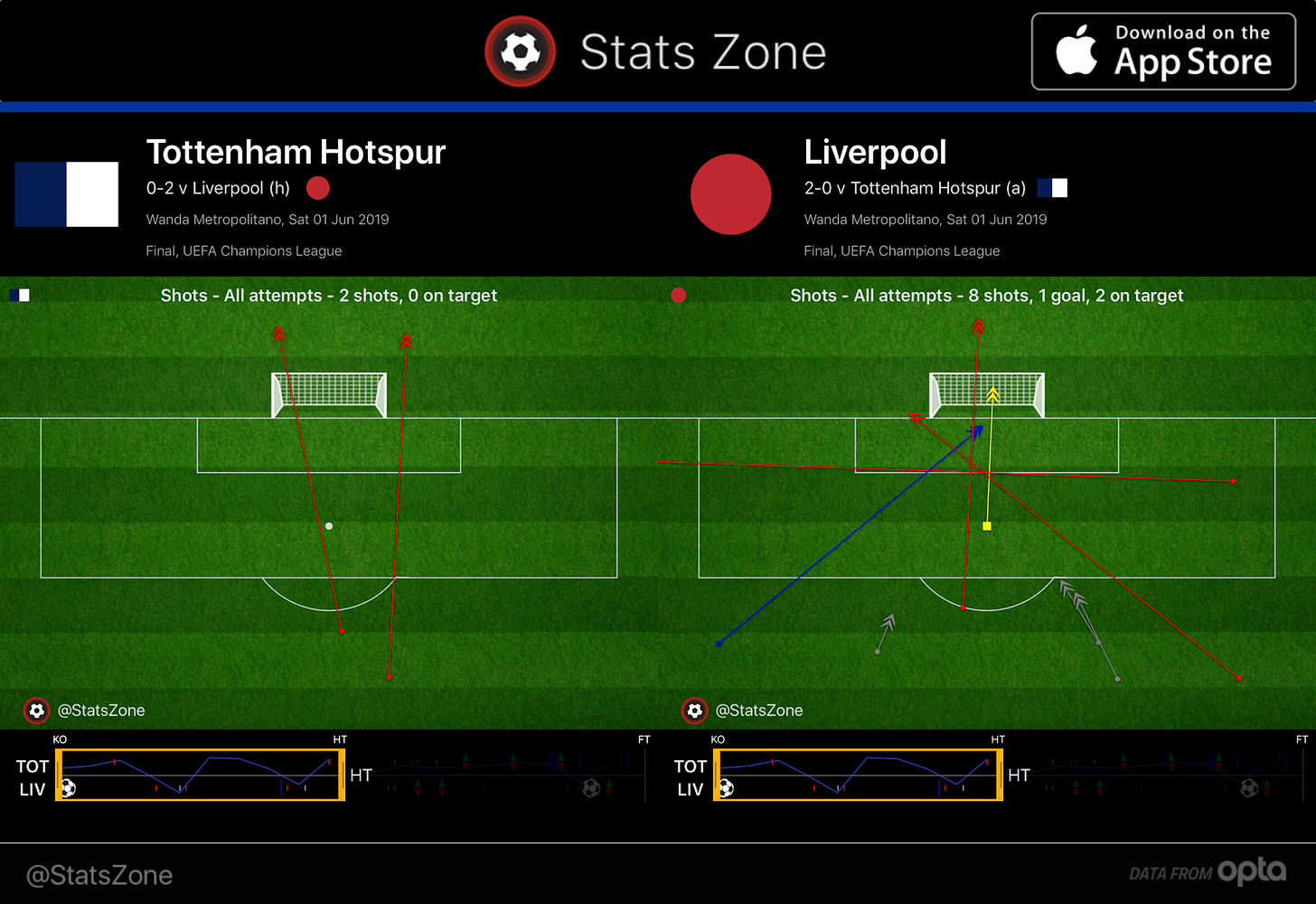 I have a hard time imagining this match plays out in the same way if Liverpool don't score that early goal. Their fullbacks, Andy Roberton and Trent Alexander-Arnold, were their creative fulcrums this season, but they each created just one chance -- the same amount as Joel Matip, a centre back, did all by himself. Just look at the positioning of the two of them. Most games they're camped out on the edge of the final third if not farther up. Today? TAA spent most of his time on the ball near the midfield stripe, while Robertson did a ton of his work from inside his own half: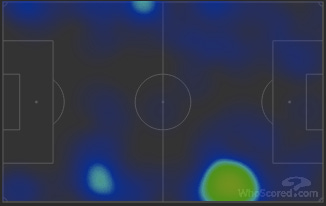 I've never been a huge fan of going into a defensive shell because your defenders and your keeper have to be perfect in order for it to work. But that's exactly why Liverpool were able to pull this off: Their star keeper and their star center back were perfect.
After holding Spurs at arms length for the majority of the game, Mauricio Pochettino's side poured on the pressure over the final 20 minutes. They only created one big chance -- Lucas Moura, right around the penalty spot -- but they fit more than half of their total attempts on the night and all of their attempts on target into that brief time-frame.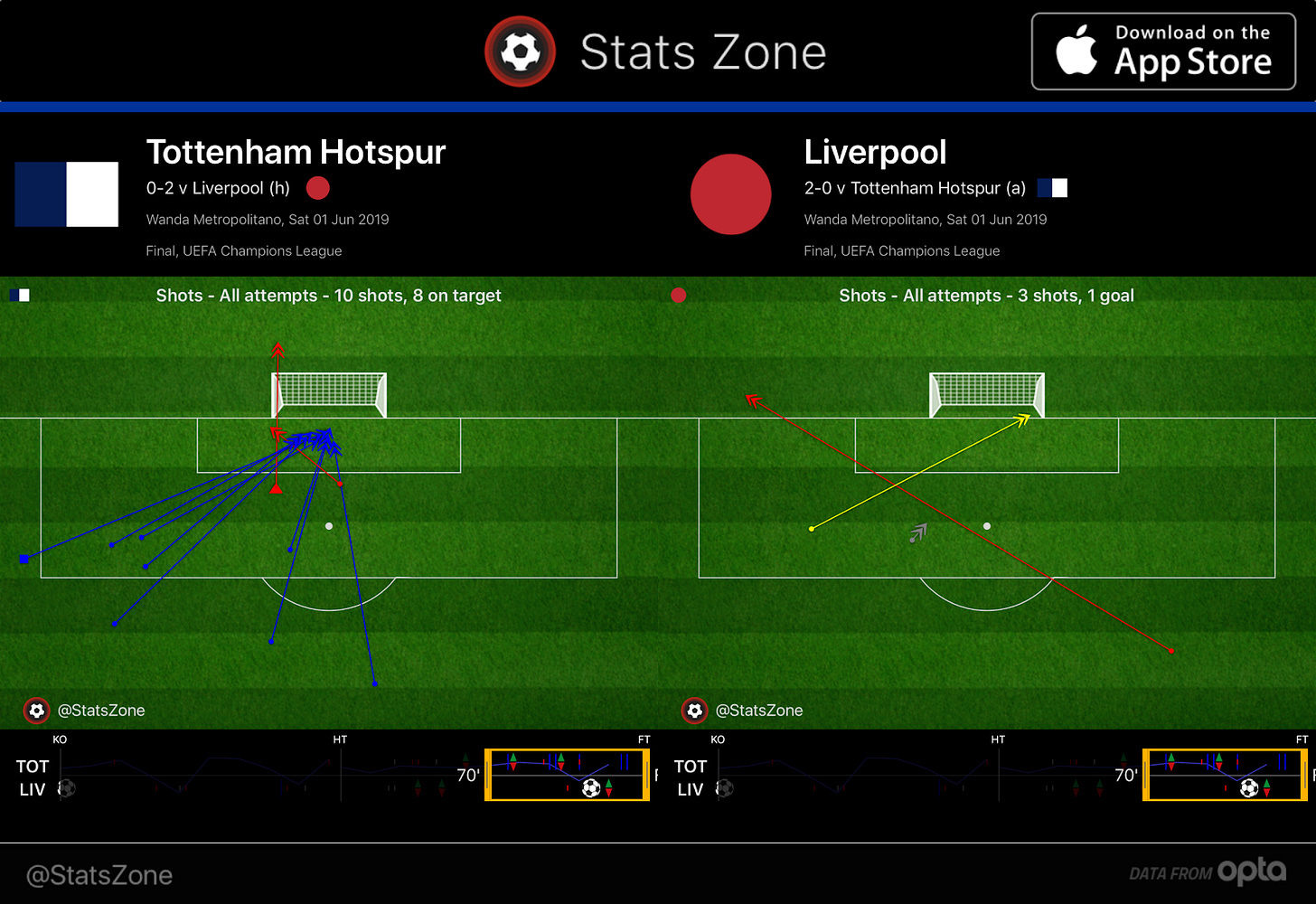 A year after their keeper cost them two goals in the final against Real Madrid, Alisson made eight saves and more importantly, zero mistakes. He was always in the right positions, and every attempt on frame either ended up in his arms or tipped wide of danger. He saved the team against Napoli and against Barcelona and then he did it again today. (Spurs registered right around a single expected goal on the day.) Liverpool paid a world-record fee for a keeper for him, and the Champions League final showed why it was a bargain. You simply can't play as passively as Liverpool did without a keeper who's going to take care of any ball that makes its way through.
And you also can't do it without this guy:
Last January, Liverpool sold Philippe Coutinho to Barcelona for £106 million. Alisson and VVD two are their two biggest signings since then, and there's not a better symbol for how the club has reoriented itself than that: They replaced the most expensive attacker in the history of the club with the most expensive defender and goalkeeper. It's not quite that simple, but for one game -- for the one game -- it sure was.
---
A few weeks after the comeback against Barcelona, I'm still a fan. It hasn't faded yet; my dad called me after the game, told me he loved me, and then started to cry. I love the guy, and we don't have any complicated backstory; he's a rock and icon, and he's been like that forever. I'm lucky, and I'm grateful we turned the typical father-son fan-dynamic on its head. This is the one thing I can give him in return: He became a fan because I was one, not the other way around. (No, instead he gave me the Knicks and the Jets. The universe has a way, I guess. )
After the final whistle, I don't quite know what I felt exactly; it wasn't elation, but it also wasn't not elation. Same goes for joy, happiness, relief, etc. I've never seen Liverpool play like that. What I've loved so much about this specific team is exactly how fearless and gung-ho they can appear while simultaneously seeming at ease amidst the chaos. We know we can max this out, and most of the time, you won't be able to keep this up. It's a thrill to be able to feel some kind of connection with this English club and this German manager and this Egyptian superstar from an ocean and a continent away. A part of me, I think, cherished the idea of Liverpool as these idealistic, stubborn oh-so-close-but-ultimate failures. To see them score a penalty and then pragmatically -- that word! -- grind the grand spectacle into dust just felt so different. I can appreciate great defending in the abstract, but it's not fun to root for in the moment; it's dangers being constantly raised and then somehow easily avoided, again and again and again. The final whistle was the first exhalation
But then I heard from my dad and called a bunch of other friends and even recorded a podcast with two of them. And it started to sink in. The game probably wasn't what anyone — from either side or as a neutral — wanted to watch, but it was a culmination for a truly incredible season that I'm able to feel something toward because I liked using El-Hadji Diouf on FIFA 03 on my XBox. Liverpool beat Bayern Munich and Barcelona, and they took the best team in Premier League history right to the wire. A forgettable final just ensures that everything before it gets remembered.
For Liverpool, success has begotten success has begotten success. Alisson and VVD worked out, and so has almost everything else. Don't believe me? Divock Origi took three shots in the Champions League this season; all three of them went in. Here's what I wrote back when City won the league:
Liverpool have mined just about every edge there is: Consider the possibility that there are in fact objective ways to measure performance in The Beautiful Game? You bet. Find a superstar manager who's out of work? Yep. Land three attackers who developed into superstars in consecutive summers because you're hip to underlying numbers? Uh huh. Constantly mine unheralded talent from the lower levels? Sure. Take all that, find success, make more money, and then use that money to buy premium-price players at your two most obvious positions of need? Bingo, bango. Dominate on set pieces? Absolutely. Hire a freaking throw-in coach? Why they hell not?
If there was one thing Liverpool hadn't quite figured out, then, it was how to play the percentages when it really mattered. In last year's final, they came out guns blazing, pummeled the two-time defending European champs early on, and then self-immolated multiple times en route to a 3-1 loss. Even in the second match this season with City, Liverpool would've ultimately won the league had they tied that game, but after drawing even they kept pushing and pushing and conceded what was probably the most costly goal of the season, ultimately losing 2-1 and missing out on the league title by one point. Today, they scored right away, and then, for the first time ever, they held back and held on for 90 more minutes.
It would've been true without or without the trophy; it's just easier to say it now: They've got their sixth European Cup, and Liverpool are back. The talent is there, along with the resources, for this to keep going. With Mohamed Salah, Roberto Firmino, and Sadio Mane, they've got an attack as good as anyone else's. Their fullbacks can go toe-to-toe with any other pairing, and it's really hard for me to think of two other guys I'd rather have at keeper and center back than Alisson and Virgil van Dijk. Other than the indestructible donkey, James Milner, none of Liverpool's key contributors will even be older than 29 at the start of next season. Alex Oxlade-Chamberlain should be back and healthy next year, and so should Naby Keita. Klopp keeps pressing the right buttons, and so do the guys next to and above him.
They weren't underdogs today, and they're not gonna be underdogs for a while now. The best team in Europe? That — that is Liverpool.