Discover more from No Grass in the Clouds
Demystifying soccer -- one shot, and one sweater, at a time.
Over 8,000 subscribers
We're Getting a Preview of Life After Messi and Ronaldo
It's October, and neither one has looked like "The Best Player in the World" yet. So, who have been the standout performers of the young season?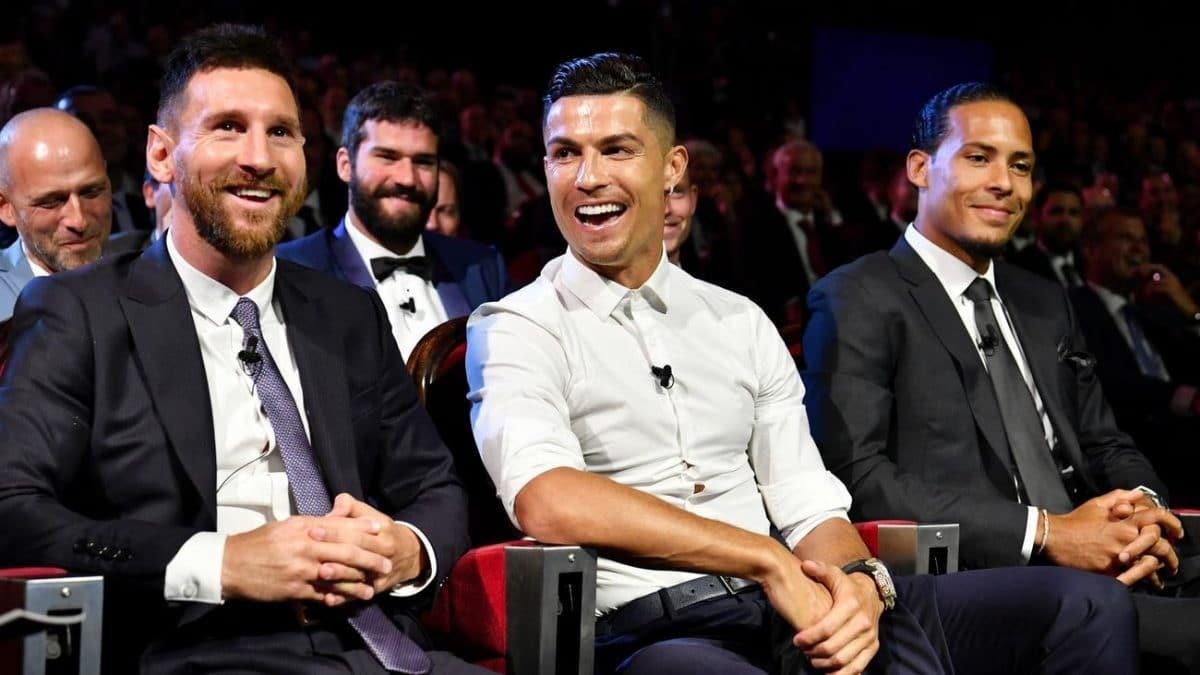 Four goals -- that's Chelsea's differential, it's the number Bayern Munich's Serge Gnabry put past Tottenham in a single half, and it's how many Cristiano Ronaldo and Lionel Messi have scored -- combined -- in domestic competition this season.
Lemme get this out of the way real quick: I'm absolutely not writing either of them off! When projecting the declines of perhaps the two most dominant soccer players of all time, it's better to be late than early. (See: this.) And well, they both had declined to by varying degrees before the start of this season. How could they not? Ronaldo turned 34 in February, putting him five or six years beyond what was theoretically the end of his prime. Meanwhile, Messi's 32nd birthday was in June. Ronaldo's best season from a goals+assists perspective came in 2014-15, his age 29 season, when he scored 38 non-penalty goals and added 16 helpers to the tune of 1.57 non-penalty goals+assists per 90 minutes. Messi peaked in 2012-13 -- age 25 -- with 42 NPG and 11 A for 1.80 NPG+A. These are barely fathomable, untouchable numbers.
Last year with Juventus saw Ronaldo produce his lowest attacking output -- 16 NPG, 8 assists, 0.80 NPG+A/90 -- since his 23-year-old season with Manchester United. That's still pretty good, but not "I have millions of anonymous Twitter accounts praising my infallibility" good. Messi, on the other hand, posted his third-most productive season ever at age 31 last year: 32 NPG, 13 assists, 1.49 NPG+A/90. His workload was increasing along with his age -- a LeBron-like combination of factors that screamed "unsustainable!"
Combine that with a stressful summer playing for Argentina -- the adjective is assumed at this point -- and it's not a total shock that the now-32-year-old GOAT has struggled with injuries so far this season. He's got a goal and an assist in 180 minutes of La Liga play, with underlying numbers (non-penalty expected goals and assists) that are significantly behind that rate. (Need an explanation for the advanced stats? Here ya go.) Ronaldo is currently running at half of Messi's abbreviated pace -- 0.5 NPG+A/90 -- and that's currently just 27th-best in Italy alone. His xG numbers are roughly in line with that, too.
It's still early, but through 720 combined minutes this season, Messi and Ronaldo haven't been unlucky. No, for the first time in over 10 years, they've just kinda been ... slightly above-average.
So, who have been the great attacking players through the first two months of this season? With another international break upon us and no club games for two weeks, let's take a look, using the new xG data from FBRef. (That is, except for La Liga, which hadn't been updated on FBRef by the time I wrote this, so the data for Spain comes from Understat.com this time around.) We're using xG and xA (per 90), rather than Gs and As, because it's a much better predictor of what's to come once the games start up again and frankly a better descriptor of performance, too. And we're not looking at Ligue 1, so here's a summary: Neymar is still great, and Kylian Mbappe hasn't played much. To earn a place on these lists, a players needs to have featured in at least half of his team's domestic minutes so far.
First up, the Premier League: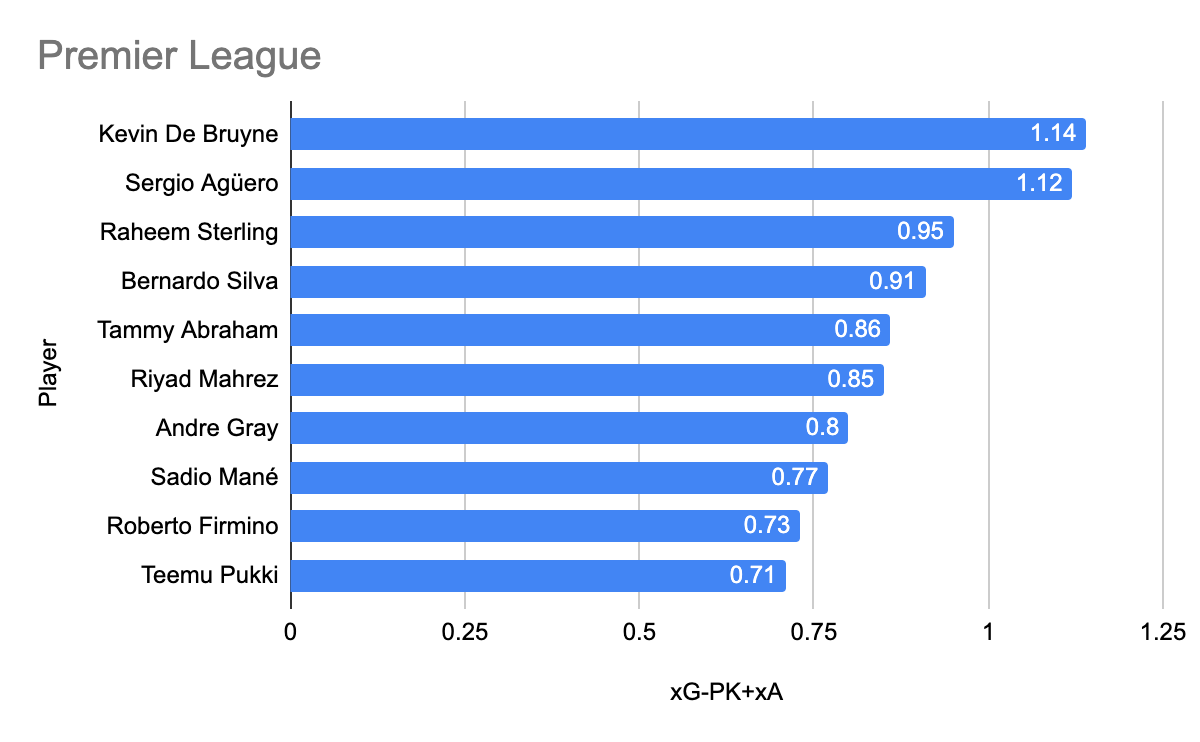 The obvious: Manchester City might already be eight points back of Liverpool, but the attack isn't the problem. If I had to vote for "World Player of the Year So Far", it'd go to De Bruyne. He's technically a midfielder -- i.e. his job extends beyond just strictly creating and scoring goals -- but he's also the best attacker in the league, too. Aguero is 31; Aguero is ageless. Meanwhile, Sterling, Silva, and Mahrez are seemingly all capable of winning of award-winning seasons at this point, too.  
The not-quite-as-obvious: Tammy Abraham is the most interesting name on the list. Chelsea have the third-best xG differential in the league and, despite the standings, have established themselves -- to my eyes -- as in a class of their own, between the Liverpool-City duopoly and the rest of the league. How'd they do that without being able to buy anyone this summer? Well, one of the guys they had out on loan last season came back a superstar. Abraham's not only been the best English striker so far this season; he's been one of the best strikers in the entire world. Oh yeah, and he's only 22.
One last thing: No Mo Salah! The best attacker in the league over the last two seasons -- and a candidate to pick up the Messi-Ronaldo torch -- hasn't been quite as effective this year. Luckily, Liverpool have, well, gotten lucky and their two other attackers have picked up the slack. Salah, though, is still receiving more passes in the attacking third and in the penalty area than anyone else on the team, and he's got 2.1 non-penalty xG combined in his last two matches, against my beloved RB Salzburg and Leicester. Seems like some better goal-scoring times are ahead.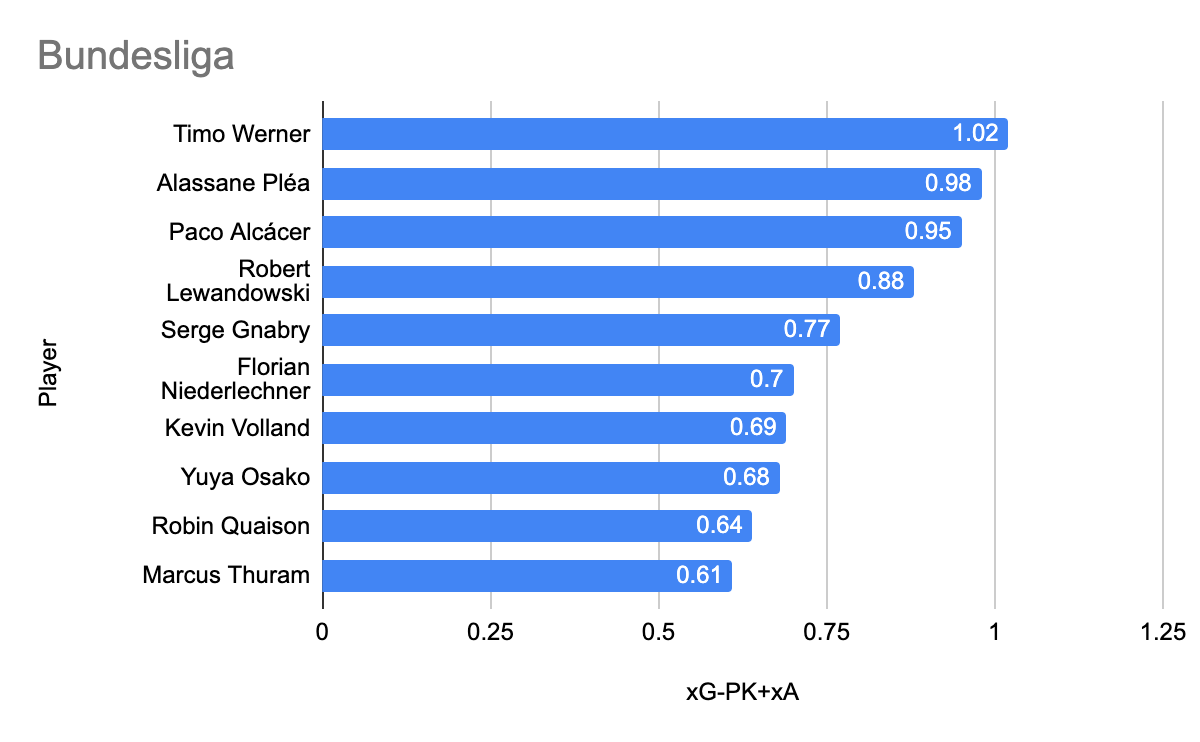 The obvious: Gnabry made headlines last week. Sorry Tottenham fans. You're not in the clear yet. Avert your eyes:
Despite what you just watched, Timo Werner is the best German attacker alive -- and he's just 23. It's rare that the top player in the Bundesliga doesn't come from Bayern Munich or Borussia Dortmund. The last time an outsider laid claim to that title? It was the guy who's at the top of the previous chart. Kevin De Bruyne's 10-goal, 20-assist run for Wolfsburg in 2014-15 was one of the best creative seasons this decade, and it portended bigger and better and light-bluer things. Funnily enough, KDB was also 23 the year he blew up. Whether it happens this season or sometime soon, Werner's career is about to take off, too.
The-not-quite-as-obvious: Robert Lewandowski already has 11 goals, 9 non-penalty. Last year, it took him a full season to hit 22 and 19. Messi and a handful of other guys consistently outperform their xG, but Lewandowski's never been one of 'em. Last year was an extreme, though, and so is this year. His NPxG total in 18-19 was 24.6, or nearly six goals above what he actually scored. (Bayern won the Bundesliga by two points and the title was still up for grabs on the last day of the season. If Lewandowski just kept in line with his xG, the title race likely ends up being a lot less compelling.) This season, his NPxG total is 5.7. Throw in the game against Tottenham game -- two goals on 0.7 xG -- and the guy's pretty much already made up for the chances he didn't convert last season. Finishing: it's streaky as hell!
One last thing: Plea and Thuram are both Mochengladbach guys. Mochengladbach, you may have heard, are currently in first in the Bundesliga. Plea's 26, and Thuram's 21. (Side note: They're both French. France could probably field four teams and next summer's European Championships and grab the top four spots.) Mochengladbach are managed by Marco Rose, who was at RB Salzburg -- it all comes back to them! -- for the past few seasons, and he seems like one of the brightest coaching prospects out there. But his team has also been assembled really nicely. Among the 10 guys with the most outfield minutes, only one is older than 26, and only four are older than 24. Bring in an effective coach, see a couple guys take a leap at once, and boom: Borussia Monchengladbach are in a title race.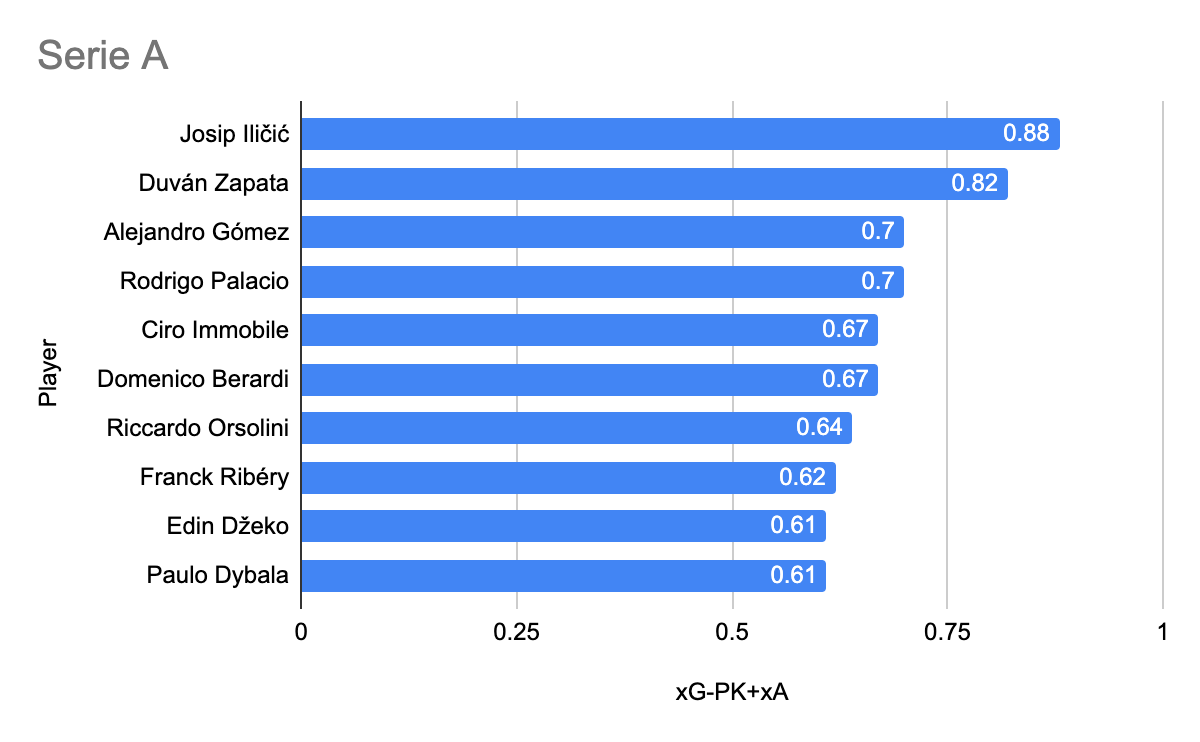 The obvious: Well, no Ronaldo. He's down in 15th at 0.57. So, if Ronaldo's not getting quality shots and not converting the not-so-good shots, then how are Juventus still in first? Well, some good fortune, for starters. Forget xG; their actual goal differential is only tied for third-best in the league. Five of Juve's six wins have been by one-goal, which is a hard tightrope to walk from August through May. But Ronaldo at least has some help this year/isn't vacuuming up all of the chances in Maurizio Sarri's new system. Dybala's done OK after an awful 2018-19 and after not playing much over the first few weeks of 19-20. Even 31-year-old Gonzalo Higuain has contributed (0.53 NPxG+A/90) after spending last year out on loan and giving off extreme "it's only a matter of time before this guy is playing in the Chinese Super League" vibes. Last season, other than Ronaldo, no one on Juve broke 0.37 in expected production.
The not-so-obvious: Once again, Atalanta are the Manchester City of Serie A, employing the three most productive attackers in the league. I've extolled the virtues of Ilicic and "Papu" Gomez, so a word for DUVAAAAAAAAAN. The guy is a freakin' machine. Last season, he was second in the league in both actual and expected NPG+A per 90; this season, he's still second and second. After averaging just around eight goals and two assists for the five seasons prior to last year, he suddenly became one of the, I don't know, five best center forwards in the world at age 27. Seeing him -- along with Papu and Ilicic, who are both 31 -- find their best selves late in their careers has been a hell of a lot of fun. With no points through two matches, it hasn't quite worked out for Atalanta in the Champions League this year, but they've currently got a better xG differential than both Juventus and Inter Milan. A dark-horse Serie A run isn't out of the question.
One more thing: Rodrigo Palacio is 37. Franck Ribery is 36. Edin Dzeko is 33. Wanna squeeze a couple more years out of your career? Serie A is the place to do it.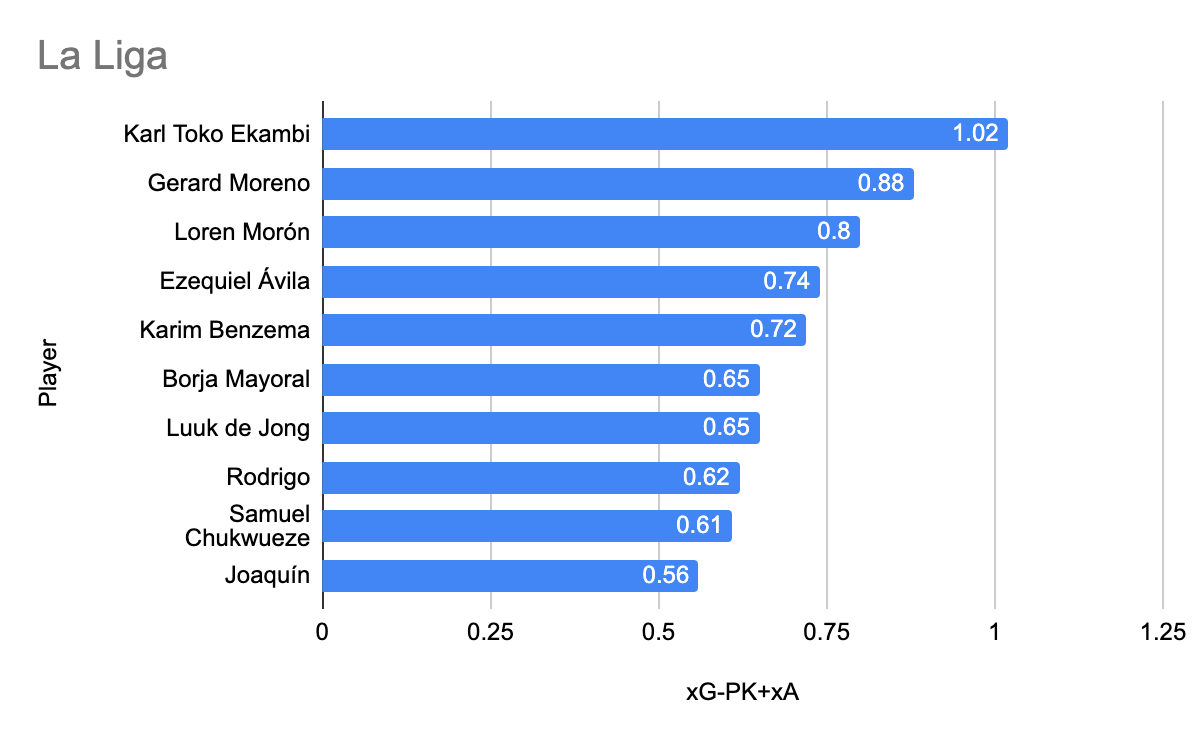 The obvious: Real Madrid, Barcelona, and Atletico Madrid are back in the top three spots in the table, and yet they've got a whopping one player on this list. Benzema's really been the one thing that's kept Madrid's attack from totally cratering without Ronaldo, and he had always seemed like someone who subjugated his goal-scoring game in service of at least one of his teammates. Diego Costa and Gareth Bale are the only other players from the Big Three who've even broken the 0.50 mark so far. In case you're wondering: Barcelona's hundred-million-dollar-signing Antoine Griezmann is down in 40th, at 0.38. And while Real Madrid's big-money summer arrival, Eden Hazard, hasn't played enough minutes yet to qualify for the list, he's been terrible (0.27) when he's been out there.
The not-so-obvious: Villarreal have three guys on the list, but we need to talk about Luuk de Jong. My man. MY MAN. MY MANNNNNNNNNNNNNN. He's got 3.8 NPxG so far. That's third in the league, and the two guys ahead of him and the one behind him all have six goals a piece. As for Luuk? Well, the bigger the circle, the bigger the chance, and green signifies "goal" on this shotmap. So, uh ...
For the colorblind readers: THERE IS NO GREEN. He's scored zero goals. Now, the whole idea of xG is premised on the idea that the rare players who are capable of getting into great goal-scoring positions but incapable of directing the ball into the net at an average rate will get filtered out because their coaches will stop playing them. I don't think that's the case here, and I do think that if LDJ keeps getting minutes, he'll start getting goals, but this is rough. Poor guy.
One last thing: Had Messi played enough minutes, he'd slide into 10th on this list and knock out Joaquin. Here's what you need to know about Joaquin: He won the La Liga Breakthrough Player of the Year award ... in 2002. That award no longer exists because Don Balon, the magazine that created it, shuttered ... eight years ago. Joaquin burst onto the scene when wingers were still guys who dribbled a lot and then crossed the ball. Gaze into a bygone era:
The last major competition he appeared in for Spain was the 2006 World Cup. He was named to the Team of the Tournament at the 2002 World Cup! Soccer has gone through three or four life-cycles since then, and yet he's still playing relatively high-level soccer right now! I wouldn't count on him being on this leaderboard come season's end. But then again, I wouldn't have counted on his career lasting this long, either. How best to contextualize it? Joaquin's four years older than Ronaldo, and he's six years older than Messi.